The IJF World Judo Tour has returned to the French capital for the first major of the season and one of the highlights of the judo calendar as the Paris Grand Slam will electrify the teeming AccorHotels Arena on Saturday and Sunday.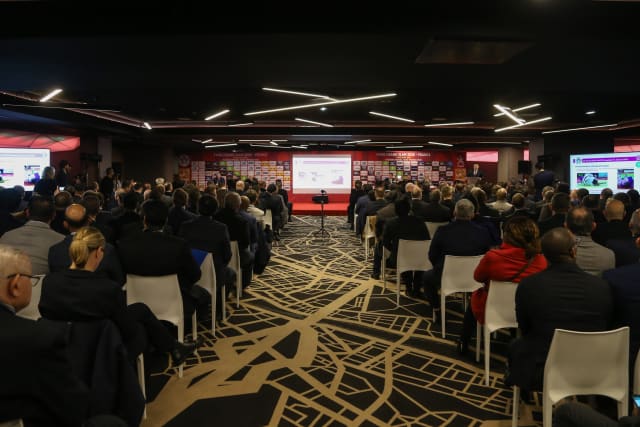 The long-awaited return of Teddy RINER, who makes his first appearance in Paris since 2013, and the participation of four-time world champion Clarisse AGBEGNENOU has dominated the build-up and steered the blockbuster Grand Slam towards a sell-out on both days.
Paris is an iconic location for judo and the AccorHotels Arena, formerly known as the Bercy, is world-renowned as being a mesmerising setting for action-packed days brimming with high-octane action that showcases the sport to unprecedented levels every year.
While hosts France have a star-studded selection, led by their two aforementioned heroes, they are joined as the star names from a gigantic entry alongside champions such as Rio 2016 gold medallist Fabio BASILE (ITA) and world champions Christa DEGUCHI (CAN) and Daria BILODID (UKR) in addition to former world champions HASHIMOTO Soichi and EBINUMA Masashi (both of Japan).
France's premier event has attracted 688 judoka (411 men and 277 women) and 117 countries this year as the fans, who have travelled from all corners of the world to be here, will be outside the venue queuing to enter the stadium before sunrise on Saturday and Sunday.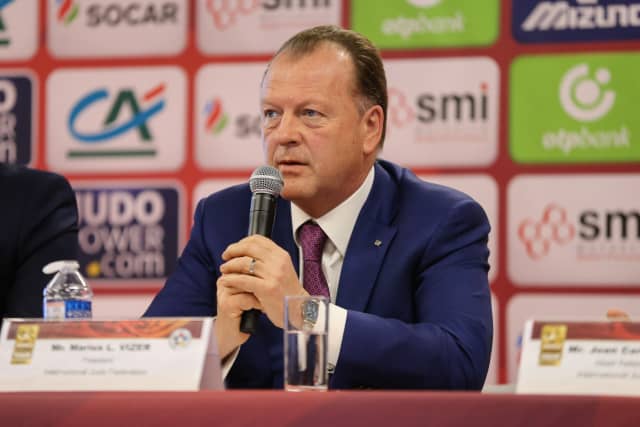 The official draw took place at the AccorHotels Arena on Thursday afternoon and was opened by IJF President, Mr. Marius L. VIZER.
"Good afternoon, dear colleagues and guests, it's a great pleasure to see you all again in Paris. I want to inform you about some special situations, unfortunately, regarding the coronavirus, which all countries are confronted with; we have tonight at 10pm an IJF Executive Committee meeting with the executives who are here. Since the beginning we are developing the matter with Chinese federation and the event organisers.
"In Paris the Chinese delegation can't participate because of visa issues and it's set to be the same for the Grand Slam in Germany later this month.
"We are in discussions and even negotiations with IOC on how to find a solution to show solidarity, humanity and support to our Chinese colleagues and to protect the IJF community. It is a serious issue and a special situation which at the moment cannot be solved. We will soon see the results of our negotiations and we are on the way to propose a quota of participation for Chinese athletes who are qualified at the moment and one or two who have the chance to qualify, we try to request a greater quota from the IOC for China, not to affect our Olympic quota, but in order to protect our judoka and community for the next series of events.
"We made the first proposal to the IOC regarding solutions how to solve this issue for judo and other sports. For those who are qualified they would not be required to attend any more events, there are those who are on qualification positions but still need to officially qualify and there are those who are in contention to qualify and require more points.
"I hope the preparation is going well for you all. I want to congratulate Mr. YAMASHITA Yasuhiro, Japanese Olympic Committee and All Japan Judo Federation President, who was recently appointed as an IOC member, it's a great achievement for the judo family and is a very important decision for judo before the Tokyo Olympics, where judo comes home with new forces and a team event. Thank you everyone, I wish you a great competition and a good stay in Paris."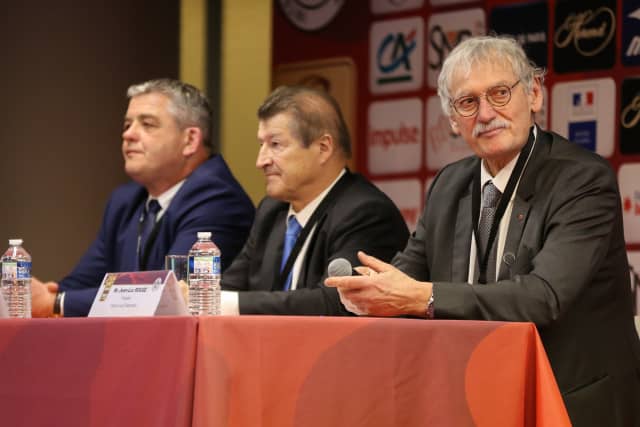 French Judo Federation President and IJF General Secretary, Mr. Jean-Luc ROUGÉ, made the welcome address on behalf of the local organising committee.
"Ladies and gentlemen, it's a big pleasure to welcome you here in Paris for the Grand Slam and to have all the judo family here with us. It's an Olympic year and an important one. We have 14,000 seats and tomorrow we have just 500 tickets left and on Sunday there are only 27 so I urge those interested to buy their tickets quickly.
"I want to wish good luck to all the delegations. Also, as it's an Olympic year, I wish the best to Mr. YAMASHITA for the Tokyo 2020 Olympic Games."
Following the conclusion of a lengthy but successful draw there was a surprise presentation by the Kodokan.
Former world champion Mr. Daniel Florin Lascau, who is now an acclaimed IJF Sports Director and Acting IJF Referee Director, was presented with his 7th Dan certificate by IJF Hall of Famer and Kodokan Judo Insitute President Mr. Uemura Haruki.