Hand in hand: 2019 is the year of rivalry and elegance, with teenagers and established judoka setting the world alight, together. Domestic competition for Olympic places and an unrivalled standard of beautiful judo has given us all a year to be excited by and to be proud of.
January
We were treated to the first Tel Aviv Grand Prix, with Israel rising to the challenge of staging a world class judo spectacle. They did not disappoint, offering an unheard of two Grand Prix medals for Ireland, and for a brother and sister duo to boot. There was an incredible display from the whole Israeli team, topping the medal table, much to the delight of the enthusiastic home crowd, who waved flags and sang throughout the weekend.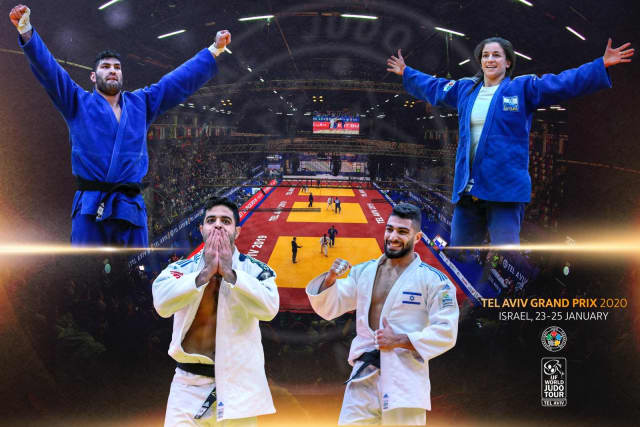 However, the big launch into the judo public eye was for the baby-faced Italian, Manuel Lombardo. Fresh from the top of the Junior world championship rostrum, the 20 year old blasted his way through the established -66kg seniors in Tel Aviv and claimed his first IJF Tour medal, a gold, no less!
February
Always a blockbuster month on our calendar with the magnificent Paris Grand Slam, followed closely by Düsseldorf. Crowd-pulling events with a real push for the globe's national teams to get the best fights, big points and huge achievements tucked into their belts early in the year.
In Paris, Japan stomped all over the medal table, taking three times the number of medals as the hosts, in second place. The silky smooth power of Kageura (+100kg) again reached the rostrum, with his team-mate Harasawa being one place higher. Their battle for supremacy raged on and delivered one of the many exciting domestic rivalries of this year. Not to be outdone on this issue, Canada's two -57kg fighters took gold and silver, with Deguchi marching toward the world number one slot, which would be hers later in the year.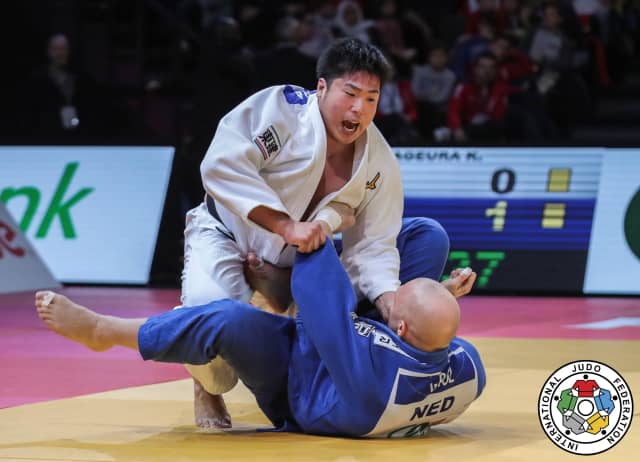 Dusseldorf saw Japan take an even greater slice of the glory than they did in France, winning the same 15 medals but with a super-top-heavy 9 golds; a dominant appearance for Inoue-san's army. Also, worth noticing in Germany, was the age split of medal winners: at -70kg 20 year old Ellen Santana (BRA) won a bronze medal, while 31 year old Olympic bronze medalist Sally Conway (GBR) took gold.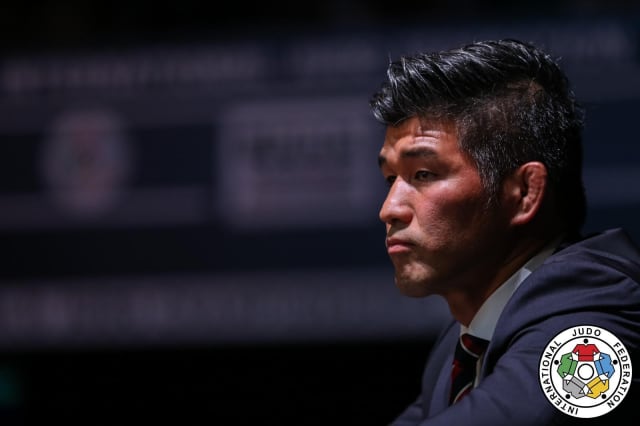 We were treated to Japan's internal pursuits for dominance once again too, but at -73kg this time. Two multiple world champions took on the final. What an incredible match to witness, Masahi Ebinuma versus Olympic Champion Shohei Ono, with only a waza-ari from a tomoe-nage between them at full time, Ono taking the big prize.
March
The Ekaterinburg Grand Slam followed a broad split of the medals in Marrakech. The medal table in Russia saw 4 of the traditional judo powerhouses (Russia, France, Japan and Brazil) retake control, with arguably a 5th major player coming to the fore: Israel. The Israeli team come prepared and every member of the team is capable of taking scalps. They're physically strong with a tangible desire to win.
Kilian Le Blouch of France (-66kg) has been on the scene for a long time, but the 30 year old's performance in Ekaterinburg was certainly one of his best. A gold, his only gold to date on the IJF World Tour and his stake planted firmly in the race for Olympic selection.
The Serbian -90kg question is answered and then re-opened regularly, with Majdov almost sealing the place but then Kukolj has another great day. In Russia it was just like that with Majdov going out and Kukolj placing 5th, but at the end of this year it's less to and fro, with Majdov firmly rooted as world number 2, behind Spain's Mr reliable, Nikoloz Sherazadishvili.
If the excitement wasn't enough with Marrakech and Ekaterinburg, we then moved to Georgia and into the open and welcoming arms of the city of Tiblisi. Here the -48kg teenage sensation Daria Bilodid (UKR), a world champion at 17, the youngest ever, suffered an upset in the final. A tense match saw Clement (FRA), almost 10years Bilodid's senior, time a magic, little osoto-gari for waza-ari before bracing against the onslaught to double her score in a clinch. Each athlete provided their own masterclass in strategy and pressure, but it was the experience of Clement that shone through. In Tiblisi we saw that every competitor can be beaten!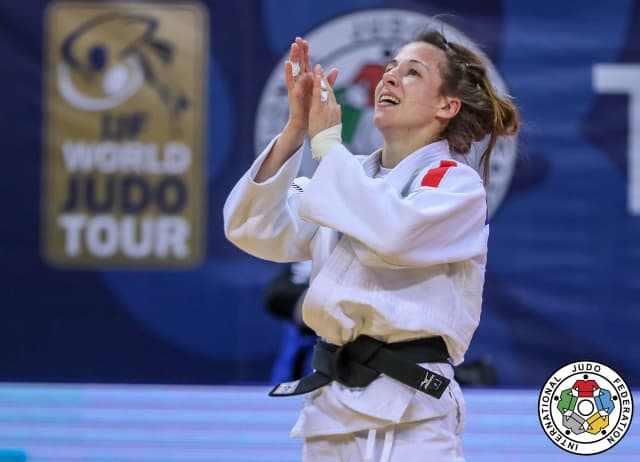 April
In Turkey we saw none of the big top 5 nations close to the top of the standings, but with no Japanese team present and with a small French delegation, it was almost no surprise to have a great mix of countries involved in the medal ceremonies. We heard 14 national anthems in Antalya, which is wonderful for judo and for the wider sporting community. This is one of the standout statistics of the year!
Judo continues to prove itself to be accessible and progressive the world over. Judo delivers fitness, positive lifestyle choices, role models and inspiration, competition, fun, lifelong community cohesion all over the world. From community centres and schools to the most state of the art dojos and competition arenas, judo can be found in almost every country across Europe, Asia, the Americas, Oceania and Africa. Antalya made this all so visible for us again.
Of course we had the beginning of the continental championship season too, but with Europe missing as they were placed within the European Games, not happening until June.
May
We headed to Azerbaijan where the Baku Grand Slam saw the rivalries continue and some athletes bridge satisfying milestones. Anamari Velensek of Slovenia was 2016 Olympic bronze medalist at -78kg but took the decision to move up to the heavyweight category in 2017. A handful of Grand Prix medals came but Baku brought her first Grand Slam medal in her new weight class and offered the boost needed to re-energise the climb ahead.
At -60kg we saw a direct clash between two Brazilian judoka, but not their number one, Takabatake. It was Pelim and 2012 Olympic bronze medalist Kitadai, with Felipe Kitadai taking the gold medal. Sadly for him, he is now the only one of the 3 not to be in a qualifying position at this stage, an unusual place to be in with a Grand Slam gold around his neck.
The month of May also gave us the Hohhot Grand Prix in China, where we could be forgiven for expecting a Chinese invasion on the podium, but it didn't come. The Asian nations were strong though, with South Korea pipping Japan, closely followed by DPR Korea. China were way down in 9th position, with 6 medals but no golds!
Cuba's judo queen, Olympic champion and now world number 1, Idalys Ortiz took no prisoners in the +78kg category, dominating one and all with her fearless, confident kumi-kata and no-nonsense demeanour. She expects to win! She will face anyone on any given day and shows us all what a true champion looks like.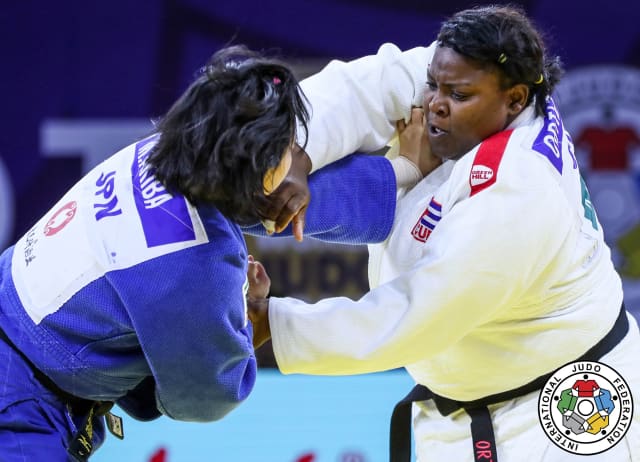 June
The European Games in Minsk was the platform on which Kosovan heroine Majlinda Kelmendi (-52kg) chose to remind us all that she is still here! Double world champion and current Olympic champion Kelmendi dismantled Pienkowska (POL), Buchard (FRA) and Kuziutina (RUS) to stand in the only finishing position acceptable to her on that day. It was a dominant and determined performance showing that if she's entered and fighting, she's there for real. No games, just an application of the principle of maximum efficiency.
Further dominance was seen at -63kg with Clarisse Agbegnenou, putting the judo of a 3 time world champion (now 4) out there for all to see. No long, drawn-out contests, just winning and bowing and leaving. Always humble, always robust, always elegant.
In Minsk the Azerbaijani -73kg battle meant 21 year old, double world medalist Heydarov and 27 year old double world medalist and Olympic silver medalist Orujov had to push to their limits in an effort to not just beat their opponents, but also to beat each other. They now sit at number 2 and number 6 respectively on the Olympic ranking list. That race will go right to the wire!
July
The Montreal Grand Prix saw Japan take the top spot, winning half the gold medals. Canada were second best, despite having the same number of medals as Japan, but not of the shiniest colour.
The big treat for the spectators in Canada, was the long-awaited return of Monsieur Riner, with a silhouette known the world over. The anticipation had been agonising for many, with speculation about his continued participation on the circuit. Here, though, there was no doubt; Teddy, 10 times world champion, double Olympic Champion, was picking up maximum points in Montreal. Three of the four top seeds made the podium, with Romania's Simionescu having to settle for 5th place after starting the day in Teddy's quarter.
At -66kg the eventual gold medalist, Ganbold of Mongolia, was forced to summon all his acrobatic skills, giving an entertaining display of the gymnastic ability of a top level judoka. He really was on electrifying form and had to be to pass through a field of proprioceptive and fun-loving opponents. A semi-final against Nathon Burns (IRL), well known for his gymnastic application, having been a team-mate of the late, great Craig Fallon (GBR) for many years. We lost Craig only days after Montreal. His influence is clear for all to see and will continue to be for a long time to come.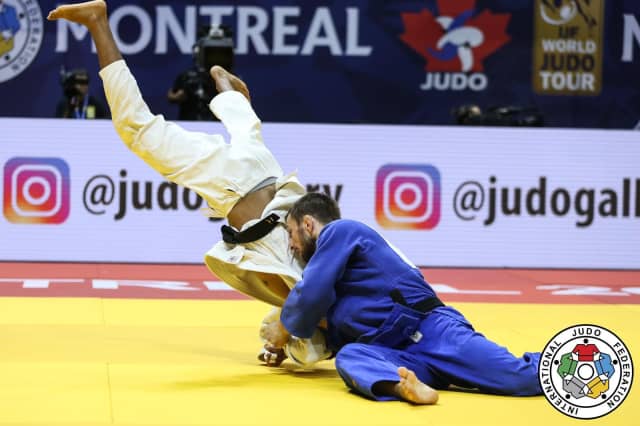 July also gave us the Budapest Grand Prix, which was very well attended and by swathes of world and Olympic medalists. At -70kg, no-one would have bet on Great Britain's unseeded Gemma Howell to win on the day, but win she did and in great style. Only 1 of the top 4 seeds made it to the rostrum, with shock defeats all over the draw. Bernholm (SWE): out! Polleres (AUT): out!
There were similar stories in other weights too. At -81kg Muki (ISR) lost in his second contest. De Wit (NED): out!
August
With over 800 athletes registered to compete, the World Championships in Tokyo was due to be the show of the year and with it being in next year's Olympic venue, the Nippon Budokan, tickets were sought after. A noisy, well-raked arena with its knowledgeable and eager audience, laid in wait for the players and they came, in their hordes. Russia, Kosovo and Brazil didn't leave with the swag intended and Japan certainly aimed at more than the 4 gold medals they won.
The French women's team were on fire though, winning 3 top spots, including Miss Agbegnenou's 4th world title. Canada's Christa Deguchi won the -57s, laying claim to that spot in Tokyo 2020, above team-mate Klimkait, who crashed out in the second round. Klimkait won't lie down though, that's for sure! Plenty more to come from their head to head race.
Bilodid (UKR) met expectations and retained last year's world title, never looking close to giving that up. In a generational battle at +78kg Cuba's 7 time world medalist Idalys Ortiz added a silver to the collection, narrowly losing out to Japan's 19 year old prodigy, Sone. Epic match after epic match filled the Budokan, with anticipation for next year's promises growing.
From the Tokyo world championships we just can't miss out the almost super-human judo of Shohei Ono (JPN) at -73kg. Every grip he took, looked like it would be his opponent's last. Every spin and catch and pin-pointed landing sprinkled with ease and disbelief, in equal measure. It's a pleasure to see his art on the tatami.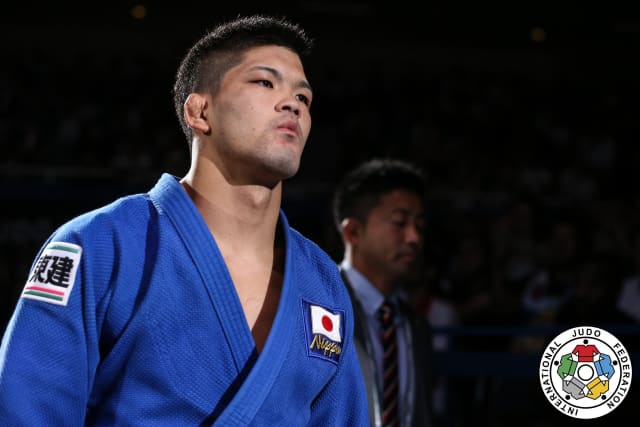 September
After Russia's disappointment at the world championships, they didn't rest or wallow, straight back into action, topping the medal table at the Tashkent Grand Prix. Golds at -60, -66, -100, -48 and +78 made for a big improvement.
A look to the younger judoka next as interest was sparked in the young -70kg Cadet from Spain, Ai Tsunoda Roustant. She won gold at the European Cadet Championships in June. This is a great achievement by itself, but it becomes much more than that as the weeks pass and we see her win gold in July at the EYOF, gold at the World Cadet Championships in September and then silver at the Junior (-21) European Championships in Finland too. Now we really have something to watch for the future. A calm, accomplished and incredibly hard-working example for all who care fo see. I, for one, can't wait to see what she might do next.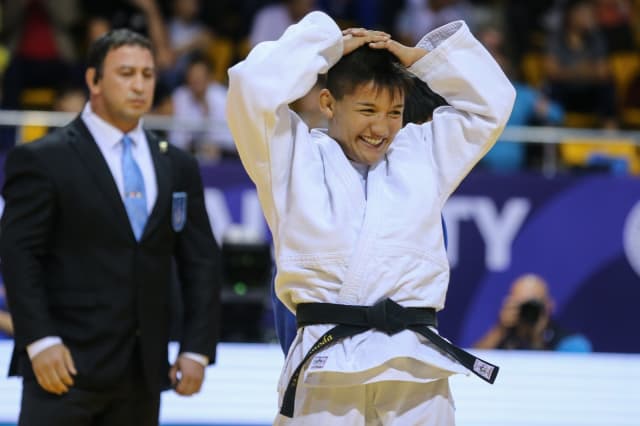 October
Brasilia played host to the first post-worlds Grand Slam and it was consistency that shone through here, with Lombardo (ITA) and Le Blouch (FRA) making it to the -66kg rostrum again, at opposite ends of the experience scale, one barely 20 and one 30 years old, yet both are having a fantastic year. We see maturity and young passion clash but eventually show that they are both valuable commodities.
On Brazilian soil the -57kg category was always going to be challenging for any invader. Four strong home athletes, with Ms Silva pitted to win it. She came in as the number 1 seed and seemed in devastating form. But fellow Brazilian Nascimento had other ideas and knocked her out of the semi-final. Nascimento then lost that final to Great Britain's double world medalist Nekoda Smythe-Davis. The crown would not be kept at home! Two medals in this group for Brazil, but no gold!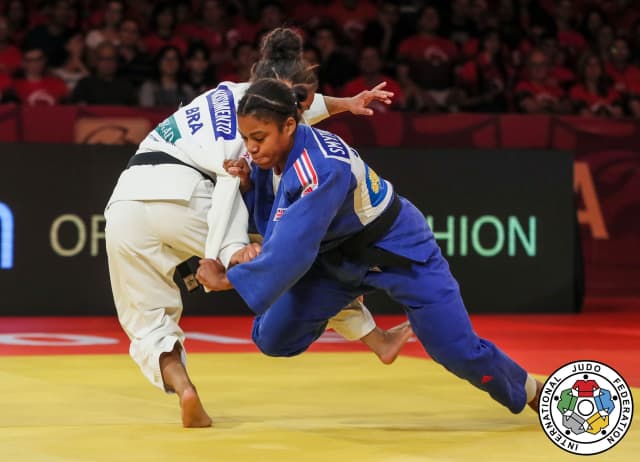 Marrakech staged a fantastic World Championships for Juniors this month too, which showed the depth of the Japanese team. They could have selected the teenage senior world champions Uta Abe (-52kg) and Akira Sone (+78kg), but instead went with less experienced competitors, with the aim of developing more youngsters to reach the highest level. At -52kg Ayumi Kawada collected a bronze medal for Japan and at +78kg Ruri Takahashi won gold. The next generation is getting ready and will come with precision and intensity, like only Japan can produce perennially.
Abu Dhabi presented the penultimate Grand Slam of the year and seemed to conjure up unmissable fight after unmissable fight. Giants of the World Tour stood toe to toe in every weight category. Cho (KOR) took his seeding atop the draw seriously and produced a performance of perseverance and athleticism, taking out Tour resident Cyrille Maret (FRA) in his opening contest. This gold was one of the medals that propelled Korea to being the strongest nation of the event, not for the first time this year.
We saw the temperature rise in the -70kg category for the Netherlands as Sanne Van Dijke continued to be chased by former world number 1 Kim Polling. These two took the group apart, meeting in the final, which went Polling's way. At the end of the year, following an exact replay in Qingdao, at the Masters, they sit in second and third position on the Olympic ranking list, with Van Dijke just holding on to the lead.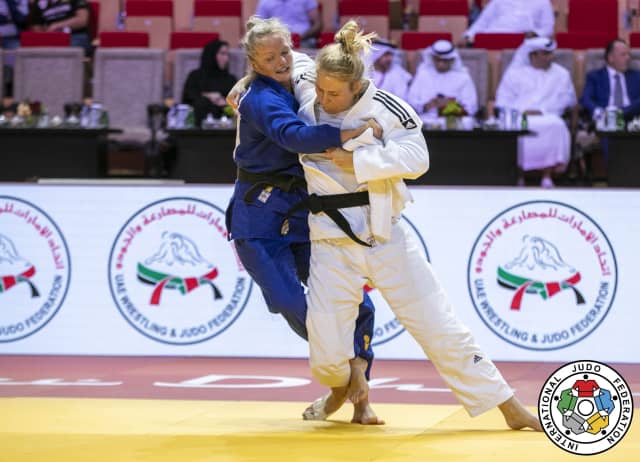 October also gave us the 'Plant a Tree' campaign as part of World Judo Day, in celebration of the birthday of Judo's founder, Jigoro Kano. The IJF President Mr Marius L Vizer led by example, planting a tree in Abu Dhabi. This was the pre-cursor to thousands of trees being planted across all continents, in an effort to, as Kano-San intended, 'contribute something of value to the world.'
November
The Osaka Grand Slam was an incredible success for the home nation, taking 11 of the 14 titles. The statistic that really unlocks this victory is that of the 56 medals on offer, over 60% of them went to Japan, 34 of the 56 prizes. Let that sink in! What does that say about Japanese intentions for their very special home Olympic Games next year? Their single combatant in each category will be eyeing up just gold, with each win feeding the team desire and belief. 14 Olympic Champions to be decided and Japan want them all. At -52kg Amandine Buchard (FRA), at -90kg Gviniashvili (GEO) and at +100kg Tasoev (RUS) are targets for rectifying the small number of relinquished crowns in Osaka.
A small note about the European Club Championships: Champions League - it was absolutely amazing to have so many world and Olympic champions choose to take part, fighting for their own clubs or in some cases travelling to be with teams of friends from other countries. The team spirit and the umbrella of unity and tolerance at this event is staggering. There are rivalries, sure, but beyond that is a love for the game and an unstoppable desire to display the best of judo, at all times and with the very highest level of etiquette and humility. We saw Kelmendi, Agbegnenou, Ressel, Maret, Chitu, Fonseca, Sherazadishvili and so many more superstars deliver inspiration and excitement in Odivelas, Portugal.
December
The IJF World Masters was the last meet of the year, with travel to Qingdao on the cards for the world's elite judoka. A new format of 36 invitees per weight division meant strengthened competition and nowhere to hide. Some stunning performances from Buchard (FRA), Shishime (JPN and Giuffrida (ITA) at -52kg and from young Lombardo (ITA) at -66kg. But it was the -90kg Georgian athlete, Bekauri, who really stole the show, having won gold at the Junior world championships just two months prior he sneaked into the 36th spot on the guest list for China. Spirit, tenacity and the ability to find solutions in real time carried him into the final for a dramatic, golden score win against world number 1 Sherazadishvili (ESP). This teenager is making a play for an early Olympic debut and has leap-frogged over his countryman Gviniashvili on the ranking list.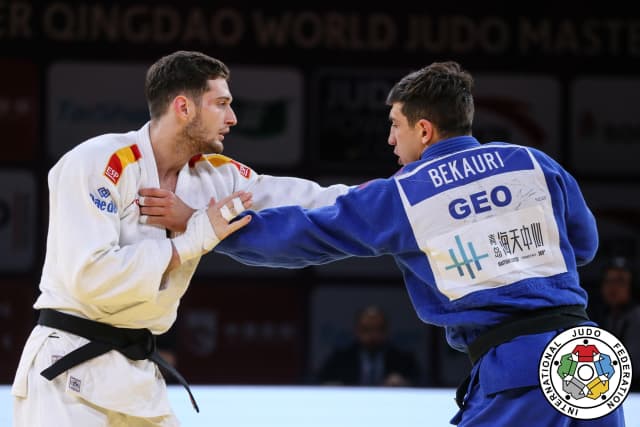 With the 2019 calendar now closed and preparations well under way for an explosive 2020 it's the domestic rivalries that will provide much of the fervour. Who do you want to see come out on top for each of these head-to-heads? So much at stake and no sign of anyone backing down. Some clashes to look out for:
-60kg
Japan: Nagayama (#1) - Takato (#4)
-66kg
Japan: Maruyama (#2) - Abe (#4)
-73kg
Azerbaijan: Orujov (#2) - Heydarov (#6)
-81kg
Russia: Khubetsov (#9) - Khalmurzaev (#12)
-90kg
Georgia: Bekauri (#7) - Gviniashvili (#9)
+100kg
Brazil: Moura (#6) - Silva (#7)
-48kg
Spain: Figueroa (#4) - Martinez-Abelenda (#8)
-52kg
Japan: Abe (#2) - Shishime (#3)
-57kg
Canada: Deguchi (#1) - Klimkait (#3)
-63kg
Japan: Tashiro (#3) - Nabekura (#4) - Doi (#5)
China: Yang (#9) - Tang (#11)
-70kg
Netherlands: Van Dijke (#2) - Polling (#3)
Great Britain: Conway (#9) - Howell (#10)
-78kg
Germany: Wagner (#9) - Malzahn (#10)
+78kg
Brazil: Altheman (#3) - Souza (#4)