Sabrina Filzmoser of Austria and Flavio Canto of Brazil were just appointed as 'IJF Climate Ambassadors' by IJF President Marius Vizer. They will help us to spread the message to save the planet.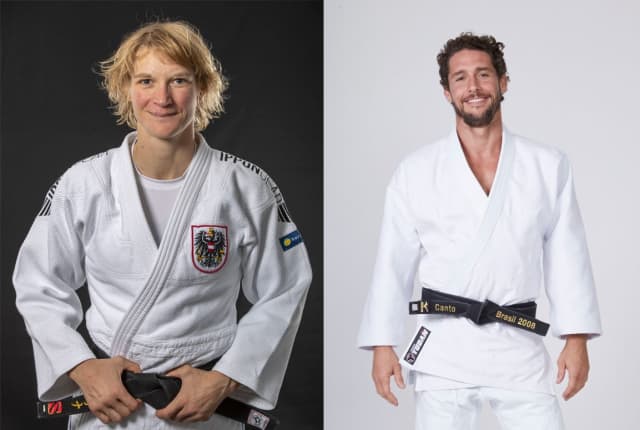 Among the threats that are hanging over our heads, global warming is perhaps the most dangerous and worrying long term.
Every day, we are confronted more and more by dangerous climatic episodes, which have a considerable impact on our lives. The easy way out would be to give up and say there isn't much we can do about it, but that is not in the philosophy of judo; on the contrary.
We are happy to see Sabrina Filzmoser and Flavio Canto joining us to bring a message of hope, particularly to the youngest ones, to whom the world of tomorrow will belong. It is up to us to offer them a home that is in the best possible condition.
The challenge is great and the obstacles are numerous. From massive deforestation, to soil pollution through hyper-consumption, our civilisation has a major impact on the environment. The polar ice caps are melting and the sea level is rising. We are facing a massive wildlife extinction.
Beyond the alarmist observations, we can act and this is what the world's judo community has decided to do.
Sabrina Filzmoser said, "As judoka we know how to fight for our dreams, reaching beyond the moon, aiming further than the brightest stars. We all have a duty to fight for our fragile environment on this planet."
Flavio Canto added, "As judoka we have all been raised on principles we take to our lives off the mats. Judo is about respect, coexisting with others and the planet. We have a whole continent of plastic, thrown into the oceans, killing marine life and extinguishing species. We must change what we have been doing. Come and join us in the most important challenge of our generation!"
IJF President, Mr. Marius Vizer, said, "The International Judo Federation is committed to contributing to the global fight against climate change. As signatories of the United Nations Sports for Climate Change Action framework (https://www.ijf.org/news/show/ijf-joins-the-sports-for-climate-action-initiative), we are determined to educate youth and raise awareness at all levels and in all corners of the world. Using the educational power of judo, we are sure that we can reach many judoka, of all ages and mobilise them, in order to bring a solid contribution to the global fight against climate change. It is a great pleasure for the IJF to appoint two great champions, who are role models both on the tatami and beyond, as IJF Climate Ambassadors. Sabrina Filzmoser and Flavio Canto are well known for their passion and involvement in many social projects and therefore I am convinced they will show a good example to their fellow athletes, to judoka and judo fans all over the world."
The question is, what can we do as a judoka? The answer that our two ambassadors give us is clear: we have a duty to do something. This begins with education. By teaching our children and our students, in all our clubs, that they too can act for the environment, we are performing a major civic act.
In the coming weeks we will invite the young ones to participate in a special event, with details being confirmed very soon. Last year our judo community planted 6,000 trees around the globe during the 'Plant a Tree' campaign, on the occasion of the 2019 World Judo Day. In the coming months, we will develop even more projects and ideas, where our ambassadors will be key players.
Sabrina and Flavio were not randomly chosen. They are both activists of a better society and a safer planet and their voices count. Sabrina is still an active judo player, aiming to qualify for the Tokyo Olympic Games and for many years she has been developing educational programmes in Nepal and Bhutan. She is also an alpinist, who claimed one of the top summits in the world without supplemental oxygen. Flavio, since his retirement, has been working tirelessly to offer a better life to young people living in difficult conditions in Brazil. His Reacão programme is a huge success.
Now is the time for all of us to act. Sabrina and Flavio are counting on you; we are all counting on you and we will be with you!