The European Olympic Committee presented the Olympic Laurel Award to Sanda Corak, President of the Croatian Judo Federation and member of the IJF Executive Committee, on the occasion of the 41st EOC Seminar, held in Samorin, Slovakia on 25th and 26th November 2021. The prize was given by EOC Secretary General Raffaele Pagnozzi.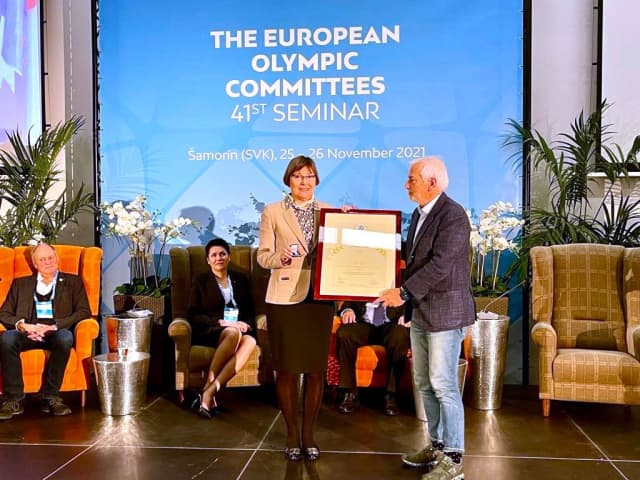 This prestigious award is given to prominent sports officials for their continuous achievements in the promotion of sports. Sanda Corak is recognised as an extremely effective personality who works continuously on the popularisation of judo in Croatia and beyond and the Croatian Judo Federation is also known to be one of the best sports federations in the country in terms of organisation and results.
Sanda Corak declared, "I thank the Croatian Olympic Committee for nominating me and the European Olympic Committee for awarding me. We live in the 21st century, where everyone is applauding Olympic medallists, but still sport as a social activity is underestimated. The contribution of sport for the education of children and youth, or for the economy or for contributing to the complex work of balancing the nation are still not recognised sufficiently. So all the people who work in the promotion and development of sports still have work hard to do that. It is important that we develop measures and activities that will help sports and that could be implemented in these difficult times."
Congratulations to Sanda Corak, who is actively engaged in different sectors within the International Judo Federation, including gender equity and environmental causes. Last September the Zagreb Grand Prix was a huge success and the first environmentally friendly World Judo Tour competition.