Mingma Gyabu Sherpa, also known as Mingma David, was born 16th May 1989. A Nepalese mountaineer and rescue climber, he is one of the most famous Himalayan personalities, for being the youngest person to climb all 14 eight-thousanders and for holding the Guinness World Record for 'Fastest time to climb Everest and K2,' which he did within 61 days. From his earliest work as a porter to his record-breaking mountaineering achievements, Mingma David Sherpa's career has been built on his respect for nature, steely determination and an unparalleled ability to plan meticulously.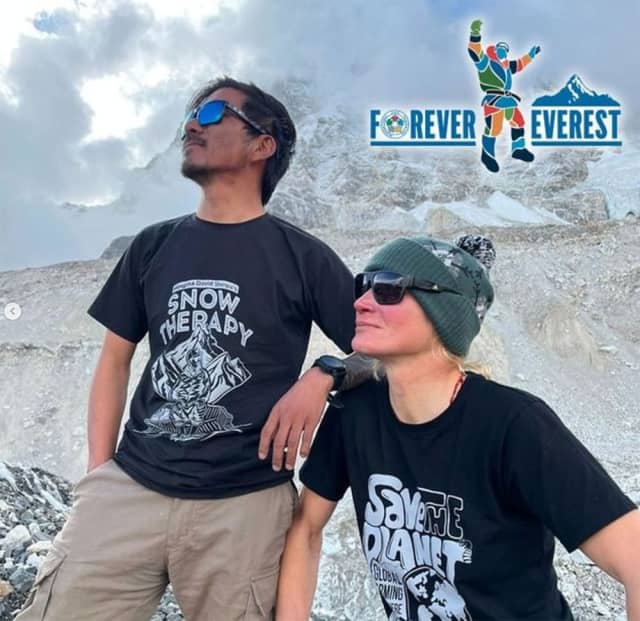 Just before leaving Nepal, after an unprecedented journey through the Himalayas with Sabrina Filzmoser, who successfully climbed Mount Everest on 16th May, we met Mingma David, who told us about Sabrina and her Forever Everest expedition.  
"I met Sabrina in 2016, not only as a climber, but we are also kind of the same family, because she helped Phupu Lamu Khatri a lot, who is my cousin."
Phupu Lamu Khatri participated in the Rio 2016 Olympic Games, in the -63kg category and was also the flag bearer for Nepal during the Games. She was born in a remote village and her father, Dorje Khatri, was a trekking entrepreneur who died in 2015 in the Mount Everest avalanches.
"Thanks to our family connection, in 2010 Phupu Lamu Khatri's dad gave me a chance to climb Everest. Later on, in 2016, I accompanied Sabrina to climb Manaslu (8163m). Since then we have known each other very well. We climb together and I guided her up Ama Dablam (6812m), one of the most difficult climbs in the Himalayas. Since then, we talk together a lot. When she started to talk about her expedition, to travel from sea level to the top of the world, I gave her some ideas.
Actually when I climbed in 2010, I saw someone doing the same thing, but that was in the male category, with some guys cycling from India and summitting Everest on the north side. Knowing her background, I told her that she should do it as well.
Today she is part of my company, she has become a real expert. She's doing very well, not only as a climber, but she's helping a lot in Nepal. Since 2016, I can say that It has become a family connection.
When Sabrina reached EBC this season, I was still in Kathmandu getting ready for the spring climbing season, but the Elite team was already there and she helped a lot to build and set our camp. She was sending me pictures every day. She was cleaning around the Base Camp, some times on the way between Kala Patthar, Pumori high camp or Gorakshep, helping to build camp sites.
I can tell you that she is the happiest person I know, never complaining. We are happy to help her, once again not only as a climber or a client, but really as a family member.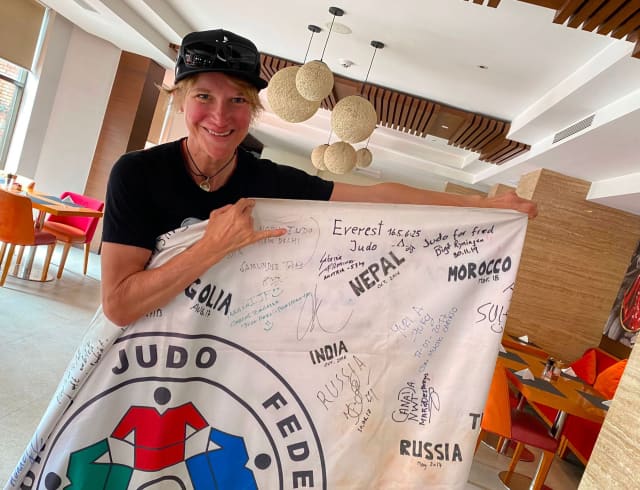 Forever Everest is a really good project for us as well. Sabrina is a mountaineer, but she has a different background from others. As a sports woman, a judoka, an elite athlete, her background connects mountains and sport. Of course mountaineering includes also the sport dimension but it's a different industry.
Sabrina is always a positive person. She is of course a judoka, but she understands the Nepalese culture and the mountaineering culture. She is a sport personality, but she is so humble and helpful. This is so great for us."
This summarises perfectly the impression we have had while in Nepal following in Sabrina's footsteps and coming from one of the most acclaimed climbers of the moment means a lot. Today Mingma David is not only climbing the highest mountains in the world, he is also deeply engaged in preserving the environment, especially his, as the Himalayas are under serious threat from climate change. As IJF Climate Ambassador, Sabrina has something to say and something to contribute. Being a member of the Sherpa family will undoubtedly help her to do even more.