The world has been going through a very strange period, one that has had an impact on so many aspects of our lives. Yet judo continues to develop and the International Judo Federation continues to organise World Judo Tour events. This weekend Tashkent will take centre stage on the international sporting scene, with its event, which has been upgraded to a Grand Slam for the first time, after years of running successfully as a Grand Prix.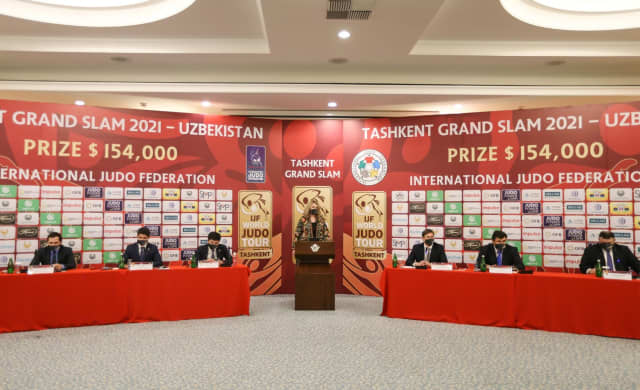 Yet, organising a competition of this magnitude, during a global health crisis, is not easy and certain adjustments had to be made to guarantee absolute security for the health and well-being of all.
This can be observed from the accreditation of delegations, as underlined by Elisabetta Fratini, who coordinates operations, "Due to travel restrictions and periods of confinement upon arrival, heads of delegation cannot always travel and we have set up a system that allows them, even remotely, to validate the list of participants. It is always possible to come and sign directly at the accreditation office, but it is now also possible to confirm electronically. It works very well and more and more delegations are using this service."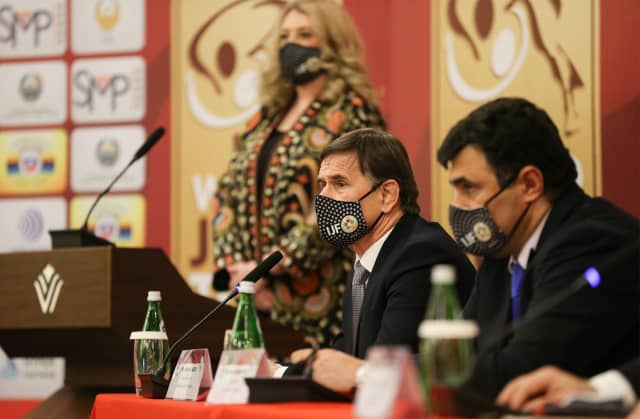 Just before the draw, Dr. Lisa Allan, IJF Events Director, also explained that, "Seen from the outside for the people following us online, everything is pretty much the same, but since we picked up the thread of the World Judo Tour again, the draw has taken place only remotely. We do this to minimise contact as much as possible. Direct interaction with the coaches is really lacking, but the safety of the participants is our top priority. So in these current circumstances things are like that and everything works for the best."
As a result, seen from the inside, the draw looks like a film shoot, as Matthias Fischer, IJF IT manager explained, "We have put a lot of effort into the online broadcast of the draw. Before we used to broadcast a wide angle shot of the whole scene, but now we edit in real time with several cameras so that everyone can really experience this important moment, which precedes the three days of competition. The coaches are the first spectators and they receive the information live by messaging. All the feedback we receive is positive."
Sound, Camera, Action!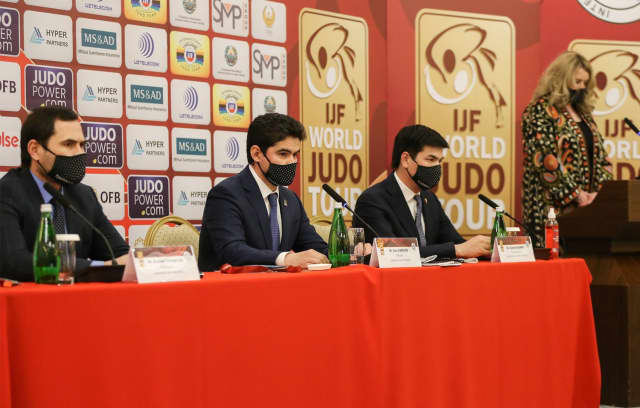 At 14:00 local time, silence fell in the draw, which was officially launched by Armen Bagdasarov, IJF Sport Director, "It is an honour and a privilege to welcome you today on the occasion of the Judo Grand Slam Tashkent 2021 in Uzbekistan. In the name of our President, Mr. Marius Vizer and for our entire organisation, I am happy to see that we have so many delegations and athlètes participating in an event that is so important on the way to the Tokyo Olympic Games. The road is still long but this weekend every one will focus on Tashkent and we are expecting some amazing judo over the three day competition. I wish you a great event and to enjoy the Uzbek hospitality."
It was then the turn of the President of the Uzbekistan Judo Federation , Mr. Azizjon Kamilov, to take the floor, "I am happy to welcome you to Uzbekistan and to see you here. Thanks to the IJF and their great confidence in our capacity to organise such an event. We will do our best! We can feel the powerful support that we have received from the government of Uzbekistan and its President, Mr. Shavkat Mirziyoyev. I wish good luck to all participants."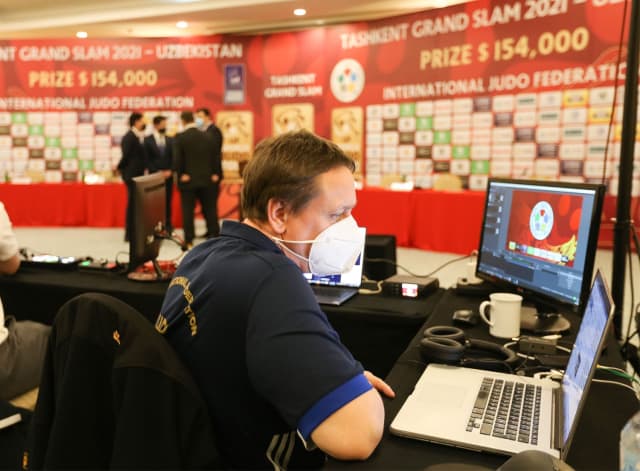 Just prior to the actual draw, Dr. Lisa Allan presented our condolences to the family and friends of Luis Torres, "We have sadly lost someone who was a great friend to all of us. Luis Torres, former IJF announcer, has tragically passed away. Our condolences are with his family and loved ones at this heart-breaking time."
Then Dr. Lisa Allan added, "The IJF appreciates the support of the Uzbekistan President Mr. Shavkat Mirziyoyev, the Deputy Prime Minister for Tourism and Sport, the Ministry of Foreign affairs, the Ministry of Health and the Uzbekistan National Olympic Committee for their cooperation and understanding of the importance of this Tokyo 2020 Olympic qualification event and how we remain united through sport in these difficult times.
On Monday, right after the Grand Slam, we will also be united to celebrate International Women's Day and once again we will show that together we are stronger."
Mr. Daniel Florin Lascau and Mr. Vladimir Barta, respectively, acting Refereeing Director and IJF Head Sport Director, led the official draw of the competition.
DRAW OF THE TASHKENT GRAND SLAM 2021:
8 Things to Look Out For During the Tashkent Grand Slam
1 - Abe Uta is making a return to the World Judo Tour. After several months without appearing on the world circuit, the current world number three and reigning world champion will be seeded number one in the grand slam and she will be keen to prove that she is the big favourite for the Olympic title this summer at home.
2- There's a possible rematch of the Tel Aviv final between Saeid Mollaei (MGL) and home player Sharofiddin Boltaboev (UZB) in play. Two weeks ago these two athletes gave us one of the most exciting moments of the competition and it went the Uzbek's way. Being at home will definitely be an advantage for Boltaboev, but Mollaei will want his revenge, even though many other athletes in this tough category will run for a medal as well.
3 - There's still a race for Olympic qualification for Serbia. At -48kg both Serbians, Milica Nikolic and Andrea Stojadinov, are looking for their first participation in an Olympic Games. Who will take the lead, knowing that in this category, Urantsetseg Munkhbat (MGL) will be the ultimate favourite in Tashkent?
4 - Kokoro Kageura entered the history of judo after defeating the king, Teddy Riner (FRA), during the Paris Grand Slam 2020.. This mammoth feat was not enough for him to get the Japanese selection for the Olympic Games though. Nevertheless, it will be interesting to follow him in a category where the two Brazilians, David Moura and Rafael Silva, have not decided yet who will represent Brazil in Tokyo.
5 - World and Olympic medallist Ilias iliadis has been acting as the head coach of Uzbekistan for a while. In Tel Aviv, one of his athletes, Sharofiddin Boltaboev, won at -81kg, a premiere moment at grand slam level for them both. Will Ilias be able to bring more honours to the home team?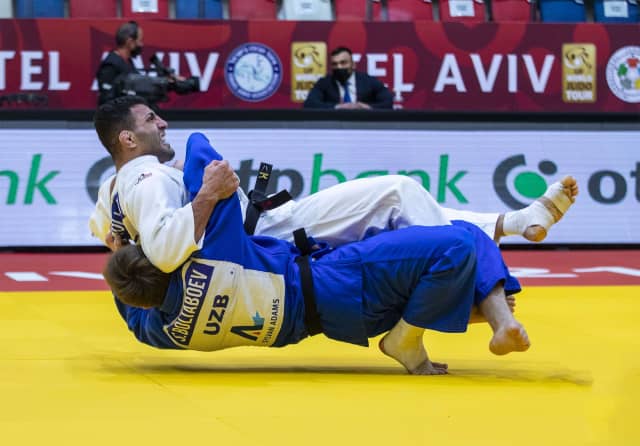 6 - World Judo Tour veteran Miklos Ungvari, 40 years old, is looking for his fifth Olympic qualification, which would be an amazing achievement for the Hungarian champion, after an outstanding judo career of more than 20 years at the top level.
7 - Several teams came to Tashkent to test their new generation of competitors, like Ukraine, Italy, Russia and Finland; many others too. At the end of each day we will carefully look at the results as we might discover the future big names of judo.
8 - Watching the Japanese athletes performing on the world circuit is always a delight for the eyes. They came to Uzbekistan with 11 athletes and we will probably see many of them standing on the tournament podium.
This list is definitely not exhaustive and there will be something interesting to watch at any time during the three-day event. The action is about the begin.
PROGRAMME Day 1 Start: 9:00* Final Block: 17:00* Women -48 kg, -52 kg, -57 kg Men -60 kg, -66 kg
Day 2 Start: 9:30* Opening Ceremony: 16:30* Final Block: 17:00 Women -63 kg, -70 kg Men -73 kg, -81 kg
Day 3 Start: 9:30* Final Block: 17:00* Women -78 kg, +78 kg Men -90 kg, -100 kg, +100kg
* Local time