The IJF World Judo Tour has arrived in Asia for the second senior event following the 2017 Suzuki World Judo Championships as Uzbekistan takes centre stage this weekend with the fifth edition of the Tashkent Grand Prix.
Judo provided Uzbekistan's first Olympic medal at Atlanta 1996 when Mr. Armen BAGDASAROV, now Judo Federation of Uzbekistan President, took silver in the -86kg weight category and so the sport not only has a special place in the hearts and minds of the people of Uzbekistan but it has become a consistent source of medals, success and international acclaim.

Since August's 2017 Suzuki World Judo Championships the IJF World Judo Tour visited Croatia a week ago for the Zagreb Grand Prix and the double header serves as a reminder that the season is actually heating up as the year closes out with still a World Openweight Championships (Marrakech, Morocco), two Grand Slams (Abu Dhabi and Tokyo) and a World Judo Masters (St. Petersburg, Russia) among the impressive calendar of events.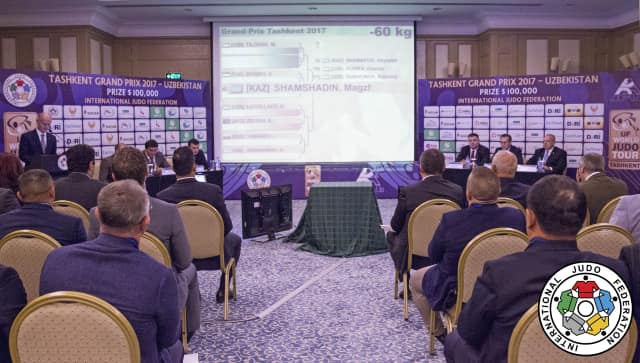 The official draw of the Tashkent Grand Prix 2017

The draw for the Tashkent Grand Prix took place on Thursday afternoon where it was revealed that 183 judoka (91 men, 92 women) would be competing in one of the hubs of Central Asia from 27 nations.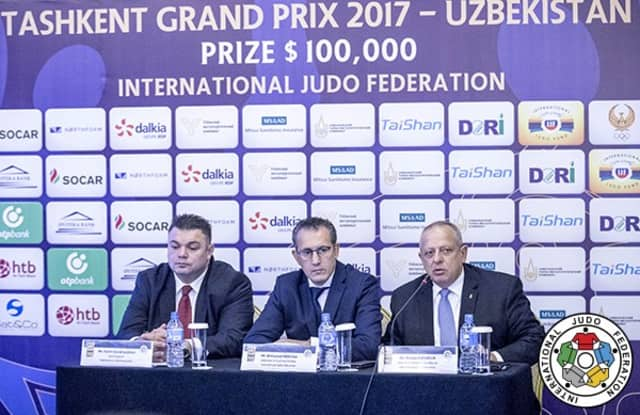 Mr. Mohamed MERIDJA, IJF Education and Coaching Director (below), opened the draw in Uzbekistan.

"Dear Judo Federation of Uzbekistan Vice Presidents, dear Judo Federation of Uzbekistan General Secretary Mr. Rishod SOBIROV, dear judo friends, ladies and gentlemen, it is an honour to welcome you all to Uzbekistan for the Tashkent Grand Prix.

"IJF President Mr. Marius VIZER wishes to extend his warmest welcome to you all. We hope to have a successful competition here in Tashkent."
Mr. Shavkat MUMINOV (below), Judo Federation of Uzbekistan Vice President, said: "Good afternoon ladies and gentlemen, on behalf of the Judo Federation of Uzbekistan, I have the honour to welcome to you this 2017 edition of the Tashkent Grand Prix.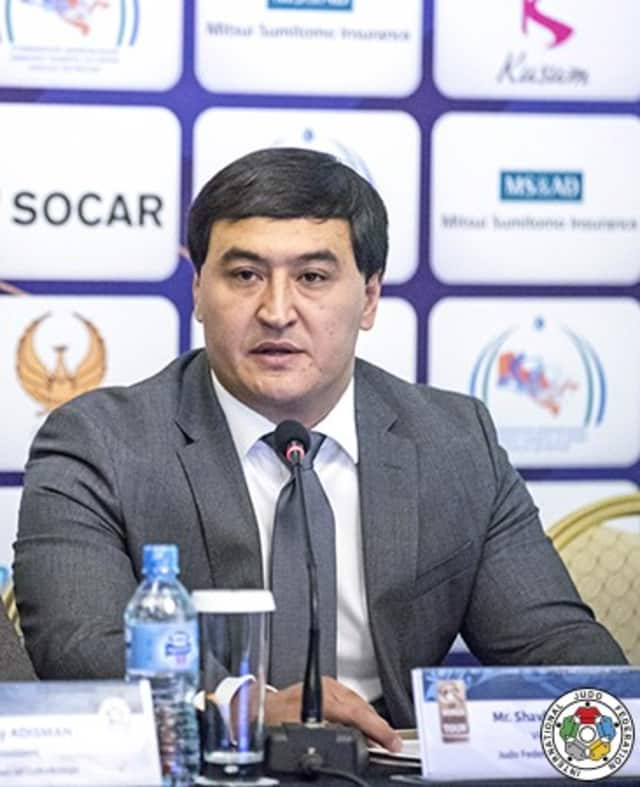 "It has been a great tradition to organise this event every year and to join all these athletes together in our country. I would like to thank the IJF President Mr. Marius VIZER for these opportunities and his continuous trust and support. I have to thank the Uzbekistan Government for their support, as without their help this event would not happen. To all judoka and all staff and officials I wish you all a successful event."

Watch #JudoUZB2017 live and free from Friday 6 October -- Sunday 8 October at live.ijf.org
IJF releases third Judo Legends video
Mr. Franco CAPELLETTI is one of those characters who have been seen in the judo world for decades. Born in 1938 near the Lake Iseo, Italy, he has dedicated his life to judo and its educational values. He received the 10th dan from the hands of IJF President, Mr. Marius VIZER, this summer on the occasion of the 2017 Suzuki Judo World Championships in Budapest.

Today Franco CAPELLETTI is the director of the IJF Kata Commission, whose World Championship takes place on 6 and 7 October in Olbia, Sardinia.
Watch Franco Capelletti's Interview

Early in the summer, as part of the series on Judo Legends, the IJF met with this born-educator who explained to us how his life in judo had been, and still is, a dream of which he wants nobody to wake him up.
JUDO LEGENDS: The International Judo Federation is pleased to release the third episode of its series of films on the legends of judo, who are above all builders of what our sport has become today. Whether they are or have been great champions, referees, and/or great leaders of world judo..., they have all contributed to making judo a major player in international sport. Over the coming weeks, the IJF will keep releasing the videos of these exclusive interviews and will unveil the messages that these personalities have to offer us.
Judo Legends video already published
PREVIEW

Women
-48kg
World silver medallist MUNKHBAT Urantsetseg (MGL) is the number one seed in the women's lightest weight category and will be expected to maintain Mongolia's momentum from the 2017 Suzuki World Judo Championships where they won a record haul of six medals. World number five Milica NIKOLIC (SRB) finished fifth at the Worlds and could win her second Grand Prix title if she can finish her competition day undefeated on Friday. European bronze medallist CSERNOVICZKI Eva (HUN) and Belgrade European Open silver medallist Kelly STADDON (GBR) will also be among the medal contenders.
-52kg
London 2012 Olympic bronze medallist Charline VAN SNICK (BEL) has prepared for the Tashkent Grand Prix by training in Paris. Baku Grand Slam bronze medallist VAN SNICK moved up from -48kg to -52kg a year ago and medals have been hard to come by. The Belgian starts as the top seed and should achieve her best result to date at -52kg. Former World Judo Masters silver medallist ADIYASAMBUU Tsolmon (MGL) will be tipped to enter the medal equation while Antalya Grand Prix bronze medallist Ariel BEZALEL (ISR) will be bidding for her second medal at this level.
-57kg
Former European Championships bronze medallist Timna NELSON LEVY (ISR) starts with the top billing as the highest ranked judoka in the -57kg category in Tashkent. The world number 15 is one of the latest talents from the Israeli production line and the 23-year-old is poised to have an increased presence on the IJF World Judo Tour as she prepares to start her Tokyo 2020 Olympic qualification bid next year. Sevara NISHANBAYEVA (KAZ) took bronze in Tashkent a year ago and could achieve a similar result this time around but the fate of the -57kg title in Uzbekistan will rest largely with the performance of 37-year-old veteran Sabrina FILZMOSER (AUT).
-63kg
European Championships bronze medallist Kathrin UNTERWURZACHER (AUT) lost her opening contest at the World Championships and will be looking to bounce back at the first attempt by winning in Tashkent. Five-time Grand Prix winner UNTERWURZACHER, who is ranked third in the world, is still an overwhelming favourite for gold but has three-time Grand Prix bronze medallist Andreja LESKI (SLO), Baku Grand Slam bronze medallist Busra KATIPOGLU (TUR) and former Tyumen Grand Slam winner Catherine BEAUCHEMIN-PINARD (CAN) for company in one of the deepest divisions in the competition.
-70kg
Antalya Grand Prix winner Anka POGACNIK (SLO) is the top seed at an IJF event for the first time. The world number 13, who has won all three colours of available Grand Prix medals, will compete alongside u23 European Championships winner GERCSAK Szabina (HUN), 2016 Tashkent Grand Prix winner Gulnoza MATNIYAZOVA (UZB) and Dubrovnik European Cup winner Megan FLETCHER (IRI) who competes at a Grand Prix for the first time with the Irish flag having switched from representing Great Britain earlier this year.
-78kg
Hohhot Grand Prix winner Bernadette GRAF (AUT) lost out to eventual world champion Mayra AGUIAR (BRA) last time out in Budapest and will be hoping for a long and productive day in her third competition at -78kg. The Austrian looks poised to make the move up from -70kg a permanent one providing that she can adjust to the category in due course which will ultimately be decided by her performances at Grand Slam events in the remainder of 2017. Antalya Grand Prix winner Anastasiya DMITRIEVA (RUS) will be bidding to complete a Grand Prix gold medal hat-trick while 2016 Tashkent Grand Prix bronze medallist Kumush YULDASHOVA (UZB) will fly the flag for the hosts.
+78kg
Rio 2016 Olympic bronze medallist Anamari VELENSEK (SLO) took bronze at the Cancun Grand Prix this year in her first outing in the women's heavyweight division and could lead from the start. The second Cancun Grand Prix bronze medallist Sarah ADLINGTON (GBR) will also be present in Uzbekistan after narrowly missing the podium in Croatia a week ago where the Brit finished in fifth-place.
Men
-60kg
Asian Championships bronze medallist Mukhriddin TILOVOV (UZB) shone at the 2017 Suzuki World Judo Championships in August with a hard-fought fifth-place finish as he lost to teammate and Olympic bronze medallist Diyorbek UROZBOEV for bronze. Paris Grand Slam silver medallist Sharafuddin LUTFILLAEV (UZB) is a three-time Grand Prix gold medallist but has only won once at home and that may change on day one in Tashkent. Former Baku Grand Slam silver medallist Vugar SHIRINLI (AZE) will be hopeful of challenging for a first Grand Prix medal since his lone bronze medal in Samsun, Turkey, back in 2013.
-66kg
World number seven Baruch SHMAILOV (ISR) is the top seed in the -66kg category and is in a prime position to win his first Grand Prix title. The 23-year-old is an owner of two Grand Prix silver medals and one bronze but has upped his performance level in 2017 as he finished just short of honours at the European Championships. Tasked with stopping the Israeli from opening his Grand Prix gold medal count are judoka such as GANBOLD Kherlen (MGL) who has captured an Asian Championships bronze medal since stepping up a weight at the end of last year. The Mongolian has three-time Grand Slam bronze medallist and world number 10 DOVDON Altansukh (MGL) for company along with 21-year-old Ekaterinburg Grand Slam bronze medallist Dzmitry MINKOU (BLR).
-73kg
World number 11 Giyosjon BOBOEV (UZB) won his first Grand Prix gold medal earlier this year in Tbilisi and is well-placed to match that performance in his homeland. The 24-year-old is on the verge of breaking into the world's top 10 and will face stiff opposition from home and abroad including domestic rival Mirzokhid FARMONOV (UZB) who won this event a year ago. Teenager Martin HOJAK (SLO) was seventh in Tashkent last year and will be intent on improving that finish and showing his progress over the last 12 months while Asian Championships bronze medallist Zhansay SMAGULOV (KAZ) would love to take gold back to his neighbouring country.
-81kg
Former Asian Championships winner NYAMSUREN Dagvasuren (MGL) has a tendency to save his best judo for his home continent and has the top seed status. The world number 16 topped the Grand Prix medal podium in his native Ulaanbaatar last year and has won five of his seven Grand Prix medals in Asia. Sagi MUKI (ISR) was a Grand Prix, Grand Slam and European Championships winner during his lengthy run in the -73kg category but is yet to make an impact in the -81kg category since moving up at the end of 2016. MUKI, who has a penchant for the spectacular, could leave his biggest impression to date on the category when he competes on Saturday in an open and fascinating division.
-90kg
Two-time Asian Championships winner Komronshokh USTOPIRIYON (TJK) is a five-time Grand Prix medallist and will be tipped for glory on Sunday. The Rio 2016 Olympian, who finished fifth at the Worlds in 2015, has been highly-active on the IJF World Judo Tour this year and could be set to reap the rewards for his persistence when he targets the -90kg title on the last day of competition in Tashkent. Yakhyo IMAMOV (UZB) was the hero for Uzbekistan last year as he won gold with a fine display but the former Paris Grand Slam winner has struggled for form since then and needs to return to his best judo to repeat his 2016 win.
-100kg
Former world bronze medallist Ramadan DARWISH (EGY) will be searching for his 11th Grand Prix career medal on Sunday. The five-time African Championships winner has medalled at every IJF World Judo Tour event and is the number one seed for the -100kg category this weekend. Ekaterinburg Grand Slam silver medallist Niyaz ILYASOV (RUS) is part of a youthful Russian team in Tashkent and has medalled at his last 13 international events in a run which dates back to 2013. The 22-year-old took bronze on his Grand Prix debut earlier this year in Antalya.
+100kg
Asian Championships bronze medallist Iurii KRAKOVETSKII (KGZ) is the leading man on paper in the men's heavyweight category in Uzbekistan as the world number 16 is the highest ranked judoka in the category and therefore starts as the top seed. The 25-year-old, who finished seventh at the Rio 2016 Olympics, has never won a Grand Prix and has it all to do if he is to change that this weekend. Mongolia's Rio 2016 Olympic Games flagbearer BATTULGA Temuulen (MGL) is about as seasoned as a judoka can be with experience of every competition in the sport, a glut of medals from the international circuit and is seen as a leading figure in his national team. BATTULGA will be most concerned by the participation of Rio 2016 Olympics bronze medallist Or SASSON (ISR) who competes for the first time in 2017 and more than fits the bill as a leading contender for November's Openweight World Championships.
COMPETITION PROGRAMME
Friday
12:00 Preliminaries on two mats
17:00 Final block on one mat
Women: -48kg, -52kg, -57kg
Men: -60kg, -66kg
Saturday
12:00 Preliminaries on two mats
17:00 Final block on one mat
Women: -63kg, -70kg
Men: -73kg, -81kg
Sunday
12:00 Preliminaries on two mats
17:00 Final block on one mat
Women: -78kg, +78kg
Men: -90kg, -100kg, +100kg
Location: Tashkent Sports Arena