The final day of Grand Prix Portugal has come to a close and the heavyweights rounded out the tournament with some typically powerful judo. Here we break down some of the best actions of the day.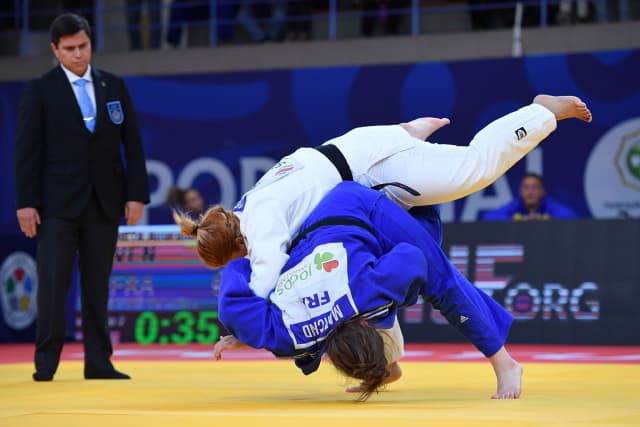 In day 2's analysis we noted the prevalence of sumi-gaeshi and hikikomi-gaeshi, both on show again on day 3, but we also discussed the potential pitfalls of using the technique. In the -90kg category, the round 2 match between former world finalists Toth (HUN) and Gwak (KOR), which could have easily been the final, illustrated this perfectly. At one waza-ari and two shidos each and with Gwak struggling with stamina, the Korean started to rely heavily on sumi-gaeshi attacks to stay in the contest. Toth cottoned on to this, eventually cartwheeling off the technique and hooking Gwak's arm to pin him with an unusual kami-shiho-gatame for an excellent win, which put him squarely on the path to the final. However, in that final, Toth was on the end of a superb seoi-nage from Ivanov (BUL) who took his first major medal since moving up from -81kg.
A similar sumi-gaeshi scenario could be seen in the -100kg category, which saw the return of the legend, the double Olympic champion, double world champion and three-time European champion Lukas Krpalek to his former weight category, after an incredibly successful 6 years in the +100s. In his first match of the day, against Jae Yun Kim (KOR), the Korean attempted a sumi-gaeshi under pressure from the Czech star but Krpalek surfed the technique, ending up on top but with one leg entangled. In typical fashion, the ne-waza specialist made light work of controlling his opponent's upper body, before freeing his leg and pinning Kim for ippon. Such ne-waza actions were rare on day 3, with the exception of some quick transitions to osae-komi from throws. 
Krpalek once again used his ne-waza knowhow to defeat Gonzalez (Rou) in his second match with, you guessed it, sumi-gaeshi, rolling his opponent over from his knees and sliding directly into tate-shiho-gatame for the win. 
Elsewhere at +100kg, there was a nice turnover from Gadeau (MON), who used the threat of kata-te-jime to reverse Amezquita (VEN). At -90kg, Clerget (FRA) produced a rarely seen version of kata-juji-jime, sometimes referred to as the 'baseball bat' choke, to submit Knauf (USA) from what could've been osae-komi for the American. There were also some great exchanges on the ground between Clerget and Madzhidov (TJK) in their repechage match, with both battling to secure the ura-gatame from a 50-50 position. The Tajik judoka eventually moved on top, but Clerget gave everything he had and managed to escape. Clerget later secured the win with kuzure-kami-shiho-gatame, after tying off his opponent's arm expertly and controlling the upper body.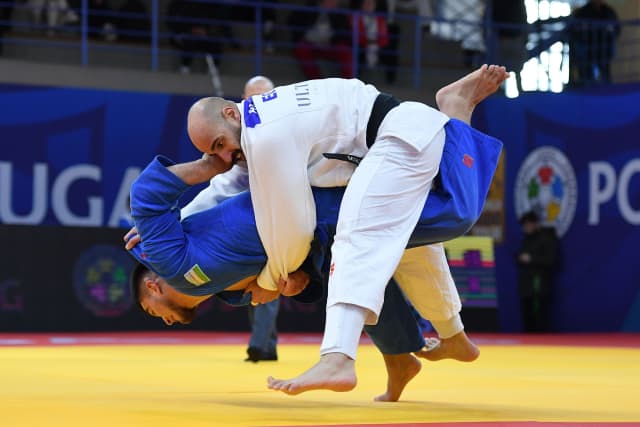 There were plenty of explosive throws in the -100kg category but as Aaron Fara (AUT) found out, being able to throw 'big' is no guarantee of success. In round 2 against Georgiev (BUL), he launched the Bulgarian with a massive obi-tori-gaeshi for ippon. He then came up against Veg (HUN) in the 3rd round and threw for waza-ari from a similar position with a similarly powerful uchi-mata. Not only that, Fara then managed to free his entangled leg and secure a tight osae-komi. Veg reactly quickly, however, bridging powerfully out of the hold and taking Fara with him, to then pin him for the full 20 seconds, a reminder that it isn't over until soremade is called.
The two -100kg finalists, Sulamanidze (GEO) and Arai (JPN), produced some of the day's best judo. The 18-year-old Arai clearly specialises in uchi-mata, scoring three times with the technique and the pick of the bunch came in golden score against Veg. The Japanese athlete removed the Hungarian's straight right arm from his lapel and spun in quickly to send his adversary flying. 
Sulamanidze threw with a wider variety of techniques on his way to the final, the highlight being an o-uchi-gari to ko-soto-gake combination against Brites (POR), which he followed up with a juji-gatame to confirm the win. In the final, something had to give and Sulamanidze's experience advantage showed, throwing the cadet world bronze medallist cleanly with seoi-nage and o-soto-gari in quick succession.
At -78kg, many of the fighters struggled to impose themselves on their opponents, finding it difficult to follow through with their attacks and land a score. Many of the day's matches had long golden score periods, with the results being decided by penalties. However, there were some moments of technical brilliance from teenage sensation Lytvynenko (UKR). Against Stout (USA), the Ukrainian used her long legs to floor the American with a lightning-fast uchi-mata to ko-uchi-gari combination and then submitted her with a brutal okuri-eri-jime. After enduring a 12-minute contest against Kuka in the quarter-final, she quickly dispatched Reid (GBR) in the semi-final with a swirling o-goshi under pressure to her weaker left side. The world bronze medallist had to settle for silver, losing out on penalties to home favourite Sampaio.
In the heaviest categories, the best judo on display came from the two high-ranked Koreans, Hayun Kim and her namesake Minjong Kim, in +78kg and +100kg, respectively. The female Kim started the day with a kata-style uchi-mata in 17 seconds against Dambadarjaa (MGL) and followed this up with a few driving o-uchi-gari attacks to get past Stevenson (NED), new to the category, and Zabic (SRB), who is starting to turn heads. In the final against Nunes (POR), despite being thrown hard onto her side, Kim managed to trap an arm and roll the Portuguese over into ushiro-kesa-gatame to take gold.
The male Kim won each of his 4 preliminary fights with a different technique: yoko-tomoe-nage, seoi-nage, yoko-otoshi and finally, a huge hugging ko-soto-gake against Spijkers (NED) to book his place in the final. Players with such a vast technical repertoire remain uncommon at +100kg, thus Minjong Kim was a standout on the day. He closed out today's proceedings with a kata-guruma on Inaneishvili (GEO) and cemented Korea's place at the top of the medal table.
And so ended the first major tournament of the year. We've seen relentness ne-waza from the lightweights on day 1, sacrifice throws galore with the middleweights on day 2, and thunderous ippons from the heavyweights on day 3. It's been a spectacular weekend of competition, and we are looking forward to more action in under a week's time at the next stop on the World Judo Tour: Paris. Catch all the action on live.ijf.org.