At the end of day 1 of the Antalya Grand Slam 2021, we met two coaches to get their impressions.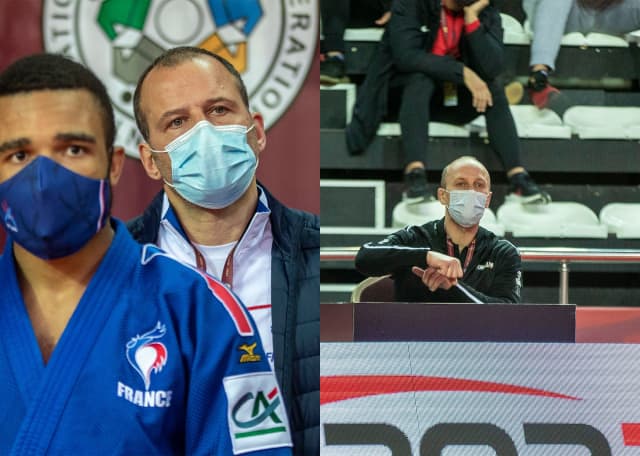 Christophe Gagliano was a member of the French national team for many years and is now a coach with the French delegation.
"From what I saw of the two men's categories today, -60kg and -66kg, I can say that the level is really interesting. It was not yet the best of the best, not everyone was there, but I saw that there are athletes who are back in the race and I also noticed that even those who will not be in Tokyo are already in ambush mode for the Paris Games in 2024. There are small nations who are trying to sneak in too.
What we see immediately is what I call pure judo: the looseness and relaxation. The concept of looseness is very important. Competitors who can do this are the ones who launch strong and interesting attacks. When we talk about combat, what makes the difference is realism. This means athletes who are hyper-present in the fight, who do not neglect any detail. This is true for the kumi-kata, the standing to ground liaison and the groundwork, the rhythm of the attacks, it is immediately obvious.
When we take two people who are at the same level, if there is one who is a little more realistic, that makes the difference and it is them who wins the match. I have a match in mind: the Dutchman Ivo CVERHORSTERT, in the second round, against the Brazilian Willian LIMA. We see that on the attacks it is the Brazilian who has more judo, but it is the other who is more realistic and who wins the fight, because he is present, even when being led by 2 penalties. Technically he has no solution, but since he stays in the fight longer and he is more constant, he manages to win.
The representative of Chinese Taipei, Yung Wei YANG, remains solid and interesting to follow. He is present and has really nice judo techniques, but he lost in the semi-final against the Belgian Jorre VERSTRAETEN (BEL), who was more realistic. 
There are small countries, like Morocco, which gradually increase their level. The athletes still lack solutions, sometimes techniques and tactics, and also experience, it's a bit of a shame, but they are making great efforts.
I also noted the performance of Salih YILDIZ (TUR). I think that the fact that he won the round of 16 fight against the Bulgarian Yanislav GERCHEV was detrimental to him for the rest of the day. He was strong against Walide KHYAR (FRA) who was injured and walked a little on one leg, without being able to make many attacks. Walide has a dynamic, explosive and offensive judo, but there he was behind. Suddenly it gave the Turkish judoka confidence. Fortunately Walide had only one opening, but this is where we find my story of realism. A single opportunity, a single attack, a single opening, and that makes all the difference. What the Turk lacks is a bit of this realism and also tactics in the fight, but he is someone who surprised me by his relaxation.
If I focus a little more on the French team today in this final block, I can say that Romaric Wend-Yam BOUDA was very good. It is not easy to face a home player in a match for a medal, but he did it very well. He was a little shy with the attacks, but he managed to win. Walide KHYAR (FRA) was hungry for a fast win. As he had a little foot injury, he wanted to go fast and he was surprised by the Belgian. Jorre VERSTRAETEN took the opportunity and made a nice sequence of techniques. Yung Wei YANG (TPE) was also very strong, with a lot of technical solutions and a very good rhythm.
In the -66kg group, Kilian LE BLOUCH was tired and without technical solutions. Nijat SHIKHALIZADA (AZE) found that solution and, just like YANG, was capable of producing a beautiful throw. ABE Hifumi didn't show his best, but he won with a very good Spanish competitor in front of him. That always gives a pleasant match to follow for judo specialists."
Cedric Taymans, coach of the Belgian team, analyses the women's categories
"We can see that the Italians already started to perform well in Tbilisi and now here. MILANI won a medal in Georgia and again here and she enters Olympic qualification. It was clear against the Olympic champion Pareto. MILANI works well, but I also felt that Pareto was not on her best form. She didn't have her usual way of working and that was visible throughout her matches. Milani took advantage of it. She is young and she has the will and this has to pay off.
At -48kg, not all the stars were here. The Ukrainian, the Japanese, the French, among others, were absent. Nevertheless, we saw some good performances with a lot of ne-waza. For instance, the Russian, Anastasia PAVLENKO does a great jugi-gatame.
The matches were quite tight, because we have a level, a good level, but well balanced and more or less similar. Rania HARBAOUI (TUN) is young and dynamic. She steps on the mat to go until the end with good attacks. In her first match against the Belgian she demonstrated good ashi-wasa skills.
At -52kg the favourites weren't there and Estrella LOPEZ SHERIFF (ESP) did not have a lot of difficulties in reaching the final, but what surprised me was Gili COHEN,(ISR) falling against the young Polish Aleksandra KALETA. These young girls are already thinking about Paris 2024, and they want to prove already that they have the level and that they can win against the favourites.
We've seen a lot of good matches and very effective judo at the same time.
Diyora KELDIYOROVA (UZB), in her first final, showed and proved that Uzbekistan's women's team is getting better and better, after her medal at the Masters in 2019, where she defeated Charline VAN SNICK. I think that it motivated her a lot and she continues along her way with beautiful a morote-seoi-nage and a strong ippon-seoi-nage. 
I think that sometimes shido is given too harshly at the beginning of the matches, too rigorous. We have golden scores, so what is good is that at the end it is the real winner who wins, with a throw or with penalties but it must really jump to your eyes. 
-57kg is no surprise. Both of them, Christa DEGUCHI (CAN) and Jessica KLIMKAIT (CAN), are very special judoka. They are two favourites for the gold here but also for gold at the Olympics. What I find interesting with these two girls, even with the status of favourites, is that they still made a beautiful and tactical final. When the last shido fell on Jessica today I was not surprised, because of the dropped seoi-nage attempts being more and more at the limit.
The -48kg final was also tactical, as we were expecting when athletes know each other so well. The fact that it finishes with penalties is not surprising. In the bronze medal contest between Pareto and the Turkish Gulkader SENTURK, the Olympic champion did a lot of false attacks, but the Turkish did not visibly perform better. So I was a bit surprised by the result. It's probably correct, but it looks always strange. Anyway, I congratulate her for her first grand slam medal and at home it's even more beautiful.
The Uzbek at -52kg was very good. In 24 seconds she won with a beautiful technique. We need to keep our yes on this girl."
When both Christophe and Cedric speak, at the end of a busy competition day, they speak fast, moving quickly from one point to the next, jumping into new categories and new themes, almost without taking a breath. Coaches analyse all day long and they learn and feedback and plan. With the competition in Antalya moving at break-neck speed, it is only right that our analysis does the same. 
Day two begins at 10:45 o'clock local time and all the action can be followed live on live.ijf.org