On day 1 in Dushanbe Mr Jose Manuel Cortes (ESP) is present in the Kasri Tennis Arena as a member of the team of IJF Referee Supervisors. Having refereed at three Olympic Games, in Beijing, London and Rio De Janeiro, Mr Cortes brings with him a wealth of experience, understanding exactly what it means to stand in the middle of the mat, acutely aware of the responsibility of referees. In Dushanbe the first day's technical analysis is his.
"The judo at this event has been of a much higher level than we might have expected considering the world ranking of the majority of the participants. The ranking suggested that the level might not meet the standards set at recent World Judo Tour events but we saw very good judo throughout.
The preliminaries were dynamic and there was a consistency of emphasis, with the vast majority of judoka aiming at positive scores. This was evident in how the contest ran statistically speaking. The first golden score on mat 1 where I was most focussed, for example, wasn't until the 11th fight. There were 7 golden score contests in total on mat one during the morning block, from 40 and on average these stayed below two minutes of extra time. Everyone attacks and everyone wants to win. Often problems occur when one athlete is fighting to not lose but we haven't seen that here in Dushanbe.
This changed somewhat in the final block, perhaps because judoka felt ther was more at stake once they had done the work to get so close to the podium. However, the general impression of the day is very positive.
There are some new athletes, new names and so it was refreshing in that way. We have fewer expectations and can enjoy the judo simply as it is presented to us. At -60kg and -66kg we had some exciting fights and overall I was impressed by the Tajik athletes, really wanting to do their best for their very enthusiastic home crowd.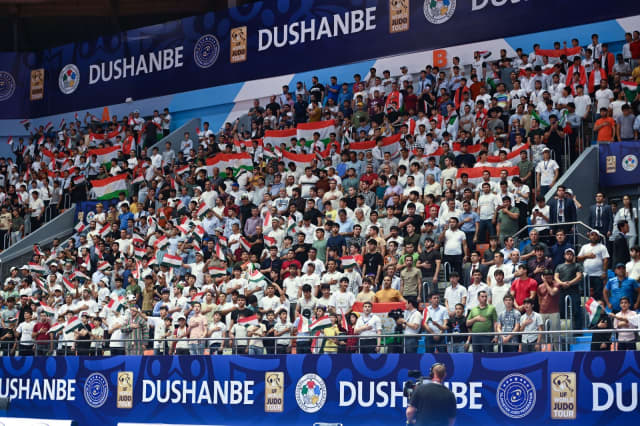 One judoka we could have expected in the final block was Ballhaus (GER), really in form and with strong judo. However, she was disqualified for a head-five and so, in a strange way, controlled her own exit. For me, three instances of head-diving in one day, just from the preliminaries is too many. I could anticipate this number perhaps for the whole tournament but not just one day. There must be a change in what is practised, even if it means changing habits and there has been enough time now for all athletes and coaches to have learned, modified and applied correctly in competition. Really, they should all know by now.
The two finalists at -60kg absolutely deserved their places on the podium. Bayramov (AZE) and Abdulaev (AIN) were great to watch. Mkheidze (FRA), however, seemed a little out of sorts, like he couldn't find his feeling, his timing. He's a great judoka and managed to save the medal, but we are sure bronze wasn't in his plan.
Dzhebov (TJK) was the biggest surprise of all and with no reference on the World Judo Tour. He had a good record in the junior age category but this is his first time transferring that experience to the senior level. His uchi-mata and other techniques really aimed at elevating his opponents, almost as if trying to fly, very entertaining.
The second semi-final at -66kg was a long golden score contest but they deserved this extra time; it was riveting, attacking all the way, almost alternating and giving no hint of who might actually win in the end. The application of the rules by referees was very good, not just in this contest but throughout."
Day one has now come to a close but with a lot of positives recorded from the first day of this debut event. Day two begins at 11:30am local time and can be followed on JudoTV.