On Day 2 in Almada the middleweights took to the tatami for their turn to showcase their judo to the world, for the first time this year. With 185 players competing across the 4 categories, the judoka needed to be on top form and also have a little bit of luck, if they were to come out at the top of their respective fields. As ever, there were many strong performances and after a big emphasis on attacking on the ground on day 1, the additional power of the bigger players brought the tachi-waza techniques more to the fore.
If you were to hazard a guess at the most popular scoring techniques in tachi-waza from today's preliminary matches, having not seen the action, what would you say? Seoi-nage? Uchi-mata? If you said the former, you'd be quite right, as seoi-nage, particularly the drop-knee variety, is a ubiquitous technique at all levels of the sport, such is its efficacy. What you might be surprised to hear is that the latter scored less frequently today than the combined scores of two sacrifice throws: sumi-gaeshi and its closest cousin, hikikomi-gaeshi.
Attacking with these techniques, which involve throwing yourself onto your own back, can be a double-edged sword. On one hand, they can be performed using a variety of grips, one can generate a great deal of momentum when applying them and they combine well with various transitions to ne-waza. In addition, they can be used to score against a kneeling opponent who has yet to fully enter into groundwork phase and can function as a get-out-of-jail-free card when under pressure from an opponent. On the other hand, if executed poorly, they can lead to false-attack penalties, attacking opportunities for uke on the ground, potential ashi-waza counters and from a spectator's viewpoint, ugly judo, where uke is often driven face-first into the mat. We are pleased to report that the standard of application today was exceptional and provided some dramatic moments on the day.
A good example early on came from the round 1 -81kg match between Izquieta Mendiola (ESP) and Nosa Maddaloni (ITA). After battling it out for nearly 6 mins, the Spaniard pinned his adversary's right sleeve and took a tricep grip on the other side. He then feinted for a forward attack, before dropping underneath his opponent and flicking him over to the 'wrong' side, to earn a waza-ari and progress to the next round. Also in round 1, Del Orbe Cotorreal (DOM) threw Mohamed (EGY) with a slick version of the technique, preferring to take an over-the-top grip and rolling his opponent smoothly over him. He repeated the feat in round 2 against Morales (ARG), this time throwing with a belt grip in response to the Argentinian's dropping attack.
Gabriella Moraes (BRA) was something of a revelation in the -63kg category, with her excellent hikikomi-gaeshi helping her on her way to a first World Judo Tour final and therefore her first medal. In a tight first exchange in her contest with Novitzki (ISR), the 22-year-old managed to break the Israeli's posture and quickly latch onto the belt and slide underneath to score waza-ari and get a foothold in the fight. What was unusual about this application was that the Brazilian pushed her opponent's sleeve across their body, to generate additional momentum and prevent any possible defence using that hand.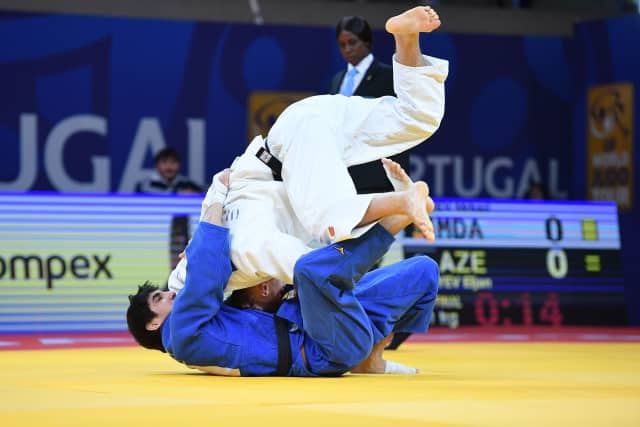 Once she passed that second-round hurdle, she met the much higher-ranked Zachova (CZE), once again scoring in the first exchange but this time with harai-makikomi. Not content to defend her lead, she finished the fight with the trusty sacrifice. In the quarter-final, she once again won decisively with the technique, disappearing underneath Padilla Guerrero (ESP) to land the only score of the contest. A semi-final victory over number one seed Barrios (VEN) capped a terrific performance from the former cadet world silver medallist.
There were also several scores using the aforementioned techniques where uke was thrown from their knees and all of them came at key moments in their respective contests. Belkadi (ALG), also at -63kg, cleverly defeated Kristo (CRO) in golden score and later Padilla Guerrero just as the clock ran out, on her way to the bronze medal contest, lifting both fighters up and over onto their sides. At -81kg, Hajiyev (AZE) defeated the in-form Latisev (MDA), countering a yoko-sutemi-waza attempt in the dying seconds of the semi-final, giving the Moldovan no time to respond. While these applications often aren't the prettiest, their scoring potential is a reminder to the athletes never to let their guard down, often producing more exciting matches.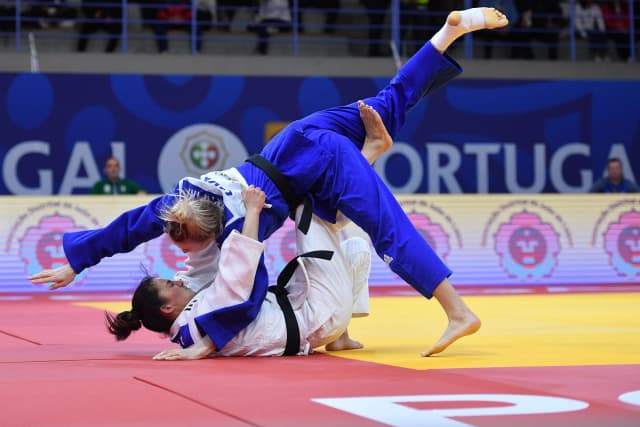 One could argue that, with the rules as they are, the prevalence of sumi or hikikomi-gaeshi and other sacrifice throws such as yoko-guruma, today's athletes are becoming more and more willing to deal with the risks associated with them. While that may backfire for them on occasion, it makes for dynamic and unpredictable matches and a superb viewing experience for spectators of this wonderful sport.
What delights do the heavyweights have in store for us on day 3? Follow the final day of competition on live.ijf.org to find out. 
More images of the Grand Prix Portugal 2023 - CLICK HERE