Here in Antalya we are sticking with our theme of speaking with coaches for their impressions of the judo on display. Today's heavyweight categories have offered surprises, even shocks, but also some dynamic power and ingenious combinations, to bring the world of judo some interesting podia in the final lead in to the Olympic Games.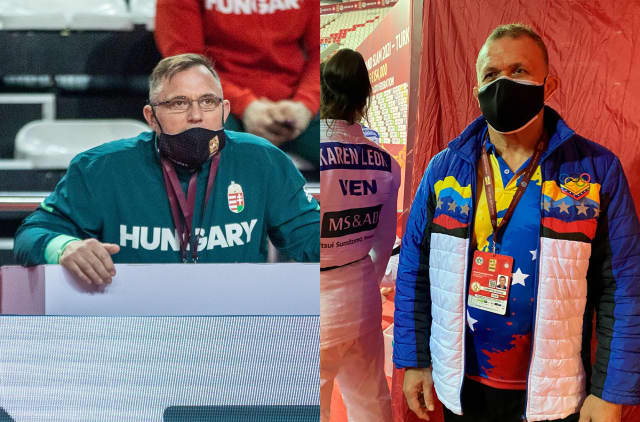 For the analysis of the men's -90kg, -100kg, +100kg  categories we asked Panczel Gabor for his thoughts. He has been a Hungarian Coach for many years, especially of TOTH Krisztian and he approaches all events with a rounded view of the past, present and near future. 
"The three categories are very strong, with a lot of good competitors who will be present at the Olympics, so the level always rises. We could see yesterday also, with the -73kg and -81kg, we had an incredible level. It really impressed me and it impresses me this year especially as the Olympic qualification is in full swing. Our Hungarian -81kg, Ungvári Attila is back were he belongs. He is an experienced and very strong judoka.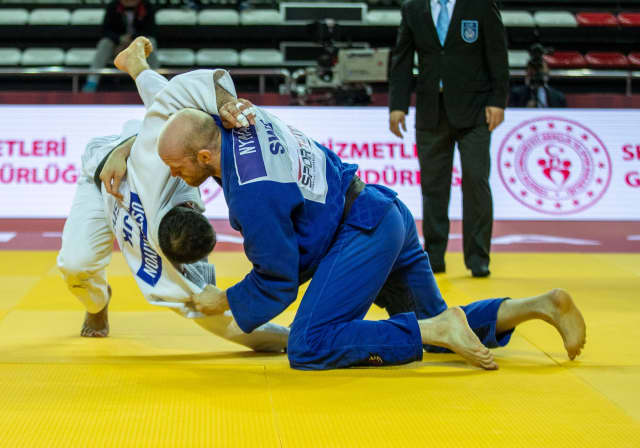 For today, I will start with -90kg. I had my athlete TOTH Krisztian. He has been very consistent over the last events, with good dynamic judo. He's throwing, but for him the final is always difficult. The Swedish fighter Marcus NYMAN is an expert in ne-waza. He is very tall, physically very strong and he's coming from a victory at the Tbilisi Grand Slam. Unfortunately it was not Toth's day for the gold but he gave a very balanced match. Marcus NYMAN (SWE) is improving more and more and I believe that his last result gave him confidence and he knows exactly what he needs to do to win, which he obviously did today.
Komronshokh USTOPIRIYON (TJK) was super strong, while David KLAMMERT (CZE) is a very clever athlete who can perform good technical throws. He knows which tactics to use and how to apply them and in this bronze medal contest there was no exception to that. Even when being led by 2 shido he kept searching to attack and it happened; he put a waza-ari on the scoreboard. 
The home judoka, Mihael ZGANK (TUR) and Li KOCHMAN of Israel both have an unusually powerful physical condition, but Mihael has more technical solutions, more dangerous attacks and of course he's playing at home. That is an important fact, but it turns that the Israeli was prepared for the match and threw ZGANK with a combination of technique and a change in direction in the last 30 seconds, stealing the joy of the home judoka. 
Seeded number one here at -100kg and winner of the grand slam last week, young Shady ELNAHAS is a good hope for Canada with a bright future, if he works hard. Getting eliminated in the first round was a surprise but he has time.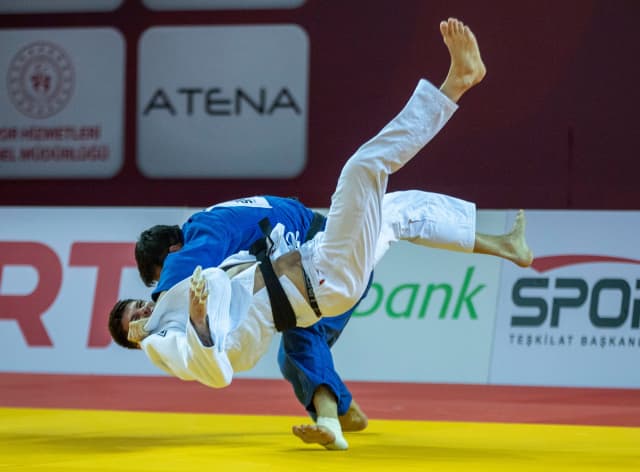 For the bronze, Aleksandar KUKOLJ (SRB) was a surprise, in his new weight class, but it was his turn to fall for ippon.
Kyle REYES (CAN) took his chance as ELNAHAS was out. The Canadian team is very strong and homogenous. They were in good shape here and last week in Georgia, but REYES was caught during the bronze medal contest with a huge throw. Grigori MINASKIN (EST) only used 9 seconds of the match to do that, so we can say that this is beautiful and stylish judo.
In his first contest Aaron WOLF (JPN) was losing against Mert SISMANLAR (TUR). He was also thrown by Lewis MEDINA (DOM) and the Russian Arman ADAMIAN, all for waza-ari. He was clearly not showing his best performance on the tatami and made it to the final by the skin of his teeth, but at home this is going to be a different story. The final was not so interesting, with only shido and confusing kumi-kata. Zelym KOTSOIEV (AZE) was more tactical and attacked several times with sumi-gaeshi. That made the difference and 3 shido came for Wolf. Gold to KOTSOIEV.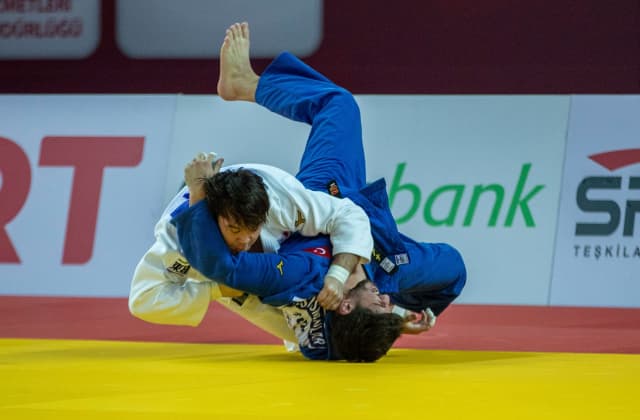 At +100kg Stephan HEGYI (AUT) has really good skills and was moving well today, very determined, but in front of him for the bronze he had the strong and very big Ushangi KOKAURI (AZE), who is a physical competitor, difficult to fight against. In the end HEGYI did what he had to do and what he could actually do, pushing KOKAURI to be penalised.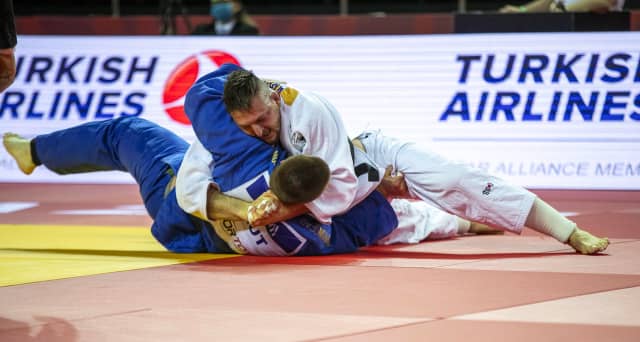 Lukas KRPALEK (CZE) is the kind of athlete that you should not go to ne-waza with. He has his specific techniques on the ground and he knows how to apply them in each situation. For the bronze he showed a very nice sumi-gaeshi twice, to score two waza-ari. Every time he gives a little kick to the foot of his opponent and immediately drops under with a super strong control of the upper body. It's almost impossible to escape when you are trapped. It's a good performance from Lukas but he is still far from what we know about him.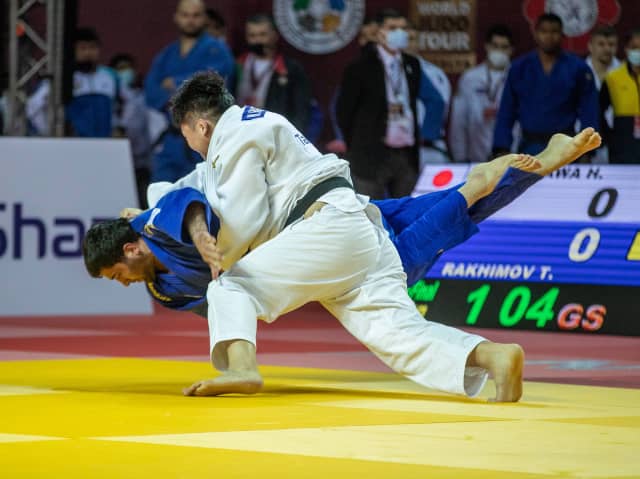 Tamerlan BASHAEV (RUS) and HARASAWA Hisayoshi (JPN) is always a very good battle to watch. Both of them are skilled judoka, even if it is the Japanese with an enviable CV. Today, though, BASHAEV caught HARASAWA by surprise when he kept pushing. It was not the Russian who was changing direction but actually the Japanese judoka, who essentially went straight into BASHAEV's seoi-nage. I was impressed by this combination."
For a look at the women's -78kg and +78kg categories, on this final day in Turkey, we asked Venezuelan National Coach Kilmar Campos to explain his view.
"Even if the stars of the category were not here, the categories had a very good level. It was difficult at the beginning of the day to guess who were the women to make the most of these opportunities, because the level is really balanced.
In -78kg we had HAMADA Shori, 2018 world champion (JPN), winning all the matches without major problems, but she didn't face the biggest rivals, as some, like the French current world champion and world number one Madeleine MALONGA were not in attendance. In the semi-final against Vanessa CHALA (ECU) HAMADA worked very well with her ashi-waza and the ippon came to conclude the match, from a well turned o-uchi-gari.
Based on what I could see and guess, since the beginning of the day, I thought that Vanessa CHALA was capable of reaching the podium and she did. Congratulations to her. She was good, being tactical and agressive when needed. 
In +78kg, we saw a good performance from Raz HERSHKO (ISR), leading the final with a nice score, controlling the result, moving well on the tatami. She imposed an impressive rhythm, which for sure was not nice for Shiyan XU (CHN). The Chinese woman surprised HERSHKO with her uchi-mata at the very last second but once again, during golden score, HERSHKO concluded with a beautiful sode-tsuri-komi-goshi. 
Hortence Vanessa MBALLA ATANGANA (CMR), is improving from competition to competition. Her attitude has changed and she's going to the tatami without any fear. It's amazing to see this; many countries which are not the most popular for judo, are now growing and fighting at same level as the big nations. Africa is present with 2 athletes on the podium and this is really positive."