Nicolas Messner is an important cog in the IJF engine with roles across several sectors. He is the Media Director and the Head Director for the Judo for Peace Commission among other positions. Most importantly of all, he has spent his life in judo, firstly in France but then travelling around the world promoting judo and its values in some of the most remote regions.
Today, on day 3 in Doha, the technical analysis is compiled from Nicolas Messner's observations, "I will begin with the women's category, -57kg. When you look at the final, it looks like everything is normal with the number 2 seed Christa Deguchi, a world champion in 2019, and the Japanese entrant Funakubo who is the owner of 3 junior world golds and a senior world silver.
However, when you look into the draw it was like a storm in this category, especially with Silva, the top seed and current world champion, being kicked out. It was interesting to see that she was beaten by an almost unknown, currently ranked as number 61 in the world. Bozkurt (TUR) then went on to beat Gjakova, a second Olympic champion in one day!
You can have someone come from nowhere and suddenly arrive on top. She was not afraid, just faced each opponent with energy. Technically speaking she is a top competitor now but with no known name, yet! So always in judo the unnamed can win just as the big champions do.
Funakubo seemed untouchable all day, until the final, never really in danger, so stable and strong. It wasn't a surprise to see her reach the final. Her opposition there came from Deguchi who proved she is still climbing whereas Klimkait couldn't reach that level today. That Canadian internal battle is really taking shape. For a while now Deguchi has been building towards the top again. It must have been so hard after Tokyo, almost at home for an Olympic Games but she's back. Now she is close to that old level.
With Klimkait, though, people are really ready now for her strategies and they can deal with it, her techniques can be so close to the border of false attack. She's still sharp and strong but today it wasn't enough.
The French were disappointed today not to follow the two medals of their women so far, with Boukli's silver and Buchard's bronze. Cysique missed the mark and she could be seen as one of the favourites. Take all the favourites and the outsiders and we realise just how difficult it is to make accurate predictions even with the strongest seeds.
In the men's -73kg category it was perhaps even harder to guess what would happen but Stump and Lombardo stepped forward. They were physically prepared and ready to fight at this level. To look at the draw in the morning we could say some likely things but at the end of the day we would not have been so close.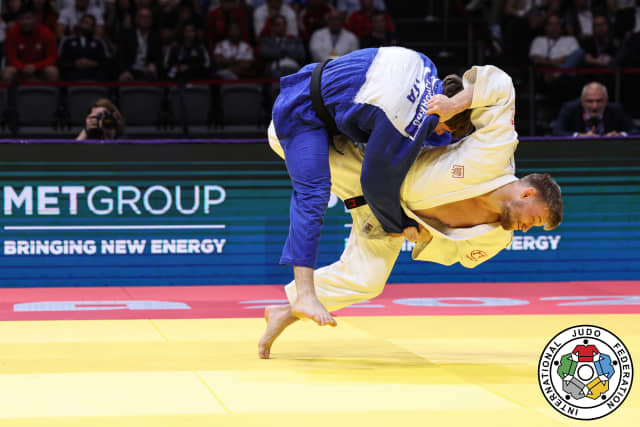 Uzbeks Yuldoshev and Nomonov put in good performances. It was a shame for them that they met each other. They know each other so well and even train together. In that quarter-final it must have been a tough mental battle; two shidos apiece for much of that contest.
Hashimoto (JPN) looked super strong first thing this morning, taking out 2012 Olympic champion and world number one Shavdatuashvili (GEO) in round two. It could have been a final and many thought that match would decide who the final gold medallist would be but that wasn't the case either. The number one was out, Tsend-Ochir out, then Hashimoto out. At the world championships nothing is guaranteed.
It has been great to see Moroccans and Algerians achieving so well, especially Dris (ALG) today. In the coming years we may see some results from them. There is still something missing but there's some great potential for the future.
Having seen all the IJF category breakdown videos in the lead-up to Doha, we realised just how many could be world champion. It's so exciting to see that everything is possible. Favourites can and do both, win and lose.
To watch more images of the World Judo Championships - Doha 2023 - CLICK HERE