Times are difficult. The Covid-19 pandemic has cast a veil of uncertainty over the world that no-one seems able to lift. All over the planet, billions of human beings are asked to keep their distance, to cover their faces and to respect rules of hygiene, to which few of us were really and lastingly accustomed. In this dark age, however, there are sources of light that can emanate from strong symbols that we did not necessarily seem to attach importance to.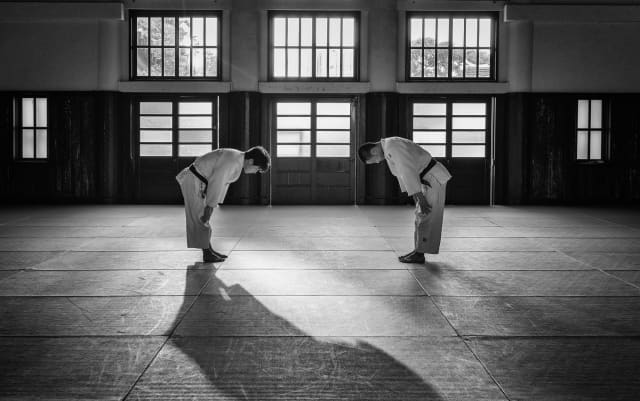 Among these symbols, we can identify the bow and for us judoka, the one we practise on the tatami. Trivially, it allows you to greet each other, to show respect, to mark a time for breathing and for a break, while scrupulously respecting the barrier gestures that have become vital to follow.
As judoka, we can therefore say that we had, perhaps without knowing it, one of the simplest and most obvious answers to the question of maintaining the social link, while integrating respect for oneself and for others, by applying social distancing.
Yet beyond the crisis we're working through and which spares no-one, whether we are powerful or miserable, the bow of the judoka is much more than a barrier gesture.
With judo being a sport of Japanese origin, it does not seem incongruous to us that the bow has infused the daily practice of our favourite activity. In Japan, for ages, bowing has been indeed attached to the expression of politeness. It is thus an integral part of Japanese culture. It is essential to society and is the subject of a codified ritual.
Whether it is a greeting, an apology, a mark of respect or a hierarchical necessity, this Japanese greeting is one of the cultural elements that most strikes new visitors when they land in the archipelago. Japanese etiquette is very strict regarding the bow (o-jigi - お辞儀) and the rules governing it are many and complex. From the first years of schooling, they are taught to all students. For example, the degree, number and duration of tilt vary depending on the circumstances (tea ceremony, thank you, apology, greeting...) and the gender and position of those involved.
In judo, bowing takes on a whole new dimension which is closely linked to the very nature of the activity. Thus this ancestral gesture allows us to distinguish between our belonging to the animal and instinctive world and our ability to demonstrate our humanity. The news is there every day to remind us that man is a wolf to man (from Latin: Homo homini lupus est - appeared around 195 BC in Plautus' The Comedy of the Donkeys). However, humans have a particular nature which sets them apart in the great order of the universe, as we know it.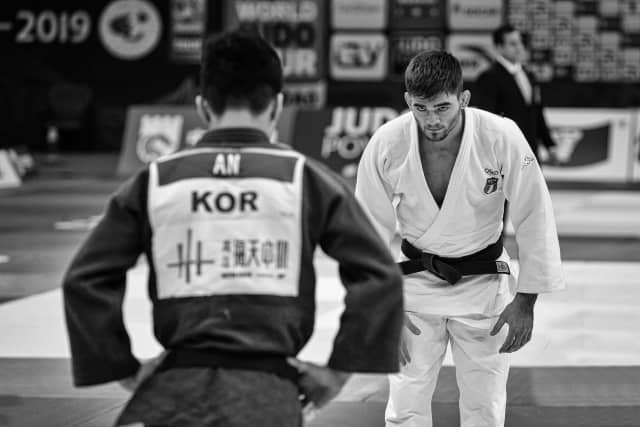 Nature is a place of violence, full of dangers and there is no animal, other than the human, on Earth who, before confronting others, greets them. By bowing to our training partner, or our competing opponent, we mark the victory of human consciousness over our animal instinct. By this posture of respect, with empty and free hands, without defence, we become aware of the other and show our consideration, demonstrating self-control.
"Bowing is an expression of gratitude and respect. In effect you are thanking your opponent for giving you the opportunity to improve your technique." ~ Jigoro Kano
There cannot be and must never be the slightest aggressiveness during the bow; it must not be marred by negative emotions or animal drive, despite the battle that it opens. It is a simple gesture with a strong symbolism. When we bow, we indicate that we respect, that we are at peace with ourselves and with the other, that we honour him or her for who he or she is and that we trust them as much as they trust us. It is precisely this domination of instinct that brings us into humanity.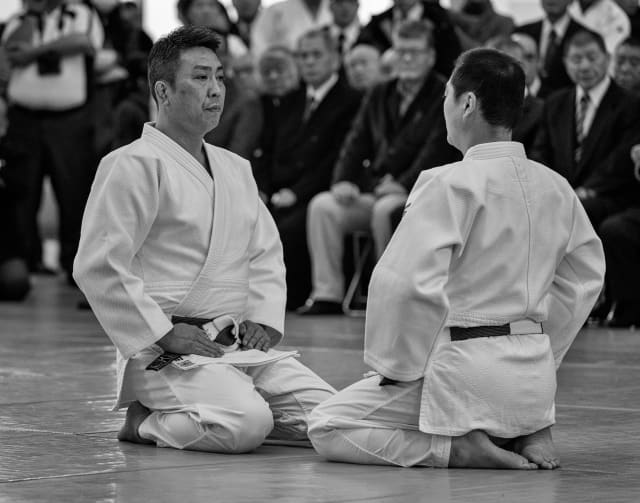 It is for these reasons, that it is not acceptable that the bowing is treated like a simple ceremonial moment, related to an etiquette which one does not understand and from which one does not seize all the power. It is not acceptable for the bow to drift towards an unidentified moment, becoming more of a meaningless automation than anything else. As such, in no way can bowing become a gesture of challenge, at the start of a fight, or of spite, at the end of a contest. It cannot be eroded by the slightest expression of anger or uncontrolled joy, resulting in an ersatz bow. This would be nonsense.
Bowing has the power to allow us to express ourselves completely, in accordance with the rules and with total freedom of movement and intention. It helps to channel the practice, sets its limits and makes it possible to control the excesses that one can experience in everyday life.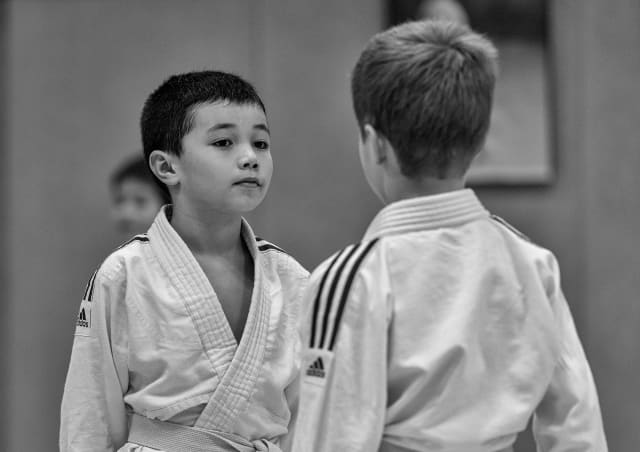 Judo is a game of opposition, a construction of the body and the mind, imagined by Kano Jigoro Shihan, which is the reflection of life. Not respecting the symbolism of bowing is to take the risk of seeing elements infiltrate our sport, which would distort it. Bowing is marking a beginning and an end, it is understanding the need to respect rules because without rules, the exchange becomes impossible and anarchy is ready to take over.
When we step on the tatami, we have an obligation to be aware of others and to respect them for who they are and what they have lived. It is because we bow that we can express our inner nature, demonstrate our physical worth and apply our mental capacity, to perfect our soul steadfastness, without ever finding ourselves in the role of victim.
If the bow is therefore a framework for the practice of judo, it also influences it. Once we bow to each other, we enter a world where all blows are not allowed, in a universe where the opponent is as important as the self. To mark this breathing time, is to show humility despite the intensity of the fight that is ahead.
We must not see, in all forms of incomplete, distorted or botched bows, a bad intention. Sometimes, unfortunately, it is just carelessness, but carelessness that can have unfortunate consequences for the very ideas that we should hold about respect. To neglect the symbol is to forget in the moment what it can bring us in terms of strength and inner balance. Bowing cannot therefore be reduced to its visible form. It is also very closely linked to its intention.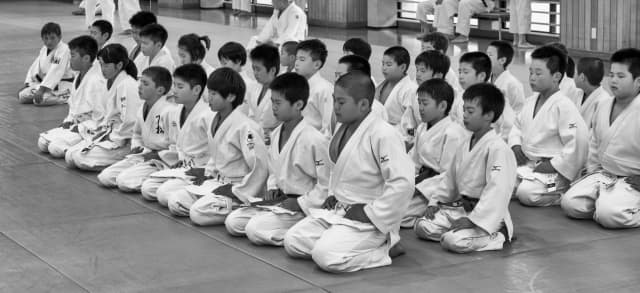 We often ask why judo is more than a sport. The answer is in the lines above. To bow to each other is to illustrate in a simple and powerful way the bond of brotherhood that links all judoka. The bow is indicative of the beauty of judo, which unites in the same practice, both the gesture and the spirit of the gesture. Without bowing, judo would no longer be what it is and could no longer be called by its name. Without bowing, we would not be what we are: free men and women with equal rights. Without bowing we could not help protect those around us.
REI!