Multi-sport events are always exciting and draw crowds from all over the world. They conjure kudos and national pride and exhibit to the public a series of new sports to get involved in.
For judo, the Commonwealth Games is special, bringing together smaller judo nations alongside staple winners. It's a celebration of diversity and global community and without fail, there is always an addictive atmosphere, one that fuels performance and pushes those not always on top of the podium to excel.
Birmingham in the United Kingdom is the host city for 2022 and the judo is being staged in the Coventry Arena, a fantastic venue perfect for showcasing the very best that judo has to offer.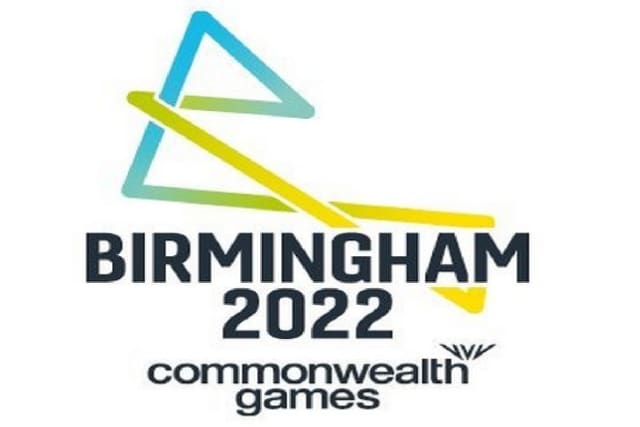 With less than two days to go, the draw took place in the presence of coaches and technical staff, a moment that always ignites the nerves. IJF Events Director Dr Lisa Allan opened proceedings, "Good afternoon and welcome to the draw for the Birmingham Commonwealth Games 2022." Dr Allan then introduced guests and gave the floor to IJF Director General Vlad Marinescu, "Thank you, dear representatives of all national federations and the Commonwealth Judo Association. It's really great to see how this event unites people under the values of judo. Unity and friendship are the themes. It's the 4th edition to include judo and we look forward to successive editions with judo at the heart of the occasion."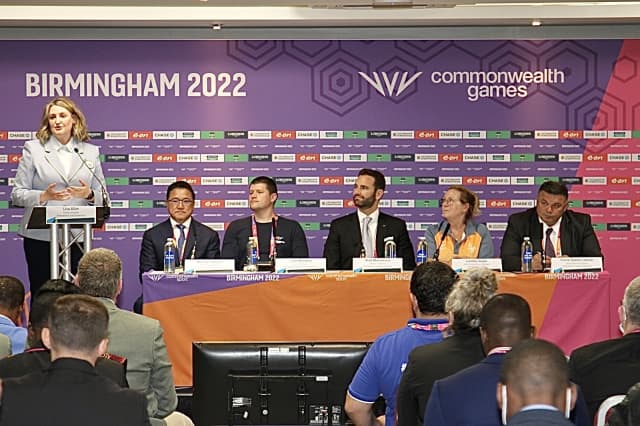 Birmingham 2022 Organising Committee representative Sam Munkley continued, "Welcome to our friends and partners. It has been a big challenge to organise this Games through the pandemic, but we have. Birmingham promises to be inclusive and inspiring, including family values. We have so much to celebrate. I wish you all a very successful competition. Good luck to everyone."
Before handing the baton to the Judo Manager, Dr Allan noted, "The International Judo Federation are grateful to the organising committee and the Commonwealth Games Federation for the professional partnership in the preparation of the judo event. The volunteers are all extremely helpful and friendly and we give a big thanks to them all for giving their time to make these Games exceptional."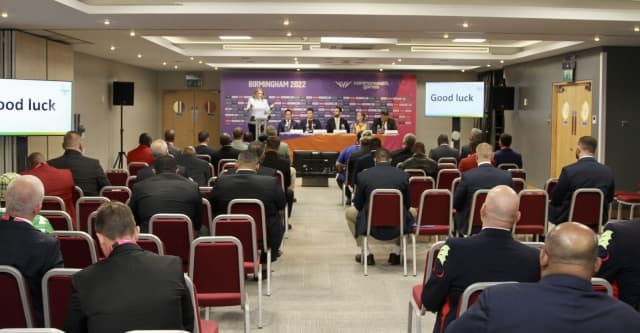 Commonwealth Judo and Wrestling Sport Competition Manager, Loretta Doyle, then brought some house-keeping issues to everyone's attention, "Thank you to the judo family firstly for respecting the Covid protocols. The competition will be held on 2 tatami in the Coventry Arena from 10am each day with the final block always beginning at 5pm. There is a random weigh in each day. For ceremonies all judoka must be in white judogi."
Dr Allan added that all judogi must conform to IJF supplier and sizing regulations as well as the Commonwealth Games branding rules, as communicated to delegations prior to arrival.
IJF Head Referee Director Florin Daniel Lascau then spoke about the beauty of being able to bring referees from all over the world and reaffirmed the IJF's objective to ensure high quality refereeing throughout, "These athletes all deserve the same quality of refereeing and that is what we are here to guarantee."
It was then up to IJF Sport Director Mike Tamura to run the draw itself, "On behalf of IJF Head Sport Director Mr Vladimir Barta, we wish you you all a successful Commonwealth Games. We are very excited for you all to be competing here. We have 160 competitors from 36 nations in attendance."
The draw ran efficiently and Mr Tamura thanked the IT team for their consistently professional work.
Dr Allan closed the draw saying, "There are some great contests ahead." She's not wrong, with a first class entry particularly visible from Canada and England. "We are a sustainable Games so we don't print the draw but it will be available online."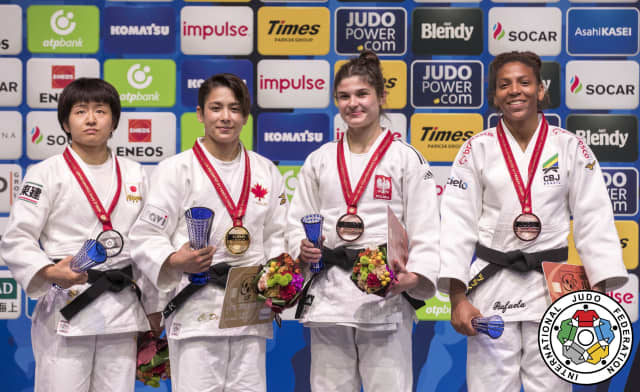 So we have a sustainable, exciting and safe Games from 1st-3rd August. We can really look forward to a possible semi-final at -57kg between world champion Christa Deguchi (CAN) and the explosive Lele Nairne (ENG) whose sensational judo continues to make highlight reels all over the globe.
At -60kg we may well see the battle of the Englishmen in the final, between recent World Judo Tour medallist Sam Hall and 3 time Olympian Ashley McKenzie, unless Yadav (IND) or Ferguson (SCO) have their way. Or how about -81kg, which could be seen as fairly open but for double grand slam medallist Gauthier-Drapeau of Canada. Watching how that category plays out with be fun.
We also look forward to seeing a great number of competitors from the Caribbean and Africa, many with continental medals and a lot of experience. With 4 medals in each category up for grabs, there will certainly be a jostling for the prizes and perhaps Canada won't have it all their way!