Ruben Houkes has been running the SchoolJudo programme in the Netherlands for over 16 years and it has become hugely popular. With the Erasmus+ funding, via the EU, the expansion of the SchoolJudo model across Europe is exciting and challenging, bringing teaching methods into classrooms, school halls and education communities, that make values and the social and emotional development of children central to the methodology. It's also great fun and that combination is world class.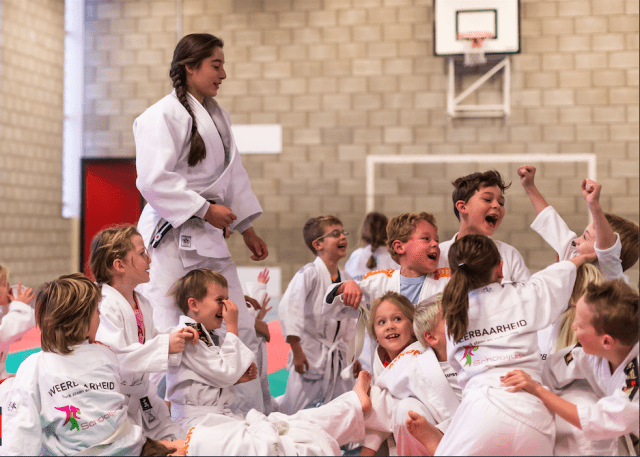 On the occasion of the 'Erasmus Days' celebration, 14th - 16th October 2021, Ruben has shared some of his thoughts with us.
Why is judo important for children?
"That is the key question. I strongly believe that judo is essential for children because it encourages growth in mind and body, together. It is education! It forms you as a person. Probably other sports claim the same but in judo children feel their opponents and friends and can learn to understand each other on a different level. They learn respect both discreetly and by accident. It's all experiential."
Why is the school-setting different from the usual club setting?
"In school it's all about fun, values and education. I hope it's also about that in clubs but technique or competition are added and it can change the focus, naturally. Judo is an interesting element to include in the curriculum. The experimental learning, learning by doing, is often missed in other areas of study and so judo provide the bridge and that can give rise to a more full understanding of other subject areas, almost by accident, as a byproduct. Physical education combined with traditional education is unique and of value in its own right."
What successes have been seen in the Netherlands through the School Judo programme?
"In general, on a daily basis we receive feedback about the positive changes of the dynamics in classrooms. It's group-forming; that's on a classroom level. On an individual level we have so many stories about children who were bullied. After SchoolJudo in the Netherlands was running for many years we could see a clear trend with children being more able to be strong and resilient and who are not bullied any more.
I also recall one boy who was blind in one eye. He took part like the other children but with the values being taught and embedded so prominently, the children in his group came up with an initiative to experience what he lives through each day and so they all choose to cover one eye and they practised judo that way. It gave him a sense of belonging and taught the rest to understand challenges different from their own. It was a situation that brought a huge amount of respect to activities, in a mutually beneficial way. These examples are not rare but they come from children and that makes them even more special.
The classroom teachers are now using a methodology from our programmes, even if the teachers are not judoka themselves. They have seen it has a positive effect on social and emotional development and they truly embrace that."
Is there an effect on the wider community?
"I hope and I guess there is but we don't have the specific data on that. We don't track it. We used to know the amount of children who went to local clubs from SchoolJudo, about 20% transferred over after their school experiences finished. They experienced something they loved and that is a clear endorsement. Schools are also using our methodology to position themselves and solidify their own image as education providers.
It's really rewarding to realise that now we are coming across people who took part in SchoolJudo 15 years ago and they are so positive about the benefits they experienced. I think that's enough to say that judo has an impact on the wider context.
Judoka are used to not necessarily pushing back when someone pushes them and in business this becomes a concept that is enveloped in respect and the efficient use of energies to ensure the most positive outcomes for all. Judoka can make very productive, successful business people.
The opportunity Erasmus+ is giving us to help judo teachers on a local level to become Entertrainers, is invaluable. We can scale the idea of judo teachers becoming Entertrainers and this has a positive impact on children, on schools and on wider communities across Europe."
One head teacher told us why their school chose to include judo as part of their curriculum, "The benefits of incorporating judo into the school curriculum are innumerable. Aside from the positive impact judo has on children's physical and emotional wellbeing, it also fosters self-confidence, improves concentration and engenders respect. The latter is an integral aspect that children learn from the get-go: to remain humble and to respect their opponents and peers no matter what. They are also having loads of fun in the process!"

Everyone is aligned and that in itself gives us reason to celebrate all that Erasmus does across Europe.
#ErasmusDays