The IJF recently published the first edition of the Arts and Sciences of Judo journal and is now working on the second edition. For the first edition, a piece of art from Neil Eckersley, an Olympic bronze medallist who became an artist after his competitive judo career, was chosen to illustrate the cover page. Neil tells us why he create that painting.
"This piece was produced in collaboration with the legendary judo photographer David Finch. David sent me a photograph of Teddy Riner, the French heavyweight and asked me whether or not I could create a piece of artwork using the original photograph as inspiration. After many failed attempts 'The Essence of Judo' was born.
What I have tried to capture in this piece is not only the movement, power and velocity executed by the technique but also the spirit and essence of our amazing sport, in a purely abstract and contemporary way. The central part of the image represents the movement and application of the technique by Teddy Riner. The outer part of the piece represents the inner spirit, knowledge of the spectators and understanding of the complexities and the execution of the throw itself.
Not many people know that I have dyslexia and the two school subjects that I excelled in were art and sport. I came back to art later in life after a tragic accident involving my older brother, Paul. As you can imagine, at first I was really struggling to deal with the loss and I needed to find a suitable medium to help express my difficulties of coming to terms with his death. What is really amazing is that I've managed to turn a difficult and challenging situation into one with a very positive outcome. I know that Paul would be very proud of how much I have developed as an artist.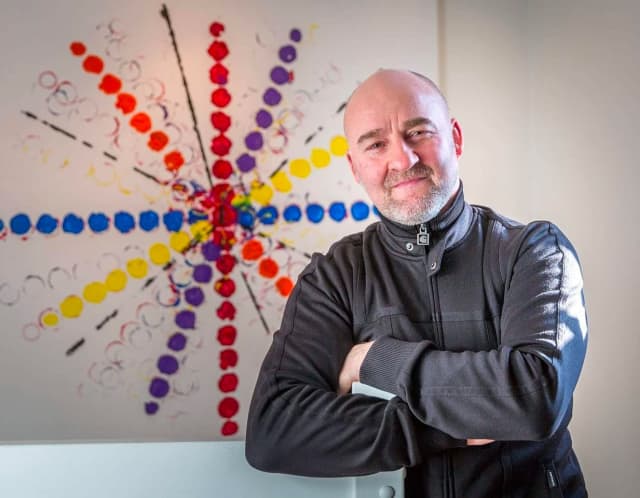 The work that I produce is heavily influenced and inspired from not only my memories and experiences around my own judo career but also comes from travelling around the world representing both art and judo. I feel that coaching and practising judo helps me as an artist, to have a deeper understanding of the complexities of movement that can be transferred onto canvas. That is why I think my judo-related pieces not only capture the visual image of the practice of judo but also represent a deep understanding which we, as judoka, find difficult to explain verbally.
I am an abstract artist so I view the world slightly differently. What I try to capture in my work is the movement, energy and vitality of the subject that I am painting. I think judo has given me the confidence to take risks and be more open to the creative process."
For the second edition of the Arts and Sciences of Judo, the IJF is open to receiving new article submissions. The deadline for submission is 1st August.
Call for contributions ASJ 2021.pdf
Download
ASJ Author Submission Guidelines 2021.pdf
Download
The Arts and Sciences of Judo, Volume 1, No 1, 2021
Download