When the Judo for Peace and 2019 Judo for All programmes were launched in Zambia, they were both meant to offer support to the most vulnerable ones, who live in challenging conditions. With the support of the International Judo Federation, those development programmes were providing equipment, expertise and human resources, but as the wind of the deadly Covid-19 virus seems to be blowing a tempestuous gale, it has now become vividly clear that this is not only about judo, but also about its values. Sport organisation has taken the lead to help the population.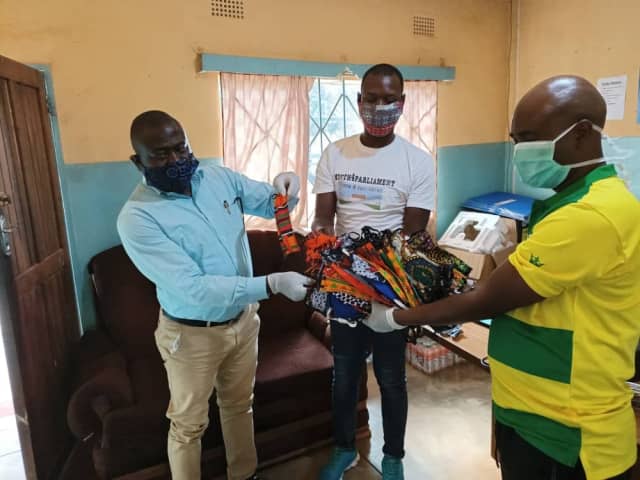 Some days ago, the President of the country, Edgar Chagwa Lungu, enforced the law, asking his people to wear face masks in an effort to control the transmission of the decease. This has become mandatory in all public places.
Following that directive, the Zambia Judo Association President and National Olympic Committee President, Alfred Foloko, initiated an action to provide face masks to the judo family members, "We want to secure the lives of our young and senior judokas by way of making available the much needed masks." Foloko added, "We have written in our development plan that we need to help the vulnerable people through judo. Today this is the time to really make those words a reality. This pandemic is real, spreading like a bushfire that we have to fight against. As judokas we can do something to make sure we are part of the fight. The only way we can help now is by providing the hand sanitisers, hand washing soap, face masks and protective clothes to our vulnerable children. You know often they can't afford a meal. So if you can't afford a meal, it means that you can't afford to buy these masks and protections. We are here to help."
In partnership with the Norwegian Olympic and Paralympic Committee (NIF), and using donated materials, protective masks are sewn in the Meheba refugee camp near Solwezi (northwest of Zambia), where the Judo for Peace programme began several years ago. These masks will eventually be distributed to all community judo camps across the country.
"In an effort to supplement the government's efforts with 'never leaving anyone behind', as a concerned association that works with sportsmen and sportswomen, most of whom, to some extent, are vulnerable children, we thought it wise to come up with a prompt answer, to lend a hand by at least making these masks available. As sports people within this global, catastrophic Covid-19 situation, we want to use our judo values as a tool to help society" added Foloko.
The masks made in the Meheba refugee settlement will be distributed to all refugee camps where judo is active and to community camps such as Maramba in Livingstone, Kanyama, Chibolya and others in Lusaka, Kabwe and Mazabuka, just to mention a few.
It is known that Zambia Judo takes action more than it talks. Once again this is illustrated perfectly by the swift reaction of the the whole judo community. In 2016 the first dojo built inside the Meheba Refugee settlement, with the support of Norway and the IJF, was inaugurated. A second dojo will be constructed in 2020 in the Mayukwayukwa refugee camp. In 2019, the Zambia Judo Association established another significant initiative with the 'Judo for All' programme, to take care of people with disabilities, in order to appreciate their skills and capabilities.
Alfred Foloko concluded, "The Zambia Judo executive were on a fast move to make sure that our values are not forgotten and we acted with empathy in helping our community with what they needed most: the facial masks and sanitisers."
The association General Secretary, Mabvuto N'guni, Legal and Ethics Commissioner Chairperson, Stanley Mumbula and Judo for Peace Director in Zambia, Gift Mvula, accompanied their president Alfred Foloko in handing over the materials to fight against Covid-19. Penza Siame, Project Accountant Commissioner of Refugees, received the donation on behalf of the refugees in Maheba.
In these difficult times, everyone is at risk. Refugees and vulnerable people are even more in danger. The Zambian Judo Association is not only showing respect and honour, it is showing that actions are possible, peacefully fighting is in our blood and it is a time of action, not just words.