Interviewing an Olympic champion is something special and always delivers some thought-provoking words and ideas; it's a unique kind of education. Sharing those thoughts and memories is imperative and so we will begin by sharing the words of Shinji Hosokawa, 1984 Olympic champion at -60kg.
A reminder of the question:
It could be said that to be in the company of an Olympic judo champion is to be presented with someone whom has reached an absolute pinnacle, a ceiling which cannot be surpassed; there is nowhere further to ascend in the world of sport. We often find Olympic champions speaking with freedom and certainty, unafraid to share an opinion, speaking of their lives and paths with confidence. For many we feel there is peace, and that can be magnetic and inspiring.
So the question is, did they become Olympic champion because of that character or did they become that person having won the Olympic gold medal?
"I started judo at the age of 12, which was late! I learned a lot quite quickly and moved to Tenri and lived in the dorm from 15. Gradually the training became more and more tough through high school. I remember Kato sensei, the head coach, saying that I am so small, so short that it must be hard to practise every day with heavy guys. It was not a choice, it was just the way it was. He also said that no matter how hard it is, 'Today you do your best. Just today, make effort. Next day do the same. Next day again the same thing. At the weekend you can take a break.' In the Tenri system we practised 7 days a week but at the weekend we had an afternoon break. Kato sensei always said the same, 'Next week try hard to do your best. Every day and every week, do your best.' I say every morning, even now, that when I wake up I must do my best."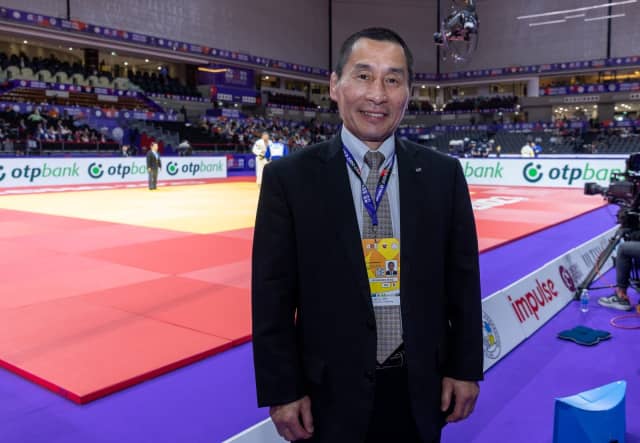 What does doing our best mean? It is a phrase or instruction heard by millions of children every day around the world but its true meaning is far from being a throwaway meaningless line offered to children in the abstract. It is a way of behaving, a way of thinking and a way of moving forward, demanding an attention to detail that is so ingrained that it is automatic, thorough and eliminates laziness in every form.
Prior to the 1980 Olympic Games there were far fewer weight categories. In 1976 there were 5 categories and for men only: -63kg, -70kg, -80kg, -93kg and over 93kg. In 1980, at the Moscow Olympics, the -60kg division was introduced for the first time and Thierry Rey of France won the category, becoming one of the 135 Olympic judo champions.
"Kato sensei said I could be Olympic champion once that category existed. The new -60kg category was made and my weight was 57-58kg. He said the category was made specially for me; I remember it very well. He said, 'Today make the effort. Really you have a big chance.' And then I did. I believe that's why I became Olympic champion. I did my best in everything every day."
"I wanted to be a PE or judo teacher. It was my goal when I was young. After the medal I knew I had to pay close attention to my words and speech and how I behaved in public. It became another way I continued to do my best, regardless of my job or position. People are weak and lazy though, searching for the easiest path and I fought a lot with myself. I would always think, 'today I can take a break or maybe I should do my best.' I had this dilemma every day. Everyone has this, which way is best?
But I remember my former sensei and his simple words, 'Just only today, do your best.' Of course this really had to be every day, but one at a time."