We are between two major events that are part of the World Judo Tour, events that lead to the Olympic Games being held this summer in Japan, the homeland of judo. Tbilisi is just over and we are now getting ready for the Antalya Grand Slam. As officials and delegations started to arrive in Turkey, we met with champions whose dreams were, or still are, pinned on the Olympic Games.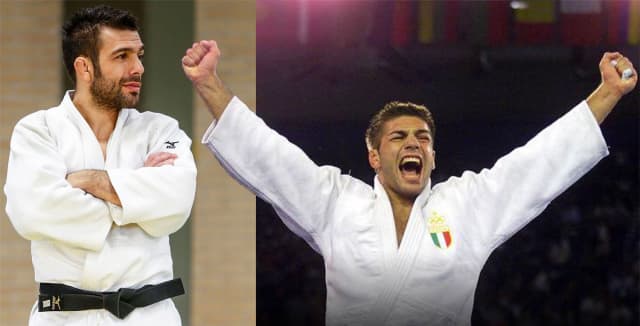 Giuseppe 'Pino' Maddaloni is Italian and he won won the Olympic title back in 2000 in Sydney. Throughout his judo career he had to make many sacrifices to reach his goal and become an Olympic champion. This was not an easy job. They are so many strong athletes on the starting line, but in the end only one remains. To keep the dream alive for so many years until Pino reached his goal was challenging. Now working behind the scenes, as an IJF supervisor, we asked him how it was in his time and what has changed since then. 
"Of course on one hand the situation is more complicated because of the pandemic, but on the other hand if we look closely at the qualification process, without mentioning the pandemic, I think the system is much better now," said the humble champion. "The organisation, the technology, the different opportunities offered by the World Judo Tour are much better. The athletes have many possibilities to go to competitions and qualify and they have more chance than we had. I remember, in my time, when I needed to qualify for the Sydney Olympics, the qualification process was only 6 months long. You needed to be fit and give your best within that 6 month range. Otherwise you were out and you had to wait an other four years. This was really much more difficult." 
"Today it is different. The time between two Olympic Games is still four years, except in this unique cycle and the athletes need a lot of preparation and to make a lot of sacrifices. They need to dedicate a lot of time to specific training sessions, developing their physical, tactical and technical capacities. Coaches need to do a very good job with the choice of competitions, but in the end, an athlete who is consistent and performing well throughout the four years, will go to the Olympics. For me it is better that way and it's more fair."
"Technology is a key point of the circuit nowadays. From my chair as a supervisor, I can tell you that no matter how good our referees are and they are, it is better to give them the possibility to analyse and make the right choices. That didn't exist before. Judo is such a fast and explosive sport that sometimes without technology it can be difficult to analyse. The fact that we have so many competitions is very good for the referees. They can gain experience. The IJF has put a very strong technological programme in place, involving no less than 8 cameras with 8 different angles, to analyse the movements. As supervisors we work hand in hand with the referees and I can say that judo has really become a fair sport."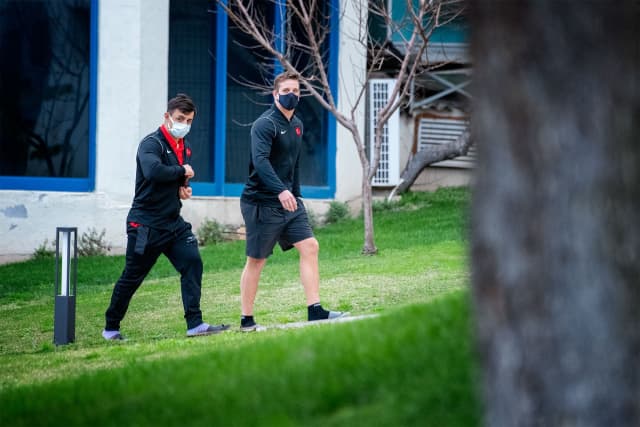 Being totally in favour of today's system, Pino still has amazing memories of the time he was himself competing, "I have so many good memories and experiences from my time, but I think that evolution is the keyword. Judo has developed so much. I can say that this development doesn't only concern the high level, but also all other related educational programmes. I wish for judo to continue to grow and that in the future we will have even more media attention, because judo is not only a sport, it's not only about results and medals, but it is a very good way to develop our youth in order to foster a better society and have mentally strong citizens."
Talking about today's health crisis, Pino Maddaloni wanted to add, "I am really close to the athletes and all my heart is with them; this moment is terrible. I am a bit sad for them because I know that the Olympics is the dream of a lifetime. The uncertainty about the Olympics last year must have been one of the most difficult moments in their lives, but our athletes are pushing through this difficult moment. They are strong and show resilience. It is obvious that the postponement of the Games was not the perfect way to prepare. I believe that for their maturity and their body, it was not the best way to get ready, but let's face the reality that this period is so hard for the whole world. Judo, however, has shown that it has the capacity to adapt and bring the athletes' dreams alive again. We are and they are very lucky. We managed to give them the hope they need to keep going. The competitions have been back for several months now.
How beautiful is this? Judo is much more than a sport. Look at all our champions from the five continents. They are working hard, keeping mentally strong and following their dreams. The IJF is doing great work, with all the organisating of the events. I remember my sacrifices to keep training and competing, to go to the Olympics and to become Olympic champion. I can't imagine now it is in this moment; it is all double and triple efforts. For me the athletes are heroes."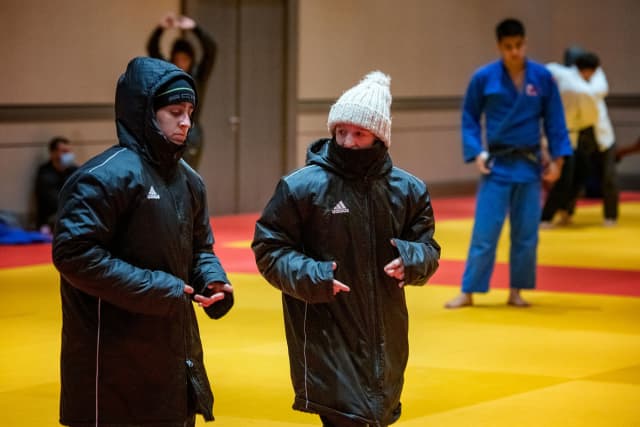 Not far from Pino Maddaloni this morning, was Gili Cohen of Israel, who is 11th in the wold ranking list at -52kg. She also opened her heart to us regarding her spirit here in Antalya, "Being here in Turkey feels good, almost like being back to normal. We have a lot of competitions and training camps and we can prepare ourselves. For a while we had a lot of uncertainty and we didn't know what would happen, especially with the Olympic Games, but that's behind us. It is great that we are back to our daily routine and that we have generic and specific goals. We can compete and I feel very privileged to have the possibility to do so.
Of course, on the other hand it is a stressful period because the Olympics are getting close and everyone wants to gain as many points as possible. Of course we first want to qualify for Tokyo but we also want to be seeded at the Games and be in the best shape in July. Really, I think that after this uncertain time we all went through, I can say that it's almost back to normal. Of course travelling is more strict with a lot of protocols to follow, a lot of PCR tests before competitions, before travelling. We live in bubbles and we have to to it again every time when we change country. At this level of judo we need to cut the weight more often, because right now as the Olympic qualification is in full swing, competitions are one after another, but it feels very good to be back and to do judo at this level. Our dream is alive again and I am so grateful for this.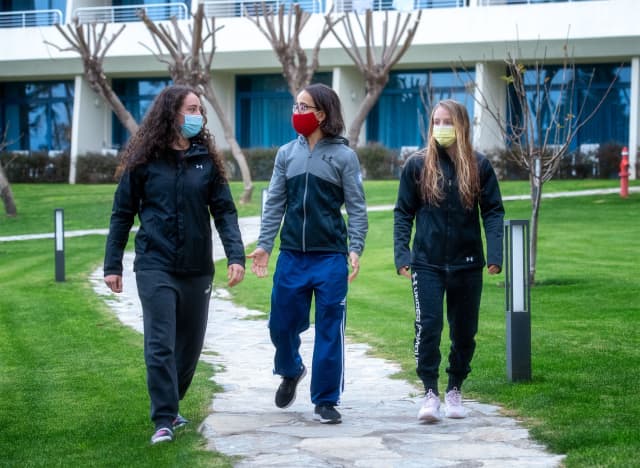 The Antalya Grand Slam is very important. Of course every competition is important and offers a new chance to do things better and improve our skills, correcting details that didn't go well during the previous competitions and to fix them. First of all my goal here is to get the best result and to be on the podium. I come to all competitions with the idea of finishing with a medal. Here is no exception. I am here and then I will go to the European Championships and some more competitions before the Olympic Games. I came here to enjoy judo and give my best." 
Her teammate, Shira Rishony, 15th in world ranking also gave her impressions, "First of all I really, really like being here in Turkey. We were here for training camps before and I like the place. The hotel we are staying in is amazing. It's great because we also have an outside perimeter to walk in and take fresh air. This is so nice. We can almost forget everything and for a few seconds we feel normal. Of course, this depends on the country and the hotel. We are still living in bubbles and following the protocols rigorously, using masks all the time, keeping distance, washing our hands, but in some countries, we can't even go outside, which makes everything much harder. I personally feel the difference when I can go outside (still in the bubble) and breathe fresh air. It offers us a peace of mind.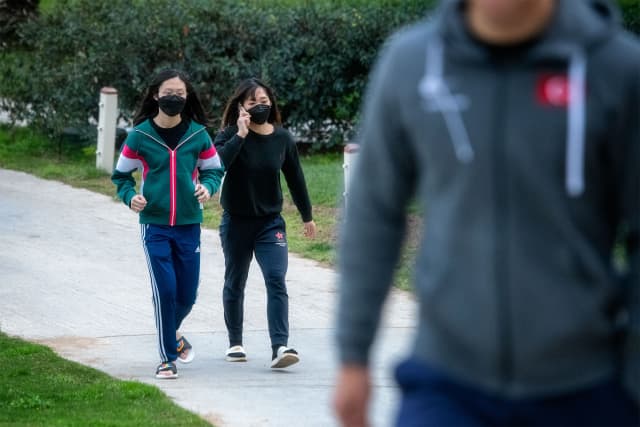 Regarding judo, of course everyone wants to earn the best results now and be in the best shape possible. I just want to do my best and enjoy. I believe all athletes are working very hard and now it is time to show beautiful judo. All competitions are important, but we need to have one eye on the big goal, the real important thing of the year, the Olympics. So all of this is preparation for it. Yes it is stressful and yes it is hard, physically and mentally, but we are lucky to do this and to have our dream alive again."
Everyone we meet in the hotel vicinity shows the same kind of spirit, a positive one. Yes, times have been difficult over recent months, but there is hope, a lot of hope, for good results, eventually, but also for a bit of normality. Today this normality has a name. It is called 'protocol.' It works, it works well and athletes, whose lives are dedicated to a dream, are feeling it and are ready for any sacrifice to get there, on top of the mountain. When it reaches this level, this can not be called sacrifice, it is the most profound choice.