Modern judo, at the elite end of the spectrum, houses a number of countries as it's furniture. We expect Japan, France, Brazil, Georgia and perhaps Mongolia, Germany, Netherlands and Korea. Cuba used to be there, 15-20 years ago but have seen a steep decline in performance; Andy Granda is attempting to rectify that.
In the 1980s Great Britain were super-strong but languished for more than 20 years, although there is now a spark among the women and they can be relied upon to take a few scalps and some good medals again. Italy also remains on an upswing, one that has accelerated since Rio 2016. Croatia has never been a powerhouse but that is a small judo nation with big aspirations and what's more is that they work towards them with remarkable persistence. There is quality there.
Recently there has been a more consistent profile for Uzbekistan. Among the men there have been a handful of world medallists through the years, including world champions Sobirov and Tangriev just over a decade ago. Again, not a powerhouse across the board but always with a few dangerous individuals. However, there is something unfinished about the Uzbek image. It appears they are still in high school while Japan and Brazil have graduated already. This is not a bad thing, but an observation about the space available for education and improvement and it is happening, without a doubt.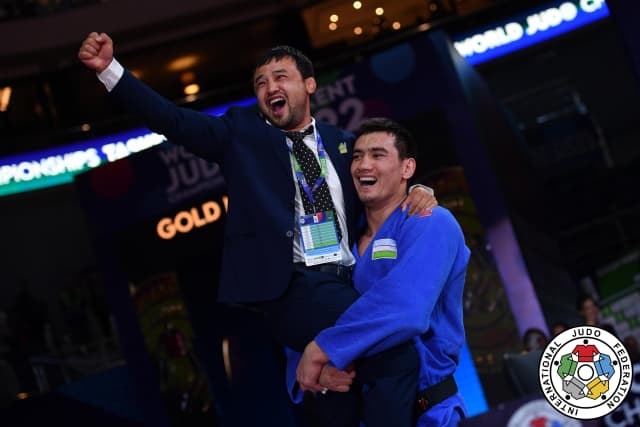 At the Tashkent World Championships, Uzbekistan set themselves medal targets but also worked under the pressure of a home championship, with a crowd that supports but also expects, and a federation committed to delivering under the watchful eye of governmental officials, at the highest level.
Days 1-4 provided disappointment after disappointment because even with some notably good performances, the medals didn't follow and that simply wasn't good enough. On day 5 the wind changed, bringing a complete turnaround in emotions and energy. The whole team, especially the federation president and coaching staff, went from despair to relief. Maybe on screen it was happiness that was seen but the reality is that relief was the prevailing umbrella, sheltering the team from the critics. Bobonov's gold medal confirmed his position as number one in the world rankings but also confirmed that the system in Uzbekistan is improving again. That enormous result was consolidated on day 6 by a second gold, with Turoboyev winning the -100kg category. That confirm's that this home worlds has brought Uzbekistan's best ever results at a world championships.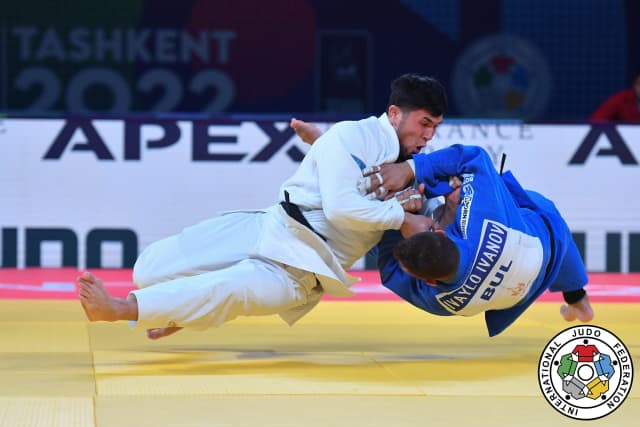 Eight months ago the Uzbek federation made a new appointment, bringing Germany's Marko Spittka on board as Sport Director. He arrived with extensive experience having been the Austrian head coach for a long time. He's also a Tournoi de Paris winner, European champion and the holder of world and Olympic medals, no small CV!
Marko joined a team that included Jamshid Xudayberganov in the role of Head Women's Coach and the unmistakeable Ilias Iliadis as Head Men's Coach, a position he has held for 3 years. Marko, Ilias and Muzaffarbek Turoboyev were all too happy, and relieved, to talk about their Tashkent experience.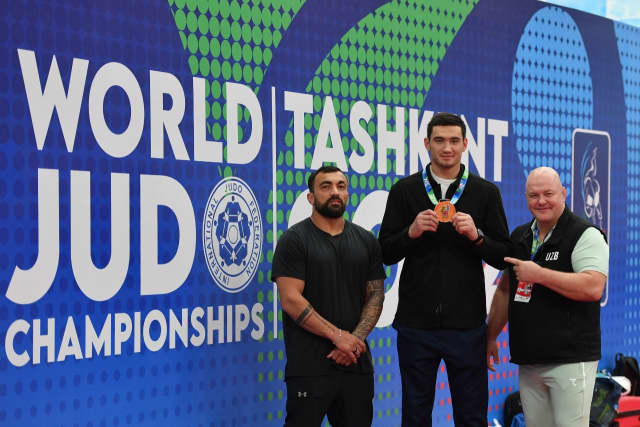 Was there really as much relief as it appeared?
"Davlat's gold was a great motivation because if he can then I can. So I was less relieved than the coaches and much more encouraged," said the new world champion.
Ilias added, "Bobonov's gold was a first world gold for him but also the first for our team here. I know how hard he works and also the way in which we work together. The result is the evidence of our work. In Tashkent there was so much pressure and for 4 days there were no medals. So, yes, relief is the right word but also satisfaction."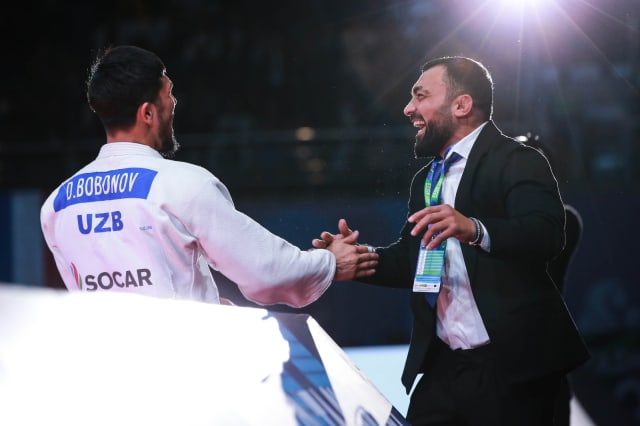 "It's been a great experience so far. All the team lay their, our, souls inside the objective. We are all the time together and as we are at training camps most of the time, this means we are living together seven days a week. We all know each other so well, so the relief is for each other and not just for ourselves."
After Sobirov's gold and Tangriev's bronze in Rotterdam in 2009, this is now the most successful worlds ever for Uzbekistan. How did this happen? What is the secret?
Marko answered, "I started 8 months ago and I said nothing at all for the first four, just feeling the system. We then talked a little bit and changed some major things to improve the system towards the 2024 Olympic Games.
We are all so happy to win these golds and can see clearly that the plans we made were not a mistake. It's good for me, of course, but for all of us. The President came and was so happy with the work done. Everybody is here. After that first gold the pressure was completely off. When you win a medal everything seems to be right and while there is no medal there are doubts but we were happy that Turoboyev had the opportunity to fight freely, as a young judoka making his way. Now I have had some time to reflect, I do see some mistakes but our debrief comes later."
It's all very well to suggest that Turoboyev could fight with freedom but it was still a world championship on home soil and still a part of his personal goals. "Actually my father was a champion in Kurash, which is very popular in Uzbekistan. He said 'think like you are already a winner.' The coaches said that it's not time to be nervous, that I have all I need, the technical and physical, everything. I think my father and my coaches are all correct."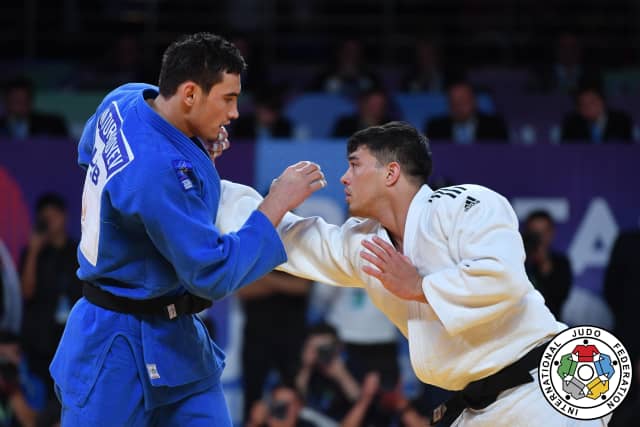 It looks from the outside like there has been a big investment in coaches from outside Uzbekistan. Why?
Ilias doesn't mince his words, "Azizjon Kamilov is a patriot!" What coach Iliadis means is that the federation president wants the Uzbek athletes and coaches to have every opportunity to grow, to improve and to absorb new ideas from experienced people.
Marko continued, "Three years Uzbekistan first spoke to me about coming on board but at that time it couldn't work for my family and family must always come first. Then President Kamilov found the solution with Ilias. Later on he said they would still like my help in the background. We didn't talk about money or anything, just judo and planning and development. My first meeting in Uzbekistan was with Ilias and then with the women's coach. I wanted to help only in the background but I warned them it's not easy to work with me but we found a solution. With many of the athletes we can't communicate in the traditional way either so this team communicates on the mat, with judo as our main language. Sometimes we use a translator but mostly we feel the relationships.
As a German world and Olympic medallist and a Greek/Georgian world and Olympic champion, what do you bring to the team that makes a difference?
Ilias jumped straight in, "Marko brings a real system and discipline."
Marko didn't hesitate either, "He brings unity. He formed the team. Really, when he arrived the team was not together at all. Sometimes he is too much of a brother but they all like it. Now there are results and so we know it can work like this."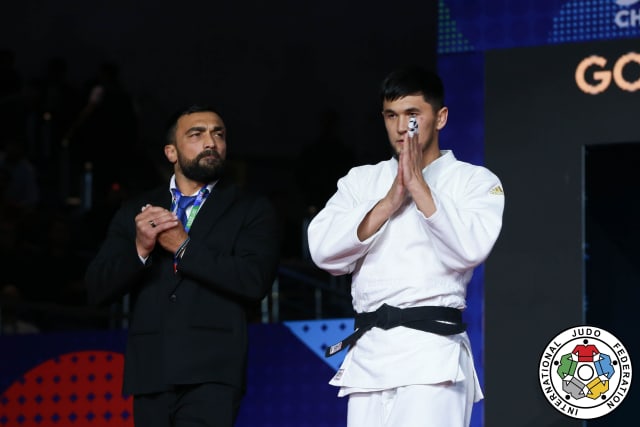 "I help with programmes and direction, as well as some very practical things such as seminars for taping, specialist physio methods and other ideas. I keep all these many details together. We have started but we have so much more to do to become more and more professional. Ilias brings people together and I bring the system together. That means between us we can cover all that needs to be covered."
With the coaching in hand and the federation investing in development and excellence at all levels, is there also something planned to support the women's team?
Ilias noted that his specific role is with the men but that he wants them to come more and more, for the whole team to be together.
Marko explained further, "The federation came to me and asked for more energy with the women's team and of course I agreed. We started with Keldiyorova and Matniyazova but now we have a full team and actually they are a team with potential. In Sarajevo at the world cadets we had a lot of medals with the girls and so for Paris we will have a young team but hope to qualify for the mixed team event. For LA 2028 we feel they can really be ready. In Uzbekistan we have to also understand the cultural nuances. Often women marry young and leave judo earlier than is necessary to reach the high level. Now though they are starting to see that the world is open for them. Keldiyorova married last month but he is also a judoka and so it is likely she will stay in the sport. The women are training really hard. I'm working with the coaches to help them raise the level."
"Towards Paris we will continue in part in the same way. There will be lots of small changes and refinements but we know we are on the right route and the women will be coming with us, for sure."
True to form, President Azizjon Kamilov was also enthusiastic in his assessment of the status quo, "As you have see during the competition, for us it was like magic when the country's President appeared for the medal ceremony. It means sport here is on the highest level. In this case we have to achieve.
Personally, I have loved judo since I was a child and so when I became president, tasked with the leading the federation, I accepted my new responsibilities with respect. I enjoy being in the judo family and actually there is no other way. We, as the federation, have to be with the team. The judoka are like our own children and we pay as much attention as possible to help them achieve their best results."
It is evident that Uzbekistan is more united than ever and that must have played a big part in the success enjoyed in Tashkent. There is a clear objective to raise the women's game and to continue improving systems and strategies throughout. Communication is evolving and targets are set for the future.
Who'd have thought Spittka and Iliadis were the medicines needed in Uzbekistan, but they were and they are treating the national team through recovery and into the very best of health.