The warm-up room at any World Judo Tour event is a special place, protected from everything outside, unseen by most. It is a complicated space with teams juggling and vying for territory, while remaining courteous to those standing next to them, who could very well be their first opponent.
There is a lot of movement, from running to uchi-komi, from circuit training to technical practice. Strapping, deep discussion, final strategy meetings, video analysis, quiet time, hydration, kit checks, music we can't hear.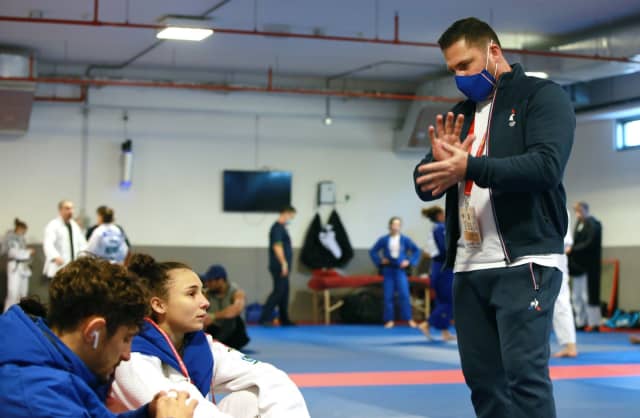 Everyone accepts everyone, knowing that they are present to take something from each other but also to push each other to be better. It is a place that illustrates perfectly the idea of mutual benefit and without the need for conversation each and every attendee knows it.
Walking through the warm-up room brings a highlight reel of clips and moments, some related to broader things and some so fine, linked to the specific minute, that to walk past even ten seconds later and it would be missed.
So, when asked simply, 'what is in your mind at this time of the day, here in the warm-up room?' the answers are both expected and unexpected.
Acelya Toprak (GBR)
"This is my first time doing a random weigh-in for over two years. Slowly, slowly everything is feeling more normal again and we are accumulating all the experiences and systems we used to have, while still improving our judo level. It's complicated but exciting to see it all coming back."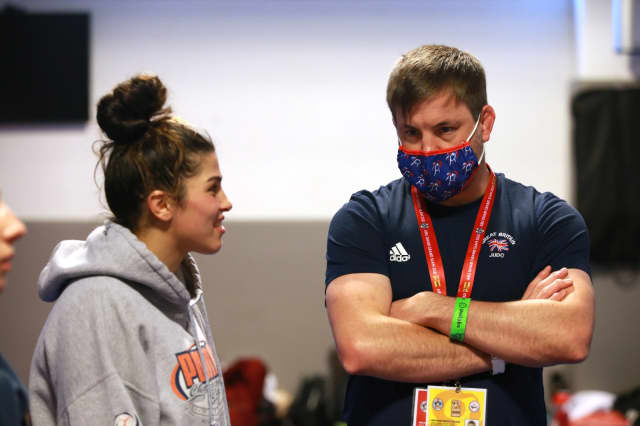 Shany Hershko (ISR)
"It's feeling normal to be here and that is not normal, but it's good. Each year there is proof of change and the IJF is playing a big part in that. We even had a direct flight and that has never happened before. Now we can really focus on judo."
Ilias Iliadis (UZB)
"Now after the Olympics we have started attending the first tournaments to give chances to new athletes, younger ones. I'm always nervous for the players but even more so for these young ones. I know how they feel and that brings emotion. We brought some judoka here from having good performances at the World Military Championships and now the younger and older ones are really coming together, we can see it here."
Amandine Buchard (FRA)
"I want to come back very strong. This, my first tournament, doesn't have everyone but it's a good test to see where I am in my judo and how my daily work is going. I am more free in my mind now. The Olympics was a big dream and now I have the medal so I feel less pressure. I can see how I fight with a freer mind. My goal is to win but it's not my goal of the whole season. Paris, in February, will bring a lot of pressure, being at home and so it was important for me to have one event before that. Normally Abu Dhabi would be for the younger competitors but I asked to fight to have something before Paris. I'm calm and will just do what I have to do."
Mary Dee Vargas Ley (CHI)
"It's the end of a huge year, with the Games and the worlds and it's a very good moment to restart, to take advantage of this competition while we are in good health. I really feel it's a positive moment. I'm happy to have the possibility to be here, so I'm just here to give my best."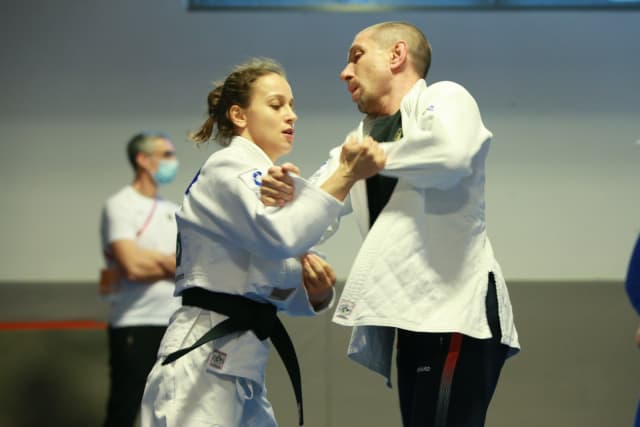 The feeling is universally positive, despite some speaking of looking forward to the rest that may come next. The two years that has just past has been brutal in so many ways but for those at the top of their sport, it can also be seen as an opportunity for adaptation that may never have come under more normal circumstances.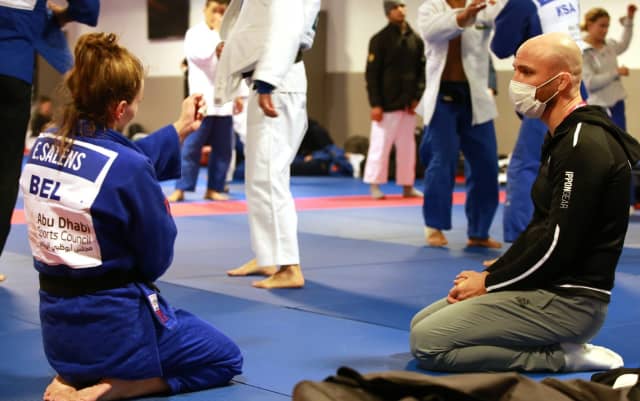 So the final grand slam of 2021 is underway and the last warm-up of the year will be taking place in the next heartbeat. The judoka, the national federations, the coaches, the host nations, they made it, so let's enjoy this weekend of judo, grateful to still be here, knowing that the warm-up room remains guarded, a sacred space exclusively entered by those qualified to be there. It is, whether for the first or the last event of a season, a complex area that allows our athletes the freedom to prepare, the transit between home and the live stream.