The second edition of the Hohhot Grand Prix launches judo's two-year qualification period which for the first time will see an equal number of male and female athletes qualify (18 per weight category) and the first Olympic mixed team event in 2020.
Inner Mongolia is the location for the resumption of the IJF World Judo Tour following respective continental championships in April and the opening of the Tokyo 2020 Olympic qualification phase which will make this three-day Grand Prix the most compelling competition thus far in 2018.
Every participant in Hohhot and everyone not present in Hohhot starts with a level playing field until the first medals are awarded on Friday evening. Judoka will travel far and wide following the IJF World Judo Tour with the intention of earning medals and vital points towards Olympic qualification.
It is a long and arduous time that tests athletes on and off the tatami. To realise their dreams they have to perform to the highest level on the IJF World Judo Tour. The pressure and intensity of competitions becomes palpable in the venue and the emotions are visible for the world to see as athletes inch closer to representing their country at the Games while others falter and fade away at the most crucial time in their careers.
Expectations do not always lead to reality. Nothing is for certain. There is no script. This is judo. It's pure and pulse-pounding excitement with an added element of the unknown, as men and women who lead the way in this mighty martial art, this educational tool and gentle way, will rise and fall.
Conquer and crumble. This is the nature of elite level judo and each journey will take on a life of its own with unexpected diversions as every moment of joy, of shock and of heartbreak unfolds before our eyes. We will bring you every competition live and free and bring fans closer to the action than ever before as judo embarks on it's road to an anticipated Tokyo 2020 homecoming.
Judo's Qualification System Explained
As with all IJF events, seven men's categories and seven women's categories will be contested at the Tokyo 2020 Olympiad. A judoka must be in the top 18 on the IJF World Ranking List to qualify directly for the Games as judo now has parity between the number of men and women who will compete at an Olympics. If one country has more than one judoka inside the world's top 18 rankings then their National Olympic Committee will select which judoka will represent them with a maximum of one judoka per weight category per country.
Click here for more information on the qualification process  Hosts Japan will be awarded a home quota allocation of 14 places which means that their athletes are not required to qualify and the Japanese Olympic Committee will be able to pick any national team member regardless of their world ranking. Japan are also assured of participation in the mixed team event.
There is also continental qualification and wildcard invitation places giving a total number of 386 athletes who will compete at Tokyo 2020. The mixed team event will make its Olympic debut in 2020 after a thrilling launch at the 2017 World Championships. All teams will be comprised only of judoka who have qualified for the individual competition. There will be six judoka per team and in the following weight categories: -57kg, -70kg, +70kg (women), -73kg, -90kg, +90kg (men). Only full teams will be permitted entry to the mixed team event. The IJF World Ranking List on 25 May 2020 will be used to allocate the 352 qualification places in the hierarchical order of qualification.
Champions out in force in Inner Mongolia
Hosts China have assembled a 56-strong squad for their own Grand Prix and have medal chances on all three days. Despite being without their reigning world champion YU Song and Olympic bronze medallist CHENG Xunzhao, they have a young and capable squad who will be expected to offer their best performances in the women's lightest and heaviest categories and the men's lower weight categories. While talk this weekend will focus around the next Olympiad, there are three reigning Olympic champions from Rio 2016 who will be bidding to make the ideal start on a journey which they hope will end with them retaining Olympic gold.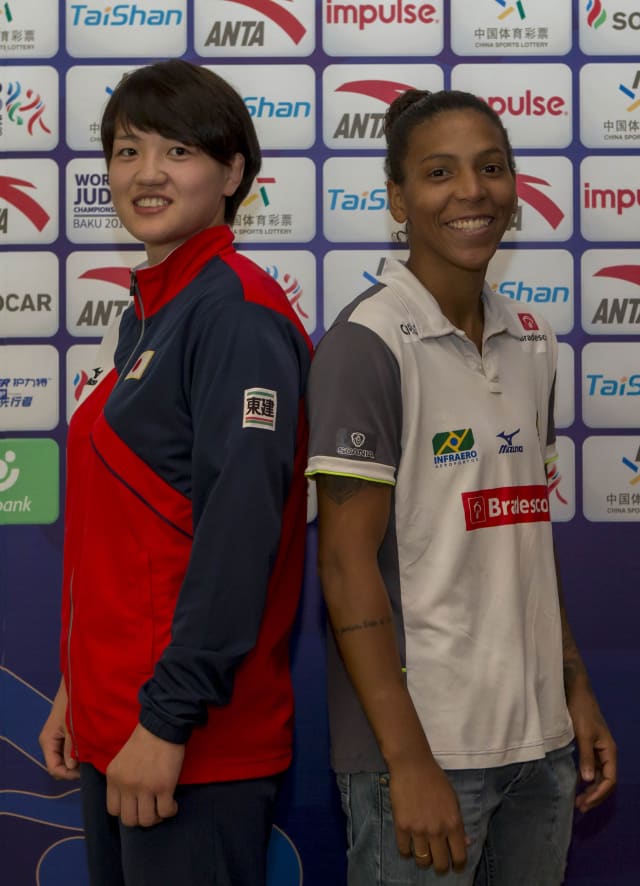 The participation of SILVA, Khasan KHALMURZAEV (RUS) and BAKER Mashu (JPN) means that fans in Hohhot will have the privilege of seeing a current Olympic champion compete on all three days. The trio will be identified by their gold backpatches while red will also be on display as four current world champions will grace the Inner Mongolia event.
HASHIMOTO Soichi and ARAI Chizuru of Japan will be joined by Serbia's first world judo champion Nemanja MAJDOV and Brazil's two-time world champion Mayra AGUIAR.
Thursday's draw took place at the Juva Grand Hotel as IJF Head Sport Director Vladimir BARTA revealed that 361 judoka (197 men and 164 women) will be engaged in action in Hohhot. "Dear madam President, dear distinguished guests, dear judo family, the second edition of the Hohhot Grand Prix is a special occasion as we will launch the qualification for the Tokyo 2020 Olympic Games," said BARTA (below - centre), who made the opening address on behalf of the International Judo Federation.
"We have a world-class entry here including three current Olympic champions and four reigning world champions. I thank you in advance for your work and efforts for the next two years on the way to the Games. On behalf of the IJF President, Marius L. VIZER, I wish you all a successful competition and a lot of success on the road to Tokyo 2020."
LI Zhiyou (below - centre), Inner Mongolia Autonomous Region Bureau of Sports Deputy Director, said: "Ladies and gentlemen and friends, good afternoon to you all. At this moment on behalf of Inner Mongolian Autonomous Region Bureau of Sports and on behalf of the China Judo Association and Inner Mongolia Judo Federation, I welcome you all to Hohhot in the north part of China. All the people living in Inner Mongolia promote all aspects of our society through sport.
"We will promote the whole region of Hohhot to the world during our Grand Prix and we will spread the value of judo throughout our country and beyond. With help and support from CJA and IJF and from all judoka we will make this event a successful and enjoyable one, thank you."
Watch all three days of #JudoHohhot2018 live and free on the IJF website.
PREVIEW: WOMEN
-48kg
World number one and former world champion MUNKHBAT Urantsetseg (MGL) starts her road to Tokyo 2020 with an outing in Inner Mongolia. Two-time Olympian MUNKHBAT finished seventh at London 2012 and fifth at Rio 2016 and is determined to finally find a route to the Olympic medal podium in 2020 and that starts by winning the most important event of the year so far. Former world champion KONDO Ami (JPN) won bronze at her first Olympics in Rio and will now be locked in the battle of her life to try and earn the selection for Japan for their home Olympics. KONDO, who opens her 2018 IJF season on Friday, has to make every competition count with world champion TONAKI Funa (JPN), her closest rival, not in action this weekend. Olympic silver medallist JEONG Bokyeong (KOR) is due to make her second start of the year and after the short trip to China will expect to come away with honours after a surprising second round exit at the Tunis Grand Prix in January. London 2012 Olympic champion Sarah MENEZES (BRA) is back on track at -48kg after back-to-back Grand Prix bronze medals and could continue her medal rush in Inner Mongolia.
-52kg
Paris Grand Slam winner ABE Uta (JPN) has never been defeated in an IJF competition overseas and the 17-year-old has won her last five events. The youngster sister of world champion ABE Hifumi won all five of her Paris contests by ippon in her French debut and will be tipped to run through the field here with another exceptional display. World number two and four-time world medallist Erika MIRANDA (BRA) is the most accomplished and experienced -52kg judoka fighting on Friday and will be the top seed. Paris Grand Slam bronze medallist Astride GNETO (FRA) and European bronze medallists Gefen PRIMO (ISR) and Evelyne TSCHOPP (SUI) all have strong medal chances.
-57kg
World number eight Miryam ROPER (PAN) has won Grand Prix, Grand Slam and Pan American Championships medals all since switching from representing Germany in 2017. ROPER, who turns 36 in June, has won Grand Prix bronze medals this year in Tunis and Agadir and won bronze in April at the Pan American Championships. The London 2012 and Rio 2016 Olympian is one of the favourites in Hohhot and will take some stopping in the blue, red and white of Panama. Three-time Grand Slam bronze medallist TAMAOKI Momo (JPN) is bidding for a fourth Grand Prix win and could achieve that on day one. Olympic champion Rafaela SILVA (BRA) has not won a gold medal since her unforgettable day in Rio de Janeiro in 2016 but will have a new motivation with the road to Tokyo 2020 officially starting this weekend. Ekaterinburg Grand Slam silver medallist LIEN Chen-Ling (TPE), two-time Grand Slam winner KIM Jandi (KOR) and Paris Grand Slam winner Christa DEGUCHI (JPN) could lead the upsets over the top seeds.
-63kg
Two-time Grand Slam winner NOUCHI Aimi (JPN) took silver in her one Grand Prix outing in Tunis at the start of the year but could go one better in Hohhot. World bronze medallist BALDORJ Mungunchimeg (MGL) won her home Grand Prix in Ulaanbaatar in 2016 but has not claimed gold outside of Mongolia. Former Junior Worlds bronze medallist Catherine BEAUCHEMIN-PINARD (CAN) and Beijing 2008 Olympic bronze medallist Ketleyn QUADROS (BRA) will lead the charge for Pan America while three-time Grand Prix bronze medallist Lubjana PIOVESANA (GBR) could force her way into the medal reckoning for the hosts of the 2012 Olympiad.
-70kg
World number one Maria PORTELA (BRA) and world champion ARAI Chizuru (JPN), who is ranked second in the world, will both compete on day two. PORTELA is in the form of her life after winning her first World Judo Masters title to take over the rankings in December. PORTELA has since won the Ekaterinburg Grand Slam and has now won nine contests in a row, her longest winning run on the IJF World Judo Tour. ARAI has claimed silver medals at the Tokyo Grand Slam and Paris Grand Slam in her last two events and will be the favourite with a third Grand Prix title on offer. World number four Anna BERNHOLM (SWE) won the Antalya Grand in April and will be expected to mount a medal challenge along with European bronze medallist Gemma HOWELL (GBR) and Rio 2016 Olympic bronze medallist Laura VARGAS KOCH (GER).
-78kg
World champion Mayra AGUIAR (BRA) has not experienced that winning feeling since claiming her second world title last year. The double Olympic bronze medallist has won bronze medals at Grand Slams in Abu Dhabi and Ekaterinburg and silver in Düsseldorf and will be hard pressed to come away with gold in Hohhot. Düsseldorf Grand Slam winner SATO Ruika (JPN) has won five Grand Prix medals but never gold and has to make the most of every outing in this new Tokyo 2020 Olympic phase for Japan. Former Tokyo Grand Slam silver medallist PARK Yujin (KOR), four-time Grand Prix medallist Sama Hawa CAMARA (FRA) and World Judo Masters bronze medallist Karen STEVENSON (NED) have the quality to negotiate their way into the final block on day three.
+78kg
Paris Grand Slam winner KIM Minjeong (KOR) has become one of the leading women's heavyweights over the last year by winning her first World Championships medal and a first World Judo Masters title. World bronze medallist KIM finished fifth at the Rio 2016 Olympics and has already looked a more imposing force since then having ended 2017 ranked number one in the world. All Japan Openweight Championships winner SONE Akira (JPN) is one the most lauded teenagers in the sport and is a contender for Tokyo 2020. SONE, 17, won bronze at the Paris Grand Slam and will only be thinking about coming away with gold which would be her first senior title on the IJF World Judo Tour. Two-time world silver medallist Maria Suelen ALTHEMAN (BRA) and Tbilisi Grand Prix bronze medallist Anne Fatoumata M BAIRO (FRA) will both threaten Asia's command of the +78kg category in China.
PREVIEW: MEN
-60kg
World number three Robert MSHVIDOBADZE (RUS) has won seven Grand Prix medals but never gold and will be backed to finish amongst the medals in Inner Mongolia but not necessarily for top spot. World Judo Masters bronze medallist DASHDAVAA Amartuvshin (MGL) has a habit for producing something spectacular and could star here with Agadir Grand Prix winner Gusman KYRGYZBAYEV (KAZ) and former world champions GANBAT Boldbaatar (MGL) and Yeldos SMETOV (KAZ) among the top names to look out for as Asia look to set to dominate the men's lightest weight category.
-66kg
Olympic silver medallist AN Baul (KOR) won the Paris Grand Slam in February. The former world champion has three medals from three Grand Prix events in his career with the last coming in 2016 when he won the Düsseldorf Grand Prix. AN starts with the favourite tag just ahead of two-time Grand Slam silver medallist MARUYAMA Joshiro (JPN) as the South Korean beat the Japanese by ippon in the Paris final. World number 20 MARUYAMA has only once fought at a Grand Prix and came away with gold in Almaty in 2016. Three-time world silver medallist Mikhail PULIAEV (RUS) is an eight-time Grand Prix medallist which includes four gold medals. PULIAEV took silver at the Worlds last year but has not won an IJF event since 2016 and is at risk of losing his spot and needs to outperform teammate and three-time Grand Prix winner Abdula ABDULZHALILOV (RUS) in Hohhot.  
-73kg
World champion HASHIMOTO Soichi (JPN) makes his first appearance in 2018 on the IJF World Judo Tour in China. HASHIMOTO, a one-time Grand Prix winner, was unbeaten from early 2016 to the end of 2017 as he won 35 contests in a row in a run which catapulted him to stardom. The world number one and World Judo Masters winner has already been selected for the World Championships while Olympic champion ONO Shohei (JPN) will instead go to the Asian Games. World bronze medallist AN Changrim (KOR), Olympic bronze medallist Dirk VAN TICHELT (BEL) and former World Judo Masters champion Denis IARTCEV (RUS) will ensure that the -73kg category will be one of the highlights of the competition.
-81kg
Olympic champion Khasan KHALMURZAEV (RUS) won bronze at the Worlds last year before winning the World Judo Masters and has wasted no time in maintaining his strong standing from winning his first Olympics. Tokyo Grand Slam winner OTGONBAATAR Uuganbaatar (MGL), London 2012 Olympic bronze medallist and two-time world medallist Antoine VALOIS-FORTIER (CAN), Paris Grand Slam silver medallist LEE Seungsu (KOR) and four-time Grand Prix winner Alan KHUBETSOV (RUS) will all have golden intentions on day two.
-90kg
World champion Nemanja MAJDOV (SRB) took silver at the European Championships last time out and the 21-year-old will have a big target on his back with a loaded -90kg category on the last day in China. Olympic champion BAKER Mashu (JPN) returned to action with silver at the Düsseldorf Grand Slam in February which was his first event since Rio 2016. BAKER, who has been selected for the Asian Games rather than the World Championships this year, will be joined in action by former world champion GWAK Donghan (KOR) and Agadir Grand Prix winner Khusen KHALMURZAEV (RUS).
-100kg
Tokyo Grand Slam winner CHO Guham (KOR) ended 2017 with victory in Japan and took silver at the Paris Grand Slam in February. The two-time Grand Prix winner surprisingly lost his first contest at the Antalya Grand Prix in April and will be a man on a mission in Inner Mongolia. The Hague Grand Prix winner Kazbek ZANKISHIEV (RUS), Tashkent Grand Prix winner Ramadan DARWISH (EGY) and Zagreb Grand Prix winner CIRJENICS Miklos (HUN) will all push for honours along with 12-time Grand Prix medallist Martin PACEK (SWE).
+100kg
World number one David MOURA (BRA) had a colossal 2017 as he stood on World Championships and World Judo Masters podiums for the first time to clinch the top ranking. World silver medallist MOURA has only fought at the Ekaterinburg Grand Slam this year and lost his opening contest. The Brazilian will bounce back in China and will be the favourite to win the last men's final at the Hohhot Grand Prix 2018. Paris Grand Slam silver medallist KIM Sungmin (KOR), Antalya and Tbilisi silver medallist Javad MAHJOUB (IRI), Mongolian legend and world bronze medallist NAIDAN Tuvshinbayar (MGL) and double Olympic bronze medallist Rafael SILVA (BRA) are all among the top heavyweights on the planet and will ensure that the +100kg category will be a must-see attraction on Sunday.
PROGRAMME
Friday 25 May Preliminary rounds - 09:30 Final Block - 16:00
Saturday 26 May  Preliminary rounds - 10:00 Opening ceremony - 15:15 Final Block - 16:00
Sunday 27 May Preliminary rounds - 11:00 Final Block - 16:00