Today, May 31 2018, the International Judo Federation received the visit of Mr. Tony Estanguet, President of the Paris 2024 Organizing Committee. Mr. Marius Vizer, IJF President welcomed Mr. Estanguet in the Presidential Office in Budapest.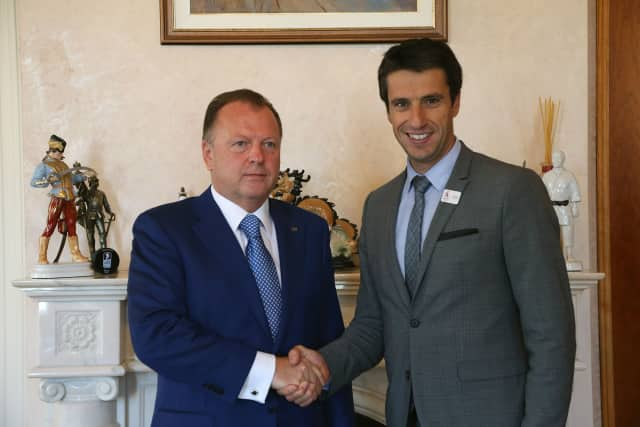 Mr. Estanguet, who won three Olympic gold medals in the C1 event in 2000, 2004 and 2012 and was the first French athlete to win three gold in the same discipline, presented Mr. Vizer the vision of the Paris 2024 Games as well as the POCOG ambition to deliver unique and innovative Olympic Games, gathering an entire nation around sports and building a long lasting legacy for future generations.
They also discussed about judo in the Paris 2024 Olympic Games and the importance of the sport in the Olympic Movement and especially in France, as judo has been one of the key sports in the country for decades.
The International Judo Federation is the first Federation to be visited by Mr. Estanguet, who successfully led Paris' bid for the 2024 Summer Olympics and is now serving as the head of the organizing committee for those games. Together with Mr. Vizer they agreed to ensure the best collaboration for the common goal of a remarkable edition of the Olympic Games in the French capital.