Olympic champions back in action after Worlds for Tokyo 2020 Olympic qualifier in Mexico
The Cancun Grand Prix 2018, the first IJF World Judo Tour event following the Baku 2018 World Judo Championships, will feature a world-class line-up of 321 judoka from 46 nations including multiple Olympic champions. Following an unforgettable World Championships in Baku last month, the stars of the IJF World Judo Tour have made a swift return to the circuit with crucial Olympic qualification points at stake in Cancun. The second edition of Mexico's Grand Prix has attracted Olympic champions and former world champions with everything to fight for at this stage of the qualification phase which opened in May.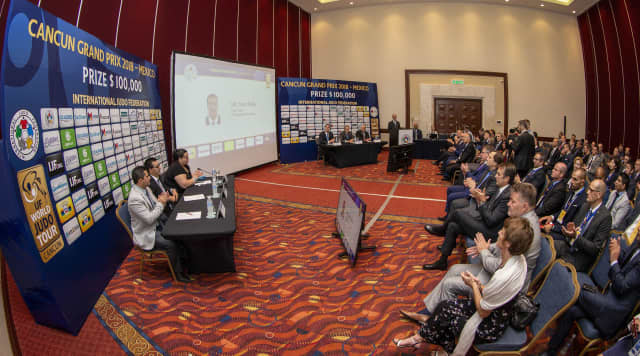 Rio 2016 Olympic champions Paula PARETO (ARG), Rafaela SILVA (BRA) and Lukas KRPALEK (CZE) have all made the trip to Mexico. PARETO flew in from Buenos Aires where the former world champion was an Athlete Role Model at the Youth Olympic Games. IJF Head Sport Director Mr. Vladimir BARTA (below - left) revealed the line-up at the draw for the 14 weight categories which will be contested on Friday, Saturday and Sunday.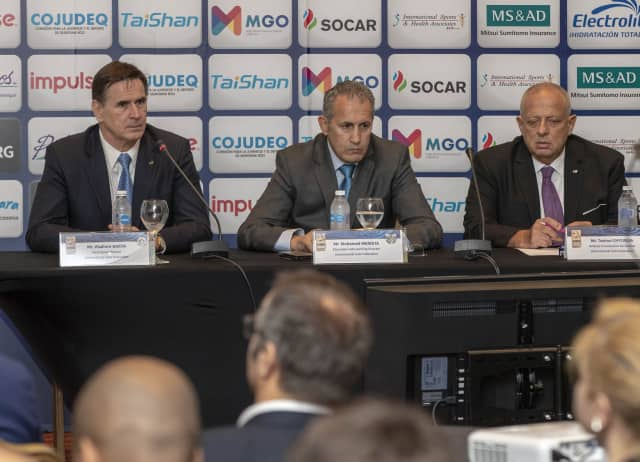 Mr. Mohamed MERIDJA (above - centre), IJF Education and Coaching Director, made the opening address on behalf of IJF President Mr. Marius L. VIZER. "Good afternoon all delegations, ladies and gentlemen, judo family members and guests, it is a pleasure to welcome you all here to Cancun. We are very happy to be here in Mexico for a Grand Prix. I congratulate the Mexican Judo Federation for all their hard work for this event and I wish all judoka and teams good luck for the Grand Prix."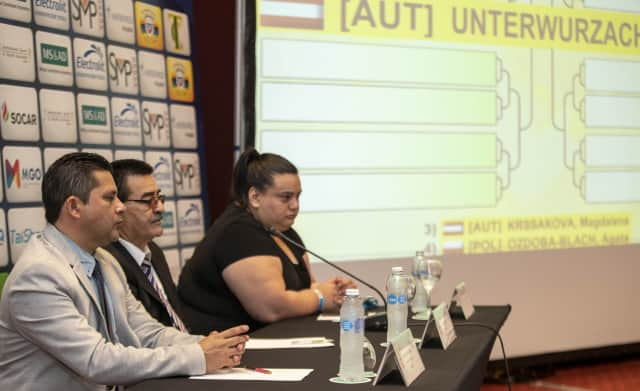 Mr. Justo NODA (above - centre), head coach at the IJF Training Centre in Cancun, made the welcome address on behalf of the local organising committee.  
"Hello everyone and welcome to Mexico. We're thrilled to see you all here in Cancun for the Grand Prix and we are looking forward to an excellent competition. Good luck to you all."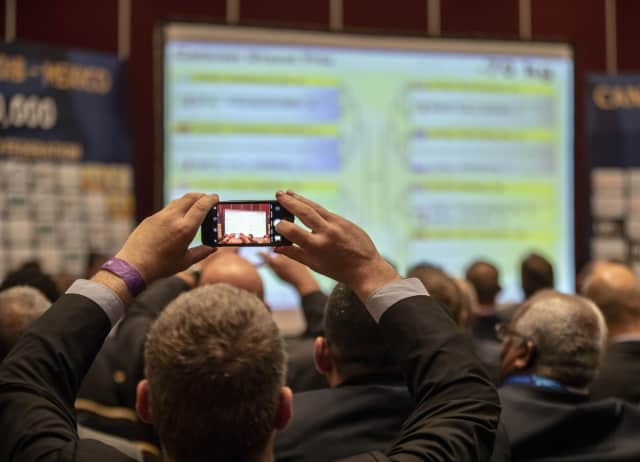 Watch all three days of #JudoCancun2018 live and free on the IJF website. 
PREVIEW:
WOMEN
-48kg
London 2012 Olympic champion Sarah MENEZES (BRA) has won as many Grand Prix titles as she has won Olympic gold medals. The three-time Grand Slam winner topped the Grand Prix medal podium in Havana, Cuba, in 2016 but could be in line for glory in Cancun. MENEZES, who was not selected for her country for September's World Championships, will be aiming to make a point in Mexico and could star on day one. Antalya Grand Prix gold medallist Catarina COSTA (POR) finished fifth on her World Championships debut in September as she lost out to Olympic champion Paula PARETO (ARG). The world number 17 has caught the eye this year and will expect to medal to win her third Grand Prix medal of the year.  
Junior World Championships gold medallist Amber GERSJES (NED) is a wise selection by the Netherlands and will offer her strongest performance since moving up to the senior level last year. Cancun Grand Prix silver medallist Edna CARRILLO (MEX) will be under pressure to perform for the hosts on day one.
-52kg
Tunis Grand Prix gold medallist Jessica PEREIRA (BRA) finished fifth on her World Championships debut in September. The Tokyo 2020 contender lost to teammate Erika MIRANDA (BRA) who won her country's only medal in Baku. PEREIRA now has to capitalise on her illustrious colleague not being present in Cancun and has to come away with a medal. Two-time Grand Slam medallist Alesya KUZNETSOVA (RUS) is still aiming for her first gold medal at -52kg having moved up from -48kg last year. The ne-waza ace will see action along with three-time Grand Prix bronze medallist Angelica DELGADO (USA) who took bronze in Mexico last year.  
-57kg
Olympic champion Rafaela SILVA (BRA) lost her opening contest at the World Championships and will be keen to put on a show in Cancun. Former world champion SILVA won the Budapest Grand Prix in August and will be one of the favourites in the -57kg category with a potential fifth Grand Prix title on the line. World silver medallist Nekoda SMYTHE-DAVIS (GBR) is now up to third place on the World Ranking List which is a new personal best for the Londoner. SMYTHE-DAVIS has won back-to-back World Championships medals and is one of the most consistent performers in a deep division. World number 10 Jessica KLIMKAIT (CAN) and Agadir Grand Prix bronze medallist Miryam ROPER (PAN) will also be in action and both are capable of putting together a run and going all the way in Mexico.
-63kg
World number eight Kathrin UNTERWURZACHER (AUT) finished seventh last time out at the World Championships. UNTERWURZACHER will compete for only the second time this year when she joins the -63kg category in Cancun and will be cautiously optimistic about her chances of medalling for the first time since winning bronze at the Abu Dhabi Grand Slam a year ago. World number nine Katharina HAECKER (AUS) also finished seventh at the Worlds and is on course to qualify for her second consecutive Olympic Games. Former Tyumen Grand Slam gold medallist Catherine BEAUCHEMIN-PINARD (CAN) is a five-time Grand Prix medallist while few judoka know their way around the IJF World Judo Tour like Beijing 2008 Olympic bronze medallist Ketleyn QUADROS (BRA).
-70kg
World number four Anna BERNHOLM (SWE) earned her first Grand Prix title in April with victory at the Antalya Grand Prix. The Swede has not medalled since but starts as the top seed in Cancun and will be the fighter to beat at -70kg. Former world number one Kelita ZUPANCIC (CAN) finished seventh at the World Championships. ZUPANCIC is a 10-time Grand Prix medallist with one gold medal amongst that impressive haul (Zagreb 2014). Former World Championships silver medallist Maria PEREZ (PUR) will be even stronger on her home continent and will be a leading contender on Saturday. Olympic bronze medallist Laura VARGAS KOCH (GER) will continue her comeback and is chasing her first IJF medal in the new Olympic qualification phase with a low ranking of 34 in the world.
-78kg
Two-time world champion Mayra AGUIAR (BRA) conceded her title and red backpatch in Baku with a substandard display. The double Olympic bronze medallist lost in round three to rank outsider MA Zhenzhao (CHN) and has not won a tournament since her Worlds win in August 2017. AGUIAR may feel that a weight of expectancy has been lifted off her shoulders as she will return a normal backpatch in Mexico and will only stand out if she shows her best judo. World number three Natalie POWELL (GBR) will also be out to atone for a below-par World Championships performance. The former world number one lost out at the same stage against Klara APOTEKAR (SLO). POWELL will equal the current Grand Prix medal record (18) set by Otgontsetseg GALBADRAKH (KAZ) and rival Luise MALZAHN (GER) if she can secure a podium finish in Mexico.
Former world bronze medallist Kaliema ANTOMARCHI (CUB) will be a front-runner while two-time Grand Slam winner TAKAYAMA Rika (JPN) could star for Japan as her country's only representative this weekend.
+78kg
World silver medallist Idalys ORTIZ (CUB) is the heavyweight standout in the +78kg field which will be contested on Sunday. The three-time Olympic medallist is ranked fourth in the world and is closing on her fourth Olympics with the aim of a fairytale finale in the sport's homeland in 2020. The Cuban great starts as the favourite ahead of double world silver medallist Maria Suelen ALTHEMAN (BRA) and Ekaterinburg Grand Slam bronze medallist Beatriz SOUZA (BRA). ALTHEMAN finished fifth in Baku while SOUZA lost out in round three.
Four-time Grand Prix bronze medallist Sarah ADLINGTON (GBR) is coming off a career-best fifth-place finish at the Worlds and needs to medal at events such as this to remain in contention to qualify for her first Olympics.
PREVIEW:
MEN
-60kg
Former Junior World Championships gold medallist Francisco GARRIGOS (ESP) will be aiming to retain his title from 2017 and has the platform to achieve just that as the number one seed. While the mantle of Spanish judo now belongs to newly-crowned world champion Nikoloz SHERAZADISHVILI (ESP), World Judo Masters runner-up GARRIGOS may now feel less pressure and should earn his first silverware of the year. European champion Islam YASHUEV (RUS) will be chasing gold while world number 17 Adonis DIAZ (USA) could also be a medal contender. DIAZ finished fifth last year but has been a key member of the USA team in 2018 as he made his IJF World Judo Tour breakthrough with bronze in Antalya and added a silver medal at the Zagreb Grand Prix.  
-66kg
Tbilisi Grand Prix silver medallist Daniel CARGNIN (BRA) starts as the top seed on the IJF World Judo Tour for the first time in Cancun. The Junior World Championships gold medallist is now ranked eighth in the world as he sits comfortably ahead of teammate and Rio 2016 Olympian Charles CHIBANA who is ranked 19th. CHIBANA has to make a move to gain ground on his young colleague and will need to add to his collection of five Grand Prix medals on day one. Three-time world silver medallist Mikhail PULIAEV (RUS) was a surprise selection for September's World Championships for many observers. The Russian finished seventh in Baku but has still earned the nod for a trip to Cancun. 
-73kg
World number seven Tommy MACIAS (SWE) won the Antalya Grand Prix in April and will be aiming to double his gold medal on the Grand Prix stage in Cancun. The former Abu Dhabi Grand Slam winner has a wealth of world-class talent for company at -73kg on day two. Tokyo Grand Slam silver medallist Arthur MARGELIDON (CAN), former World Judo Masters gold medallist Denis IARTCEV (RUS) and London 2012 Olympic silver medallist UNGVARI Miklos (HUN) will all be in action and it will take a special performance for one of them to be on top of the podium on Saturday evening.
-81kg
Paris Grand Slam bronze medallist Frank DE WIT (FRA) was a shock casualty in the preliminary rounds in Baku. The two-time Grand Slam winner lost his first contest against Medickson DEL ORBE CORTORREAL (DOM) and will be determined to bounce back in Cancun. The Dutchman has never won a Grand Prix but that could change on Saturday. Budapest Grand Prix gold medallist Alan KHUBETSOV (RUS) and former world bronze medallist Victor PENALBER (BRA) could also lead the way in the -81kg category.
-90kg
Former world champion Nemanja MAJDOV (SRB) will return to his standard blue and white backpatch having lost his world title last month. The European Championships silver medallist lost his first contest in Baku against Aurelien DIESSE (FRA). World silver medallist Ivan Felipe SILVA MORALES (CUB) produced the best result of his career in Baku and will be backed to win the second Grand Prix title of his career. Former world champion Loic PIETRI (FRA) returns to IJF duty for the first time since May 2017. The Frenchman's last IJF medal came back in 2015 when he took silver at the World Championships at -81kg.
-100kg
Former world bronze medallist Ramadan DARWISH (EGY) starts as the top seed and will be confident of winning his fifth Grand Prix title. The African Championships gold medallist, who is ranked 13th in the world, finished fifth in Azerbaijan at the World Championships. Olympic bronze medallist Cyrille MARET (FRA) took silver at the European Championships in April and will be a medal contender on the last day of competition. Seven-time Grand Prix medallist Joakim DVARBY (SWE) has perhaps his best shot at winning a first Grand Prix title with six Grand Prix bronze medals and one silver medal already to his name.
+100kg
Olympic champion Lukas KRPALEK (CZE) finished fifth at the World Championships last month. The former world champion, who is ranked number two in the world in the heavyweight category, won the European title in April and starts as the favourite for +100kg gold on Sunday. Former Junior World Championships gold medallist Tamerlan BASHAEV (RUS) took silver at the European Championships in April behind KRPALEK. Former World Championships silver medallist David MOURA (BRA) is without an IJF World Judo Tour podium in 2018 after shot-shy displays at the Ekaterinburg Grand Slam, Hohhot Grand Prix and World Championships. Man-mountain MOURA will be tipped to return to form on Sunday. 
PROGRAMME
Friday 12 October  Preliminary rounds - 09:30 Final Block - 17:00
Saturday 13 October   Preliminary rounds - 10:30 Final Block - 17:00
Sunday 14 October  Preliminary rounds - 10:30 Final Block - 17:00
Venue: Poliforum Benito Juarez