World Judo Masters winner Guram TUSHISHVILI (GEO) claimed his first Grand Prix gold medal in a breathtaking finale to the Tbilisi tournament.
TUSHISHVILI, 23, is the forerunner in a new crop of heavyweights who just tip over the 100kg mark on the scales and therefore are fast-paced, explosive and have incredible athleticism.
The Georgian star was the second lightest judoka in the heavyweight category today but was certainly the quickest and the most popular as he laid siege to the field with four ippons from four contests.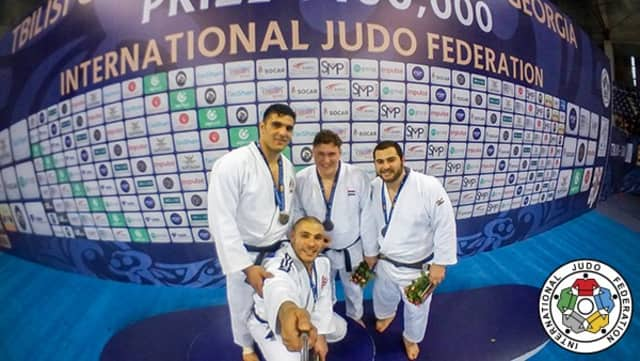 +100kg selfie with the medallists
A claim can be made that the former -100kg fighter is the most exciting active judoka on the planet in 2018. On this evidence it would be hard to dispute that as he comes out with the mentality of throw or be thrown and is always in a hurry to get on and off the mat.
TUSHISHVILI sets a fast pace that few heavyweight judoka can keep up with and now he has one more title that had previously proved elusive to him.
Many +100kg judoka can spring a surprise and show uncanny dexterity at times but TUSHISHVILI, at 108.5kg, can boldly claim to be in a different league as he has all the tools and is still a young man with only 14 months of experience as a heavyweight on the IJF World Judo Tour.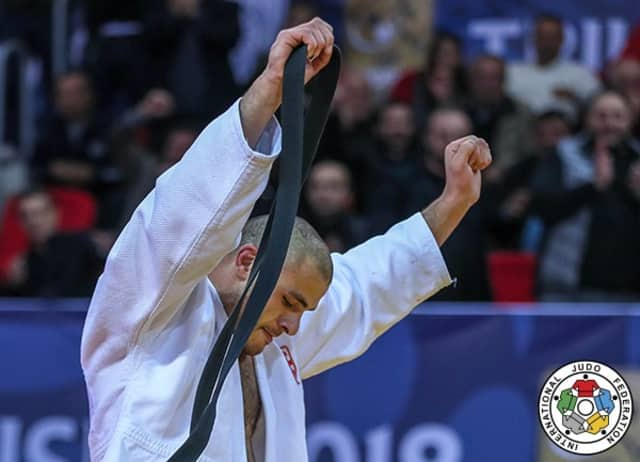 His entertaining style and charisma has endeared him to the judo world and he his a young man with the world at his feet. TUSHISHVILI has already offered the great Teddy RINER two stern tests which catapulted him into the spotlight. Since then he has won a World Judo Masters and now his home Grand Prix and he is only getting better.
Contest management is one area he will still look to work on as he remains exposed at times when he has the lead as he puts himself at risk when he shows no caution and attacks relentlessly. This will come with more experience but it's also highly appealing to fans who appreciate his carefree mentality as he looks to outscore his opponent or win handsomely and rapidly.
The IJF World Judo Tour moves from Tbilisi to Antalya next week
The IJF World Judo Tour travels to nearby Turkey next week for the Antalya Grand Prix from Friday 6 to Sunday 8 April. The second event of the IJF Grand Prix double header, following a captivating Tbilisi Grand Prix, will feature 344 judoka from 52 countries.
World Judo Masters bronze medallist and European champion Hidayat HEYDAROV (AZE), world bronze medallist Saeid MOLLAEI (IRI), two-time Grand Slam winner KIM Jandi (KOR) and London 2012 Olympic champion Sarah MENEZES will also be in action.
That is in addition to double world bronze medallist AN Changrim (KOR), former world silver medallist DASHDAVAA Amartuvshin (MGL) and Mongolian legend NAIDAN Tuvshinbayar. World champion Nemanja MAJDOV (SRB) and Olympic bronze medallist Sally CONWAY (GBR) will also be among the top picks in Turkey.
Watch #JudoAntalya2018 live at www.IJF.org