The third day of competition (M4: 45-49 years old - M5: 50-54) at the Veterans World Championships was as spectacular as the first two days. 14 new veteran world champions were crowned today and tomorrow the show continues!
Dr Lisa Allan, IJF Events Director, expressed her opinion about the event, "Veterans are different people from those with whom we usually work on the World Judo Tour. It is a nice feeling to meet this community. There are many people who we grew up with, doing judo. There are friends from clubs, friends from home who we have known for many years, and it is a good kind of different.
We have a really good tournament here and very good organisation by the Portuguese Judo Federation. The quality of judo has been really high and we are glad that we have resumed this event after the pandemic."
Veterans world champion in M4 -73kg category, Cesar Nicola commented with excitement, "It's the second time I have taken part at the Veterans Worlds. The first time it was in Malaga in 2014 and now here in Portugal, at home. It is very special and different for me to perform in front of my home crowd.
Today it was even more special because I had two very wonderful supporters here who were my students. Leandra Freitas, now working in the IJF and Joana Ramos, 3 times Olympian and coach at #JudoVeterans, witnessed how I became a world champion. They know what I am feeling and what I am and it is great. Today we changed positions, with Joana coaching me and it was a great moment."
Joana Ramos (POR) commented, "He was coaching me in 2003 in my hometown club. I grew up watching him as a reference; he was one of my heroes. I am left-handed because of him and he has a special style of judo. For me it was such a pleasure to coach him today. I cannot even express how amazing it was. I am proud that I could give back today what he taught me before."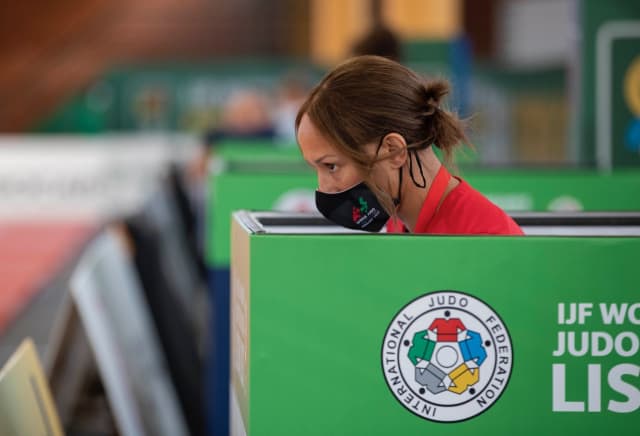 M4 -73kg silver medallist Gaston Paludi (ARG) said, "It is not easy and I worked a lot to get this medal. It is a big honour for me to stand on the podium. Thanks to my family, my friends and my coach. I met lots of old friends here and it is an excellent event to take part in and I'm sure I will compete again in the future."
Good quality judo, united friends, former athletes coaching their coaches, competitors returning to get more medals, simply good memories: what else can #JudoVeterans bring us tomorrow? Follow us to keep up with more judo news from Lisbon.