Victor Scvortov is a coach with a clear remit: to build a strong team of judoka, to be part of developing a judo system in the United Arab Emirates towards future success at all levels including the Olympic level. As an athlete he amassed 16 World Judo Tour medals, 3 continental medals and a world bronze. He's an Olympian and understands what's required very well.
Being the head coach of the host nation's team at any event brings an added pressure, to perform well at home in front of those who support you and your athletes. It is almost compulsory to do well and in Abu Dhabi the UAE team is absolutely performing well.
Before the start of day three, having just completed the warm up with Aram Grigorian, Victor Scvortov was happy to talk about his role and team, "We are so happy already because last year in Abu Dhabi we lost all the first round matches. In other events we had medals but here we didn't. The federation supports us so much. We are always travelling to train and compete all over the world and the federation supports that wholly. Having not always had a dedicated judo home here, a dedicated space for judo, means that the mobile investment from UAE has been very high and so we need to show them the reward for their investment.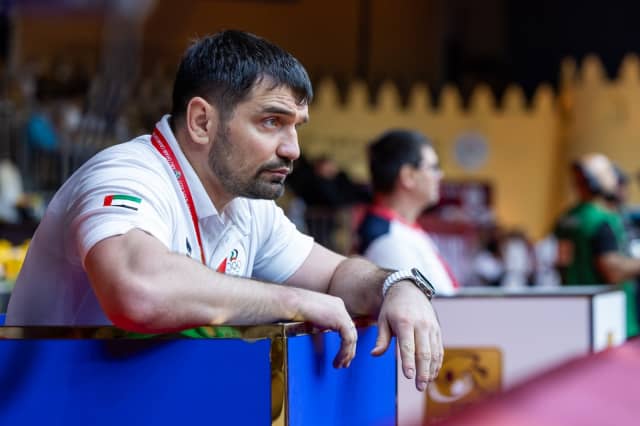 Bayanmunkh and the rest of the team prepared at the Asian Games and won 5 medals there, 1 gold, 1 silver and 3 bronze, so we knew they were ready to give their best in UAE too. The first medal, Bayanmunkh's -66kg bronze, really gave us breathing space. I was so happy. Then there was a second medal, with Tatalashvili on day 2, and so we know we are on the right way.
Now we have reached a point where we really have a team and more can get results. In Georgia we have a place in a dojo in Tbilisi to use 3-4 hours per day. The Georgian federation supports us a lot. It's generous, a real tribute to the judo values. They provide us with training partners and space and we really appreciate it, especially as we understand the level in Georgia and also that there is a lot of heart there for judo. Training is always well attended so it is a very good situation for us. We will be using a new training facility here in Abu Dhabi more in the future but for now we have a good situation.
We are continuing to build our team. It takes time. We are preparing to have a mixed team in Los Angeles, but right now it's too soon for that. I feel very positive about the future.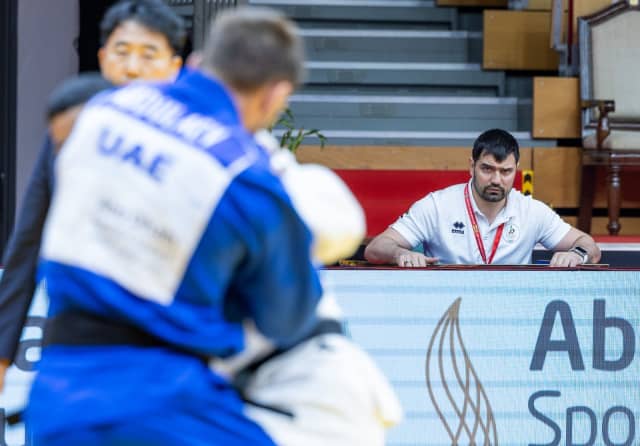 I was an athlete before and my coach told me that it's a very hard job to be a coach and manage everything for the athletes and their programmes and I laughed at him. Now I know how hard it is! I'm very happy though because I can see that the work is good."
What about the Paris Games? What do you see ahead of you for the UAE team?
"This is judo. We have some good athletes who are capable. We can prepare them to be truly ready but even in the best condition it is possible to sometimes lose the first match. The Olympic Games is never easy because you can be the strongest but still not have the day. So, this team has the same chance as anyone. We study strategy, checking we adhere to the rules. We work hard to not get shido and to continue improving the judo level. That is the job, in simple form."
Two medals from the first two days is already a good result. Victor Scvortov and the United Arab Emirates Judo Federation are working hard and working together to ensure continuous improvement. It shows!