After competing at the Tokyo Judo World Championships and before heading back to Tashkent, in pursuit of a new Olympic dream where she earned a very honorable 5th place, Sabrina Filzmoser (AUT), member of the IJF Athletes' Commission, has put on her love for development outfit. Very active in Nepal and Bhutan where she travels as often as possible, she did not hesitate a single second, to take a plane ticket at the last minute, to go to Nepal, to supervise the preparation of Tatami that will soon be delivered at a Judo Club at the foot of Mount Everest.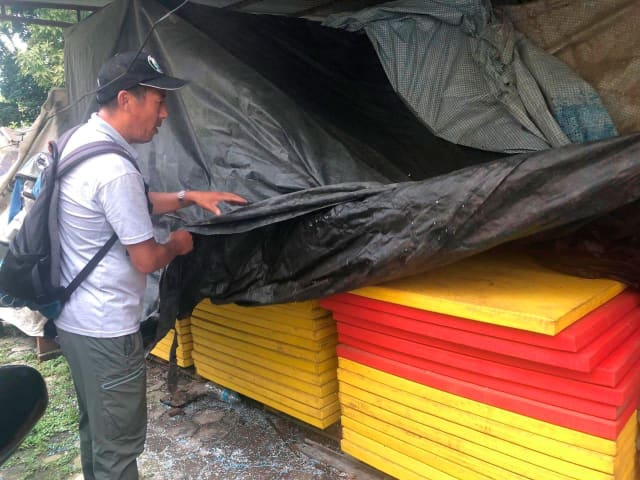 She is tireless! Traveling around the world. Sabrina, with the support of Nepal Judo Federation President, Deepak BAJRACHARYA, who is also a member of the Judo for Peace Commission, was recently in Kathmandu to prepare the next IJF tatami delivery to Lukla at 2845m above sea level.
For several years, under the leadership of the Nepalese federation, a judo club has emerged in the shadow of the stone monster. The conditions, as you can imagine are difficult, but with a little will and a lot of dedication, everything becomes possible: "We are very happy about the fact that the tatamis are soon goanna be delivered. Thanks to Deepak and his team, it's going to become a reality. For the moment, during this time of the year (September/October) it is high trekking season and tourists are starting to occupy all small airplanes flying up to Lukla. We will have to wait for the moment, as the cargo shipment will be horribly expensive. There is also an issue with Kathmandu airport for the time being. They have to repair the broken tarmac on one side. But we are working on finding the best solution", explained Sabrina.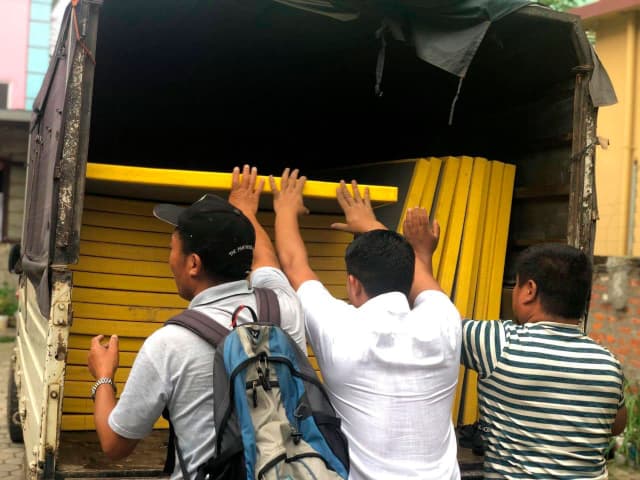 For all these practical reasons, the tatami are not going to arrive immediately in Lukla, but everything is ready so that the children of the Everest Judo Club can soon benefit from brand new equipment. Once delivered on site, they will still have to be transported on a man's back to the Monjo school, where a community hall has been built: "The new community hall is great, the kids are waiting for their new tatami. They also have the ability to climb and improve their grip on their new artificial wall. They started to use professional equipment and already know how to secure and rappel. Whether it's a delay because of weather, broken plans or just the usual logistics, somehow you need patience up there", added Sabrina.
Deepak BAJRACHARYA explained: "We have prepared 24 pieces of competition tatami and they will be distributed to Kazi Sherpa, who is a senior judoka and climber of the Manju Club in Solukhumbu District near Mt. Everest. You know it's the biggest mountain in the world, surrounded by other biggest picks. The Nepal Judo Association has organized a ceremony in Natabazar, Kathmandu, Nepal. Executive members, national players, coaches including JICA volunteer, community members of the District and other guest were present. Sabrina, Olympian, IJF Athlete Commission Member and climber, who initiated the program to establish this Dojo near Everest was also present. She is like our judo family member and she is here for this purpose despite her busy schedule."
The President of the federation also added: "Our objective is to establish a high altitude training center where domestic and foreign athletes can come for high altitude training. For the moment the dojo is small. However, we ask the community members to find big space to build a bigger dojo. The Nepal Government announced that 2020 will be the tourism year in Nepal. So we want to make this place to develop sports tourism. Lot of people are coming for trekking, hiking and climbing in this area. They will also come for judo now."
For Sabrina Filzmoser, the Himalayas are a special place: "My love for the Himalayas and their people come out of my experiences. I remember when I started to read about these mountains, I was always curious about the history. When I went to Nepal for the first time, I had already known about Sir Edmund Hillary. Following his ascent of Everest, Hillary devoted most of his life to helping the people of Nepal through the Himalayan Trust, building schools, hospitals, bridges, an airstrip, and much more. Ever since Sir Ed and Louise Hillary founded the Himalayan Trust in the 1960s, they've inspired the world with the time, money and support to help the people of Nepal they have invested."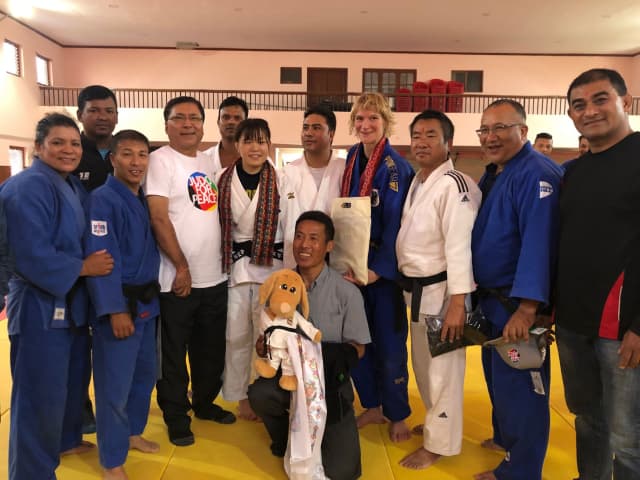 Last May, a few months before Sabrina made a stop and go in Kathmandu, a new dojo to welcome disabled people was also inaugurated in the country: "What I experienced around Kathmandu is that many times disabled people are neglected and forced to live in dark rooms. Often these individuals live a life where they feel no love, care or self-worth. With no financial support, they are often reduced to begging on the streets. I try to support Dharma Kumar Shrestha's dream of helping the deaf, blind and para judo. When we are supporting the disabled, we are supporting the whole community. It gives a positive image to judo, and this is a true image. I am happy that the federation is very much involved in that and I hope it's only the beginning."
For many years, the Nepal Judo Association has been active in promoting judo within orphanage institutions and there is still a lot to do: "A high altitude center up in Monjo school or even a higher dojo at Khumjung (4000m!) Could be amazing . There's the famous Edmund Hillary school. It would be awesome to start Judo there some day in the future! But it is not only a need, it is a necessity", concluded Sabrina. Judo reaches the heights at the foot of Everest, but reaches above all peaks of mutual aid and prosperity, which brings it back to what it was created for in 1882 by Professor Jigoro Kano: building a better society.