In 1985 the California Police Athletic ran its first World Police and Fire Games (WPFG), in San Jose, America. Law enforcement and fire fighting personnel, both active and retired, competed in a multi-sport environment that has grown with each edition.
Ten years after the launch, the biennial Games moved out of North America for the first time and landed in Australia. It has since been hosted all around the world. It is the second biggest Games event in the world, just slightly behind the Olympic Games, with around 10000 athletes participating.

The 2022 event includes 62 sport disciplines with traditional sports including judo, rugby, athletics and rowing but also some less familiar events such as tug-of-war and 'muster.'
This year the event is being held in Rotterdam, Netherlands and some familiar judo faces could be found there. Among them, IJF EC member and recent Everest climber, 4 time Olympian Sabrina Filzmoser made an appearance. It was her first competitive outing since retiring from the World Judo Tour at the Tokyo Olympic Games last summer. Sabrina has competed in Rotterdam before, at the 2009 World Championships. On that occasion there was no medal but in 2022 there was a gold.
Also on top of their respective podium was a great friend of Sabrina's, Olympic and world medallist Claudia Zwiers. The two judo stars have not seen each other for some time. Sabrina said, "I saw Claudia whom I have not seen for decades but it felt like yesterday. This is judo."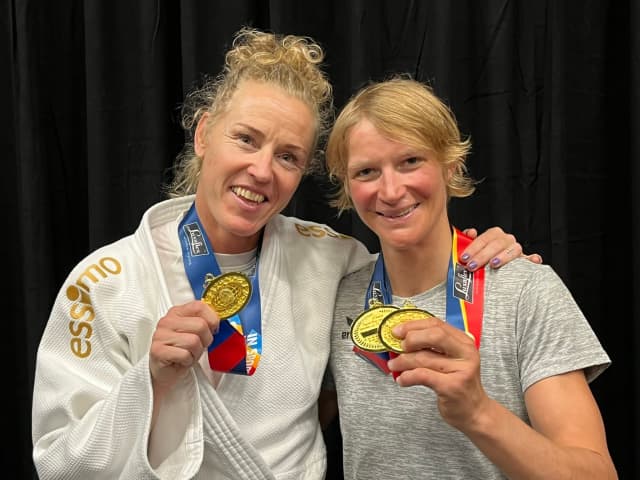 Friendship and solidarity are strong themes at the WPFG, for 10000 heroes who share a commitment to keeping their countries safe. It is a chance to apply their never-give-up mindset to something fun where no lives are at risk, in an environment that understands their often challenging and stressful working lives.
The next edition, in two years time, moves back to the Americas, to Winnipeg in Canada.