The IJF World Judo Tour 2016 will start a new chapter this weekend as the Zagreb Grand Prix will be the first IJF event following the Rio 2016 Olympics as Croatia ushers in a new Olympic cycle towards Tokyo 2020.
The fourth edition of the Croatia's premier judo event emanates from the capital city of Zagreb which has become a key destination for judo as the IJF action resumes but with a new goal of Japan for the next Olympiad. While many champions are still absorbing their Rio 2016 accomplishments and promoting the sport on mainstream platforms in their home nation, a new generation of young judoka and many of those who agonisingly missed out on qualification last time around, are making an early start to their road to Tokyo 2020.
Qualification for the Tokyo 2020 Olympics officially starts in 2018 but a successful start at this opening stage of the new cycle can start a climb for judoka up the world ranking list towards a potential seeded position at IJF events such as the World Championships and World Judo Masters which is offered to all judoka in the top eight in the world.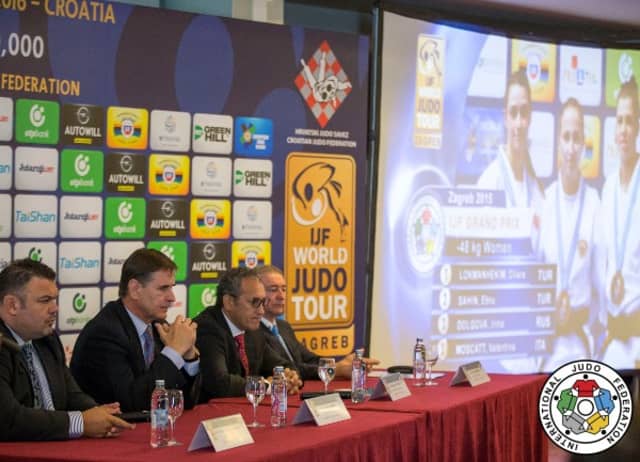 Judo's renowned Rio 2016 Olympic competition was a record-breaker and now the judo world is already thinking ahead to the sport's return home for Japan's first Games since judo made its Olympic debut at Tokyo 1964. The journey to judo's homecoming in 2020 started years ago for the judoka away from the pubic gaze but now their campaign begins on the IJF tatami to fulfil their dreams and those of their country.
The draw took place on Thursday afternoon at the Panorama Hotel as Mr. Vladimir BARTA (above - left centre) , IJF Head Sports Director, revealed that 229 judoka (139 men, 90 women) from 31 nations will compete for the first IJF silverware at stake following the Olympic Games.
Mr. Mohamed MERIDJA (above - right centre), IJF Education and Coaching Director, made the opening address on behalf of the International Judo Federation.
"Dear President, dear judo friends, dear ladies and gentleman, on behalf of IJF and President Mr. Marius VIZER, I am very pleased to welcome you to the Zagreb Grand Prix 2016. After a successful Rio 2016 Olympics I would like to congratulate all medallists and participants. I wish you all good luck at this Grand Prix in Croatia and a successful remainder of your year."
Dr. Sanda CORAK (above - centre), Croatian Judo Federation President, said: "Good afternoon everybody, colleagues, sports officials, welcome to fourth edition of the Croatian Grand Prix. For the third time our Grand Prix is being held in Zagreb, and although we have a lot of experience, it is always a challenge, but also an opportunity to be a good host. As we enter a new Olympic cycle, I would like to thank you all for coming here to Croatia.
"I believe everything will be good, we are always trying to promote the IJF World Judo Tour, we hope to have a lot of media coverage and will have a live broadcast on Croatian television. There are good opportunities for our sponsors and I thank all of the companies who are helping us to promote judo in the country. Thank you all for coming and I wish the best to your teams, I believe you will all have nice memories from Zagreb."
Mr. Vladimir BARTA, IJF Head Sport Director, said: "Dear all, welcome here in Zagreb, for the first IJF event after Olympics. Rio 2016 was a great competition for seven days, with many new records including a participation record of 136 countries and 26 countrries winning medals. At the start of a new cycle I wish you all good luck at the Zagreb Grand Prix."
Mr. Ovidio GARNERO, IJF Referee Commissioner, said: "Dear friends, dear colleagues, thank you very much for your presence, I have only several points for you. The first is be respectful to the rules, referee, judoka, your role in this competition and coaches please only talk during the stoppages in play and judoka please take a grip, stay active and keep your place in the centre of the mat."

Following the draw, the national and international media were able to put their questions forward to members of the Croatian team along with Olympic champion Majlinda KELMENDI (KOS) who is not competing in Zagreb but is present to offer moral support to her teammates.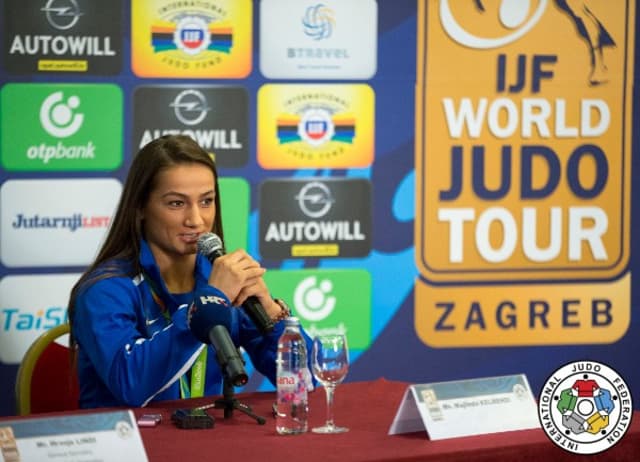 Kosovo's hero KELMENDI, who brought her Olympic gold medal to Zagreb, said: "I always feel very good here, my first ever international event was in Croatia and me and my team have always had a lot of support from Croatia so I am honoured to be here with you all today."
When asked why she would not be in action in the Croatian capital the double world champion said: "These four years were so hard, in 2015 I had injuries and it was very difficult to come back, so now I need to rest. My next IJF event will be the Paris Grand Slam 2017."
"I have all the titles that an athlete can have, but I love being successful, I love being a winner, my next goal is Tokyo 2020 and that starts next year as I want to win every European and world title before then. I can talk like this because I work hard and sacrifice a lot."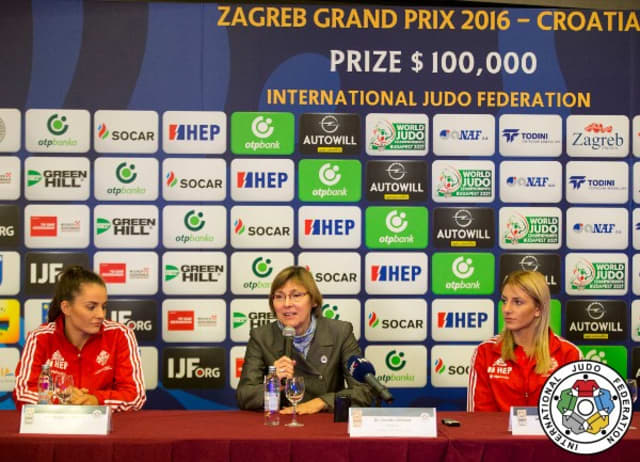 Croatia's own Rio 2016 Olympian and leading judoka Barbara MATIC (above - left) will be in -70kg action this weekend alongside her younger sister Brigita MATIC (above - right).
Ulaanbaatar Grand Prix bronze medallist Barbara, who was defeated in her opening contest in Rio, said: "I hope to win at least something that Majlinda has won in last four years. I am not in the perfect shape but I am looking forward to the competition and hopefully I can win a medal."
Junior world champion Brigita said: "Although I won a silver medal at the Junior European Championships last weekend in Malaga, I am not satisfied because I went there for gold. Zagreb is a new chance for the medal on a senior level and I am looking forward to fighting in front of my home fans."
Tashkent Grand Prix silver medallist Zlatko KUMRIC was also in attendance at the press conference but his country's leading male judoka will miss his home event through injury. KUMRIC, 22, said: "My injury recovery is going as planned. Hopefully, I will be in full training in the next month or so. My greatest goal for the next Olympic period is to become an Olympic champion."
Click here to subscribe to the IJF notification service – login with your Facebook account and you can receive notifications when your favourite judoka or country is competing.
WOMEN
-48kg
Tyumen Grand Slam bronze medallist Milica NIKOLIC (SRB) will be the top seed at an IJF event for the first time in her career this weekend. The 21-year-old could improve on bronze on day one in Zagreb to surpass her Budapest Grand Prix third place finish in June as she chases a third consecutive IJF World Judo Tour medal. Noa MINSKER (ISR) won the Tallinn European Open a fortnight ago to boost her hopes of a first IJF medal in Croatia while Tyumen Grand Slam bronze medallist Sabina GILIAZOVA (RUS) and former African Championships bronze medallist Priscilla MORAND (MRI) will also be seeded. Olympic champion Majlinda Kelmendi will be in Zagreb to support her teammates including her cousin Fjolla Kelmendi, 25, who will make her IJF debut on Friday at -48kg. Fjolla was a promising young talent but left the sport to study full-time and is now making a comeback under the guidance of Driton Toni Kuka.
-52kg
Junior world champion Distria KRASNIQI (KOS) leads her country this weekend with Olympic champion at this weight KELMENDI (KOS) set to be her number one supporter in the stands. KRASNIQI, 20, who has long been the understudy to KELMENDI, looks set to stay at -52kg and win more silverware for Kosovo. The Budapest Grand Prix silver medallist will face opposition from judoka such as Rio 2016 Olympian Angelica DELGADO (USA) and Tyumen Grand Slam bronze medallist Tena SIKIC (CRO).
-57kg
German European Cup bronze medallist Manon DURBACH (LUX) will look to capitalise on her status as one number one seed which will offer her a more favourable draw. The 24-year-old is yet to open her IJF medal account but her best result came at the last IJF World Judo Tour event when she finished seventh at the Tyumen Grand Slam in July. Daria MEZHETCKAIA (RUS) took silver at her home Grand Slam and will confident of being on the podium while German teammates Johanna MUELLER (GER) and Sappho COBAN (GER) are both poised for a medal push.
-63kg
Austrian veteran Hilde DREXLER (AUT) and 34-year-old Marijana MISKOVIC HASANBEGOVIC (CRO) are the two most experienced judoka in the category in Zagreb while Hannah MARTIN (USA) looks to make a positive start to a new campaign which she hopes will end with Tokyo 2020 qualification having faded away in the run-up to Rio 2016. MISKOVIC HASANBEGOVIC enjoys top seed status and the Croatian always gives a great account of herself in front of her home fans who will be rooting for her on Saturday in a category which is wide open.
-70kg
Former world bronze medallist Katarzyna KLYS (POL) is the leading international threat to home judoka and fellow Rio 2016 Olympian Barbara MATIC (CRO) who is hoping to win her home Grand Prix for the first time. Four-time Grand Slam bronze medallist KLYS, 30, has never won a Grand Prix which adds further intrigue to the fate of the -70kg gold medal this weekend. Former Junior world champion MATIC, 21, who still aims to be her country's first Olympic judo medallist, can count on fervent home support as she encounters future European stars such as GERCSAK Szabina (HUN) who intends to make her first Olympics at Tokyo 2020.
-78kg
World Judo Masters bronze medallist Guusje STEENHUIS (NED) returns for the Netherlands this weekend and will be looking to put down a marker as one of the strongest judoka in the category right now at the age of 23. Former world number one STEENHUIS was surprisingly overlooked for Rio 2016 but has the character and ability to bounce back and make the number one spot her own for the duration of this Olympic cycle. Budapest Grand Prix bronze medallist JOO Abigel (HUN) finished seventh at the Rio 2016 Olympic Games – having finished fifth at London 2012 – and now starts her bid for a third Olympic Games. Teenager Klara APOTEKAR (SLO) took silver at the Tyumen Grand Slam last time out as Croatian hope Brigita MATIC (CRO) ended in fifth-place.
+78kg
World Judo Masters bronze medallist Larisa CERIC (BIH) is the top heavyweight contender in Zagreb and has already had a year to remember. The Bosnia and Herzegovina judoka has won Grand Prix, Grand Slam and World Judo Masters honours and competed at her first Olympic Games. Budapest Grand Prix winner Carolin WEISS (GER) should become a mainstay for Germany on the IJF World Judo Tour as she works towards major honours. Tallinn European Open bronze medallist Sandra JABLONSKYTE (LTU) will also be among the seeded judoka along with Sarajevo European Cup silver medallist Milica ZABIC (SRB).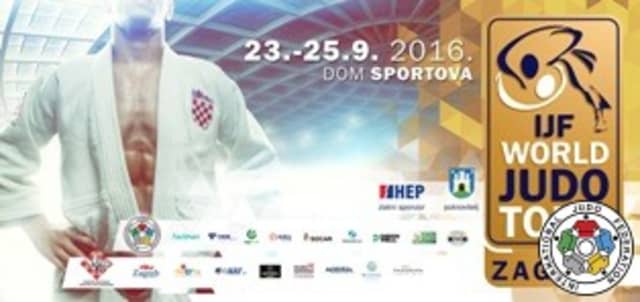 MEN
-60kg
Tyumen Grand Slam silver medallist Albert OGUZOV (RUS) is hoping to build on his home Grand Slam honours by capturing his first IJF Grand Prix medal in Croatia. The Russian fighter is the number one seed in the men's lightest weight category which was ruled this summer by his teammate Beslan MUDRANOV (RUS) who won the Olympics. Taipei Asian Open winner Matjaz TRBOVC (SLO) is among the hope -60kg hopefuls on day one as are Tallinn European Open winner Joaquin GOMIS (ESP) and 20-year-old El Salvador Pan American Open bronze medallist Adonis DIAZ (USA).
-66kg
Two-time Grand Slam medallist Anzaur ARDANOV (RUS) is out to win his first IJF World Judo Tour title on Friday. ARDANOV has silver and bronze medals at the Tyumen Grand Slam to his name and those results see him start the competition as the top seed ahead of judoka such as Ulaanbaatar Grand Prix bronze medallist Andraz JEREB (SLO). Jeju Grand Prix bronze medallist Tal FLICKER (ISR) will be in the medal hunt along with German European Cup winner Kenneth VAN GANSBEKE (BEL).
-73kg
Budapest Grand Prix silver medallist Dmytro KANIVETS (UKR) is the highest ranked judoka in the -73kg category in the first IJF event following the Rio 2016 Olympics. KANIVETS missed out on qualification for the Games and will be intent on making a splash in this cycle to secure a Tokyo 2020 berth. Tyumen Grand Slam bronze medallist Tommy MACIAS (SWE) is finding his feet and more literally his feet are cutting down opponents while Tallinn European silver medallist Sam VAN T WESTENDE (NED) and teenage star Martin HOJAK (SLO) will also be among the top seeds.
-81kg
Former Baku Grand Slam winner Alan KHUBETSOV (RUS) has an opportunity to impress and move into the world's top 10 for the first time in his career when he lines up for action in Zagreb. Russia have a glut of riches in the -81kg category including Rio 2016 Olympic champion Khasan KHALMURZAEV (RUS). KHUBETSOV finished fifth at the World Judo Masters in May and at 23 is poised to make tremendous strides forward as he enters the peak years of his career. Havana Grand Prix bronze medallist CSOKNYAI Laszlo (HUN) will be joined by teammate UNGVARI Attila (HUN).
-90kg
Double Junior European champion Nemanja MAJDOV (SRB) steps up to the -90kg category for the first time while former junior ace Max STEWART (GBR) could make a strong case for Grand Slam selection if he can find a way through to the final block and medal contests. Budapest Grand Prix bronze medallist Li KOCHMAN (ISR) occupies top seed status as Israel look to maintain their excellent Rio results with new success in this new cycle.
-100kg
Budapest Grand Prix winner Michael KORREL (NED) was in Rio as a training partner and as he soaked up the occasion he cast his mind to Tokyo 2020 where he hopes to not only be qualified but also among the leading medal contenders. The road to Japan starts now for the young Dutchman who is a natural successor to double Olympic bronze medallist Henk GROL (NED). Adlan BISULTANOV (RUS) was left out of Russia's Olympic team in favour of London 2012 champion Tagir KHAIBULAEV (RUS) who was eliminated in his first contest in Brazil. Tyumen Grand Slam silver medallist BISULTANOV is 27 and again will have it all to do if he is to qualify for the next Olympiad. Budapest Grand Prix bronze medallist Philip AWITI-ALCARAZ (GBR) could again capture Grand Prix honours for a youthful British team.
+100kg
World Judo Masters winner Daniel NATEA (ROU) underperformed at the Olympic Games as he was well beaten by veteran Abdullo TANGRIEV (UZB) in his second contest in Rio de Janeiro. NATEA, 24, has made significant changes to his training regime and diet this year to improve his condition and that was the difference in Mexico as the Romanian looked a new man before tamely succumbing at the Olympics. There will be interest from heavyweights around the world in the condition of NATEA who will start as the +100kg favourite ahead of former Ulaanbaatar Grand Prix silver medallist Sven HEINLE (GER), former Glasgow European Open winner Benjamin HARMEGNIES (BEL) and Budapest Grand Prix winner Stanislav BONDARENKO (UKR).
COMPETITION PROGRAMME
Friday
11:00 Preliminaries on two mats
17:00 Final block on one mat
Women: -48kg, -52kg, -57kg
Men: -60kg, -66kg
Saturday

11:00 Preliminaries on two mats
16:00 Opening ceremony
17:00 Final block on one mat
Women: -63kg, -70kg
Men: -73kg, -81kg
Sunday
11:00 Preliminaries on two mats
17:00 Final block on one mat
Women: -78kg, +78kg
Men: -90kg, -100kg, +100kg
Location: Dom Sportova