Croatia hosts the second Tokyo 2020 Olympic qualification event with two years to go
Croatia plays host to the IJF's second Tokyo 2020 Olympic Games qualification event this weekend with a bumper entry of 513 judoka from 78 nations as the sport passed the two-year countdown milestone on Wednesday.
Zagreb has been a annual stop on the IJF World Judo Tour since 2014 and this year will be the grandest and most anticipated edition as it falls within the new Olympic qualification period and the country is on a sporting high after the exploits of the national football team at the World Cup.
The home team will draw inspiration from their football counterparts as they prepare to take on a world-class field of judoka including Olympic and world champions. Croatia have picked a 16-strong team for their three-day Grand Prix and the home fans will see judoka such as World Judo Masters silver medallist Barbara MATIC (CRO) in action at the Zagreb Arena this weekend.

Thursday's draw took place at the competition venue on the eve of the event where it was revealed that 513 judoka (329 men and 184 women) from 78 nations will compete for Grand Prix honours and vital points towards Olympic qualification.
Vladimir BARTA, IJF Head Sport Director, made the opening address on behalf of the IJF.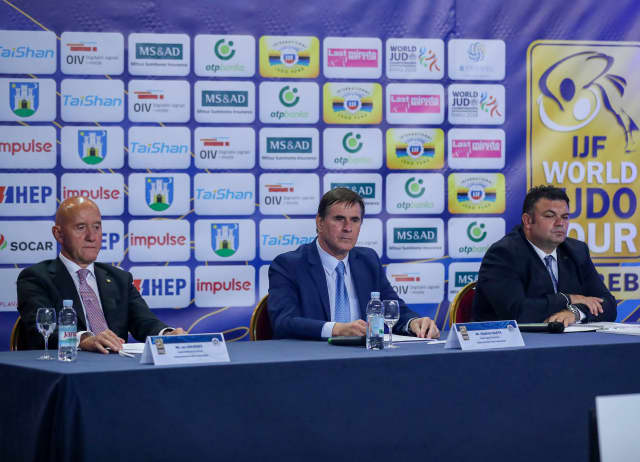 "Good afternoon everyone, yesterday we marked two years to the day of the Tokyo 2020 competition starting, and now we are here in Croatia for the Zagreb Grand Prix, the second IJF competition which counts towards Olympic qualification.
"On behalf of the IJF President Mr. Marius VIZER, I'd like to congratulate Croatia not only for staging this popular event on the IJF calendar but also for their fine performance during the football World Cup.
"This weekend we have a host of Olympic and world champions in action and we expect a world-class competition. We are pleased to bring the event to the Zagreb Arena this year and I wish you all a lot of luck."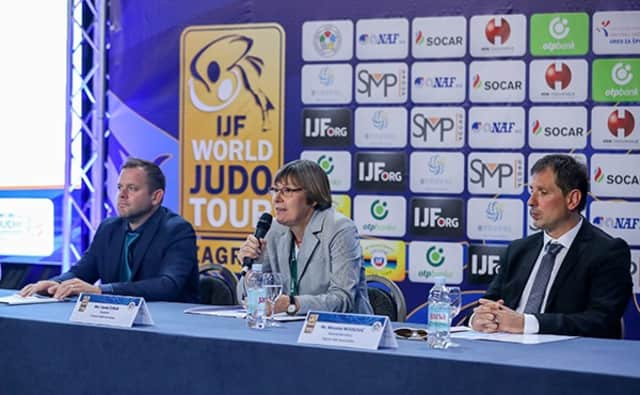 Dr. Sanda CORAK (above - centre), Croatian Judo Federation President, said: "Hello everyone, it's a pleasure to see you here in Zagreb. We are very excited to see such a high number of competitors and such a strong entry from all parts of the world. This year the Grand Prix will be in the Zagreb Arena which I hope you will enjoy. I wish good luck to you all and wish you a pleasant time in Croatia."
Jan SNIJDERS, IJF Head Refereeing Director, hailed a new initiative for the referees which took place in Zagreb ahead of the Grand Prix.
"The full group of 18 referees here to officiate at the Grand Prix have been training with the IJF Academy this week for three days. It's unique for a referee to be training six hours a day, three days a in row on the mat, performing an array of training techniques, including both tachi-waza and ne-waza.
"This was a very positive exercise and was a great team building tool. Thank you very much and I wish you a lot of success at the Zagreb Grand Prix."
Six world champions step up imminent title defence with #JudoZagreb2018 outing
Six world champions are poised to compete this weekend with just 55 days to go until the 2018 World Judo Championships in Baku, Azerbaijan, from 20 – 27 September.
Japan's reigning champions TAKATO Naohisa (-60kg), ABE Hifumi (-66kg), TONAKI Funa (-48kg), SHISHIME Ai (-52kg) and ASAHINA Sarah (Openweight) will wear their red backpatches along with Serbia's first world judo champion Nemanja MAJDOV (-90kg).
Olympic champion Rafaela SILVA (-57kg) of Brazil will be identified by her gold backpatch which will also be the case for Italy's Fabio BASILE (-73kg) and Tina TRSTENJAK (SLO).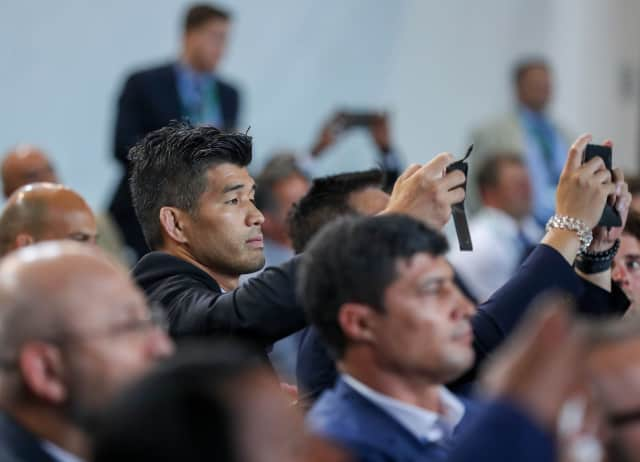 PREVIEW
Women
-48kg World champion TONAKI Funa (JPN) won bronze at the Tokyo Grand Slam and gold at the World Judo Masters to conclude the finest year of her young career in 2017. TONAKI, who turns 23 on Wednesday, finished fifth in her only IJF outing in 2018 after suffering back-to-back losses against teenage sensation Daria BILODID (UKR) and former world champion MUNKHBAT Urantsetseg (MGL). World number two TONAKI will have two-time Grand Slam winner BILODID for company on Friday along with world number three Irina DOLGOVA (RUS) and Olympic and world bronze medallist Otgontsetseg GALBADRAKH (KAZ).
-52kg World champion SHISHIME Ai (JPN) won bronze at the Tokyo Grand Slam and gold at the Düsseldorf Grand Slam this year and starts as the favourite in Zagreb. World number eight SHISHIME has only lost to Japanese opposition since 2015 but that won't be a factor this weekend as the current red backpatch holder at -52kg is Japan's only representative at -52kg. While there's talk in Japan of an imminent comeback by former world champion NAKAMURA Misato (JPN), SHISHIME will be focused purely on those who are present in Croatia's capital city including world number three Amandine BUCHARD (FRA). The French star rediscovered her form at the end of 2017 by winning bronze at the Tokyo Grand Slam and silver at the World Judo Masters and has reproduced those results this year with silver at the Paris Grand Slam and gold at the Tbilisi Grand Prix. Düsseldorf Grand Slam bronze medallist Charline VAN SNICK (BEL) and three-time world medallist Andreea CHITU (ROU) will also be tipped for success.
-57kg World bronze medallist Nekoda SMYTHE-DAVIS (GBR) won the Düsseldorf Grand Slam in her last IJF World Judo Tour competition but has been active on the tatami domestically since then. The Ealing Judo Club product took part in the British National Team Championships in Cardiff, Wales, in June for her London area and graciously gave up her time to don her judogi for a charity tournament in the same country in July. SMYTHE-DAVIS won her first Grand Prix title in Zagreb in 2015 and will be a leading contender in 2018. European champion Nora GJAKOVA (KOS) and European championships silver medallist Theresa STOLL (GER) could renew their rivalry in Croatia while Olympic champion Rafaela SILVA (BRA), five-time Grand Slam winner Telma MONTEIRO (POR) and Paris Grand Slam winner Christa DEGUCHI (CAN) will all contribute to the -57kg category being one of the expected highlights of the competition.
-63kg World champion Clarisse AGBEGNENOU (FRA) pulled out this week without citing a reason, to put her fascinating battle with arch-rival and Olympic champion Tina TRSTENJAK (SLO) on hold temporarily. Slovenian hero TRSTENJAK starts as the favourite in her gold backpatch but will need to be at her best to overcome a new and young generation of rivals. NABEKURA Nami (JPN) is the defending 2017 Zagreb Grand Prix winner and will not be caught up by talk of the past accomplishments in Croatia. NABEKURA will be there to win and Düsseldorf Grand Slam winner Andreja LESKI (SLO) will be in a similar position, being capable and determined to overcome the leading names in the weight category.
-70kg Three-time Grand Prix winner Barbara MATIC (CRO) is undoubtedly her country's finest judoka and is tasked with taking her country's team into unchartered territory. Grand Prix hosts Croatia have never won an Olympic judo medal and MATIC is seen as their best hope to achieve a new feat in the country's short but rich sporting history. European silver medallist Sally CONWAY (GBR) is peaking now and is one of the most ferocious judoka in the category while Tbilisi Grand Prix winner Marie Eve GAHIE (FRA), Antalya Grand Prix winner Anna BERNHOLM (SWE) and Hohhot Grand Prix winner Sanne VAN DIJKE (NED) can all be considered standouts at -70kg.
-78kg World champion Mayra AGUIAR (BRA) has not tasted victory since becoming a two-time world champion. The Judo Sogipa star has medalled at four of her five events since last year's win in Budapest but has come up short in the closing stages. World bronze medallist Natalie POWELL (GBR) has been on the podium three times in 2018 as the hugely consistent Welsh judoka continues to be a rich medal source for Great Britain. Irfon Judo Club's 16-time Grand Prix medallist POWELL has won bronze at the Düsseldorf Grand Slam, Antalya Grand Prix and European Championships and will be a front-runner in Croatia.
The participation of seven-time Grand Prix winner Audrey TCHEUMEO (FRA), European champion Madeleine MALONGA (FRA), in addition to Tokyo Grand Slam winner and reigning Zagreb Grand Prix champion HAMADA Shori (JPN), will make the -78kg category one of the strongest in the competition.
+78kg Openweight world champion ASAHINA Sarah (JPN) is undefeated on international soil since winning her first world crown. Five-time Grand Slam winner ASAHINA, 21, has won gold at Grand Slam events in Tokyo and Düsseldorf while wearing her coveted red backpatch as the reigning Openweight world champion. Ekaterinburg Grand Slam winner Larisa CERIC (BIH), Paris Grand Slam bronze medallist Iryna KINDZERSKA (AZE) and Agadir Grand Prix winner Yelyzaveta KALANINA (UKR) could all be in medal contention along with former European champion Kayra SAYIT (TUR).
Men
-60kg World champion TAKATO Naohisa (JPN) is back to his best after going undefeated in 2017 and opening his 2018 campaign with a golden showing in a one-time appearance in the -66kg category at the Prague European Open. The world number two has won 24 consecutive contests and will be fancied to win his second Grand Prix title on day one in Croatia. Former world champion Boldbaatar GANBAT (MGL) is desperate to re-establish himself with Olympic qualification now underway. Olympic and world bronze medallist Diyorbek UROZBOEV (UZB), European bronze medallist Ashley MCKENZIE (GBR) and Agadir Grand Prix silver medallist Bekir OZLU (TUR) are also capable of finding a route into the medal equation on Friday evening.
-66kg World champion ABE Hifumi (JPN) has won his last 32 contests and is undefeated since 2015. The 20-year-old prodigy has the longest undefeated streak in the sport after 10-time world champion Teddy RINER (FRA) and will be expected to deliver another mercurial showing which culminates with a gold medal around his neck and a string of ippons dispatching his adversaries. European bronze medallist Tal FLICKER (ISR) and Düssledorf Grand Slam bronze medallist Baruch SHMAILOV (ISR) act as a strong double threat for Israel while human highlight reel Georgii ZANTARAIA (UKR) will be in contention for a 13th Grand Prix medal.
-73kg Olympic and world silver medallist Rustam ORUJOV (AZE) will be under pressure to capture -73kg gold on day two. ORUJOV has lost the last World and Olympic final to Japanese opposition but the sport's homeland are not represented in this category on Saturday after world champion HASHIMOTO Soichi (JPN) sustained a wrist injury in his build-up to the competition. Antalya Grand Prix winner Tommy MACIAS (SWE) will be chasing more Grand Prix gold while Tokyo Grand Slam silver medallist Arthur MARGELIDON (CAN), London 2012 Olympic silver medallist UNGVARI Miklos (HUN) and -66kg Olympic champion Fabio BASILE (ITA) add extra firepower to an unmissable roster of athletes.
-81kg World champion Alexander WIECZERZAK (GER), who has yet to wear his red backpatch on the IJF World Judo Tour, pulled out of the competition this week. European champion Sagi MUKI (ISR) will be determined to come away with a medal from Zagreb as he seeks consistency in his Olympic qualifying campaign. MUKI is a two-time Grand Prix winner but has a variety of world class opposition in front of him on Saturday. Düsseldorf Grand Slam bronze medallist Aslan LAPPINAGOV (RUS) took bronze at the European Championships last time out but the man attracting the most attention will be youngster FUJIWARA Sotaro (JPN) who sensationally won gold on his Paris Grand Slam debut in February. FUJIWARA won the Ekaterinburg Grand Slam in March and could make a successful first impression at a Grand Prix this weekend.
-90kg World champion Nemanja MAJDOV (SRB) took silver at the European Championships and the same colour medal at the Antalya Grand Prix this year as he has smoothly returned to action following his shock win in Budapest last year. Serbia's first world judo champion is usually locked in some barnstorming encounters and could come up against familiar foes such as Antalya Grand Prix winner USTOPIRIYON Komronshokh (TJK) and former world silver medallist TOTH Krisztian (HUN). Paris Grand Slam bronze medallist Axel CLERGET (FRA) will be bidding to double his collection of Grand Prix gold medals while former world champion Asley GONZALEZ (CUB) will fly the flag by himself for Cuba.
-100kg Agadir Grand Prix winner Kirill DENISOV (RUS) is one of the most resolute judoka in the sport. The imposing Russian is always game for a challenge and thrives on competition. On Sunday, DENISOV will have his hands full. World Judo Masters bronze medallist CIRJENICS Miklos (HUN) is back to defend his 2017 title while Düsseldorf Grand Slam bronze medallist Jorge FONSECA (POR) is one of the biggest throwers in judo. World Judo Masters bronze medallist Elkhan MAMMADOV (AZE) is still an outstanding athlete at 36 while Ekaterinburg Grand Slam winner Niyaz ILYASOV (RUS) will be intent on threatening the spots of the top seeds to challenge for what would be a first Grand Prix crown.
+100kg Tbilisi Grand Prix winner Guram TUSHISHVILI (GEO) is one of the foremost judoka in the world and is without doubt one of the greatest challengers to the reign of double Olympic champion and 10-time world champion Teddy RINER (FRA) on the road to Tokyo 2020. Antalya Grand Prix winner Inal TASOEV (RUS) is a judoka who has ambitions of joining the aforementioned champions in the upper echelons of the category and, with a medal-winning display on Sunday, could be on course for just that.
European Championships bronze medallist HEGYI Stephan (AUT) - who took silver behind Teddy RINER (FRA) in Zagreb a year ago – also has enormous potential while Antalya Grand Prix silver medallist Javad MAHJOUB (IRI), Olympic bronze medallist Or SASSON (ISR) and former world bronze medallist Iakiv KHAMMO (UKR) all have the tools to upset the favourites.
COMPETITION PROGRAMME Friday 09:30 Preliminaries on three mats 17:00 Final block on one mat Women: -48kg, -52kg, -57kg Men: -60kg, -66kg
Saturday 10:00 Preliminaries on three mats 17:00 Final block on one mat Women: -63kg, -70kg Men: -73kg, -81kg Sunday 10:00 Preliminaries on three mats 17:00 Final block on one mat Women: -78kg, +78kg Men: -90kg, -100kg, +100kg Location: Arena Zagreb