The Zagreb Grand Prix 2021, in Croatia, is fast approaching. After the success of the Tokyo 2020 Olympics, the whole judo community is excited to follow this very first event after the Games. As the IJF and the organising committee are focusing on the preparation of the competition and delivering a great event, we asked the organisers to tell us more about the exemplary operation they are about to launch next week in Zagreb.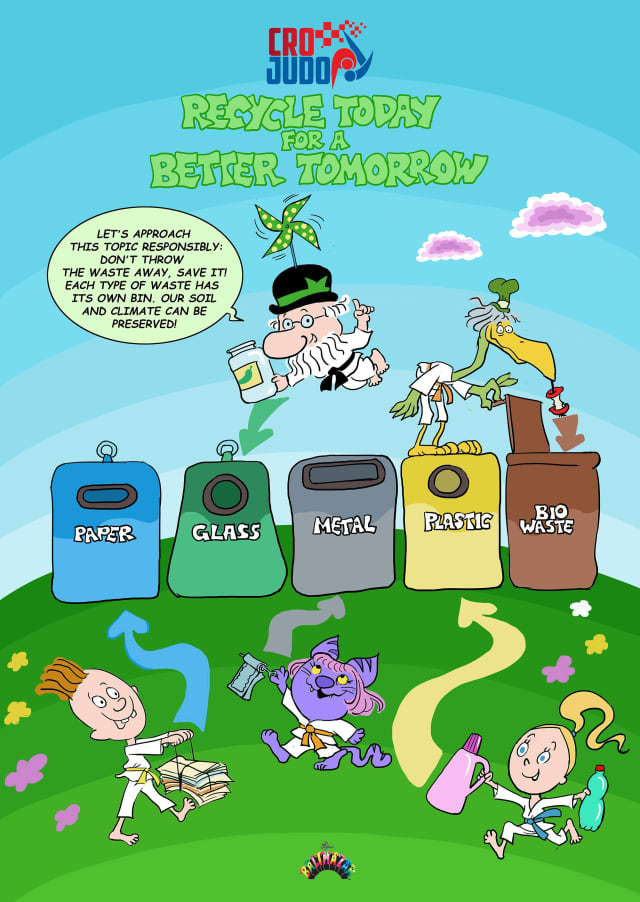 During the Grand Prix, the Croatian Judo Federation will install recycling boxes to collect paper, plastic bottles and plastic caps in the hall and at the info desks. At the end of the event a refund will be made and the money will be invested in a humanitarian association. In addition, food will also be donated so the lunch boxes that remain after each day will be sent to the Home for Children Zagreb association.
IJF: Why did you launch this initiative? Croatian Judo: The initiative existed before but we have not implemented it in this way so far. This was the ideal time, to start the competition with an environmentally friendly story. The Grand Prix is a global event. If only one person changes the way waste is used, this action has met its expectations.
IJF: Why is it crucial to change our vision and why should we start collecting and giving? Croatia Judo: The whole action is designed to make the judo family aware of the benefits of recycling and donating and of course, during each of our next events we will be environmentally friendly too. Judo is more than a sport.
IJF: Is it part of a national campaign or is it just a judo community initiative? Croatia Judo: There is a national campaign in our country but it was not a condition for us and we are proud that this is exclusively an initiative of the judo community. We do want to point out that the judo community in Croatia takes care of the environment and also children without parental care. The money collected from waste recycling will help us to buy the necessary things for Little judoka without adequate parental care.
IJF: Do you see beyond this operation? Croatia Judo: Yes, the Croatian Judo Federation also influences all its members to follow this path and helps them implement environmental sustainability, such as collecting paper, separating plastic, collecting bottle caps, etc.
The message delivered by the Croatian Judo Federation is important and follows the sustainability policy of the IJF event checklist. Climate change and environmental issues are not for the future, they are here now and we can all suffer from the consequences of a planet that is more and more in danger. Through small steps we can achieve great things. 
Be part of the process as well and participate in our Climate Champion challenges. You too can contribute to a better environment. Join us at https://fit.ijf.org/