It's a nice touch to arrive at an opening ceremony to live music and the attendees of the Zagreb Grand Prix were treated to just that, with the Croatian national anthem and the IJF anthem to begin, the former performed by Mr. Marko Tolja.
President of the Croatian Judo Federation and IJF Executive Committee member Dr Sanda Čorak was pleased to be able to introduce her federation's most prestigious event, "Dear judo friends and family, competitors and distinguished guests, welcome to Croatia and Zagreb. It is again an opportunity for our federation to show and express our hospitality. Having over 500 competitors and well over 60 countries here shows great strength. Thank you to all the sponsors for helping us to facilitate all that is needed for the highest level of event. This is a chance to show that our values can be at our core."
The Deputy Mayor of the City of Zagreb, Dr Luka Korlaet, then spoke joyfully of his experience in judo, "This is the most beautiful and most prestigious arena in Zagreb and only top notch events can happen here. The numbers say it all, proving this a the top tournament and I'm really happy to have you all here, to be greeting you on behalf of our mayor.
I'm especially glad to be involved as my son is practising judo and one of my favourite photos is of him is doing an o-goshi throw here in this arena as a young child. Today we will have many more great memorable photos taken here."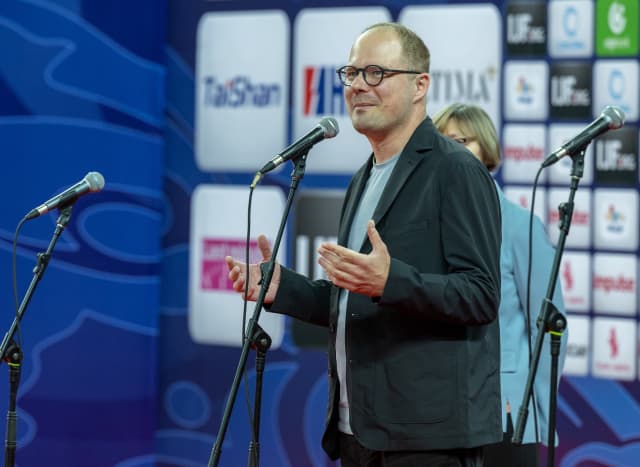 Vice President of the International Judo Federation, Dr. Laszlo Toth, then took the floor, "President Sanda and committee members of the IJF, dear ladies and gentlemen, first of all I would like to give a special thanks from Mr Vizer to the Croatian government and to the city for the hosting of the 2022 grand prix. Special thanks to the IJF team and thank you for your continued attention. We hope you all, all the world, enjoy this competition."
The final guest of the opening ceremony was envoy of the Prime Minister of the Republic of Croatia, Croatian Deputy Prime Minister and Minister of the Croatian Veteran's Affairs, Mr Tomo Medved. "Respected representatives of the IJF, the European Judo Union and the Croatian Judo Federation, competitors and spectators, it is my honour to greet you on behalf of the Prime Minister and myself at the opening of the judo Grand Prix Zagreb 2022. We are proud that for the ninth time we have the opportunity to see the world's best judoka here in Zagreb. 503 competitors from 69 countries are fighting for Olympic points on the way to Paris.
It should be emphasised that this is the second edition of the first ecologically sustainable sports event in the Republic of Croatia, as an example of good practice for other tournaments and sports. Croatia is represented by world champion Barbara Matic as well as medallists from the Mediterranean Games. Judo is one of the ten most developed sports in the world. In addition judo in Croatia has a long history interwoven with success in national and International arenas.
In its original form, judo is a martial sport that unites body and spirit, an important factor for a better and healthier life for children and all our citizens, which encourages the best human virtues. I wish fair play and good result to all competitors and for judoka from other countries to feel comfortable here in Croatia. I declare the Grand Prix Zagreb 2022 open."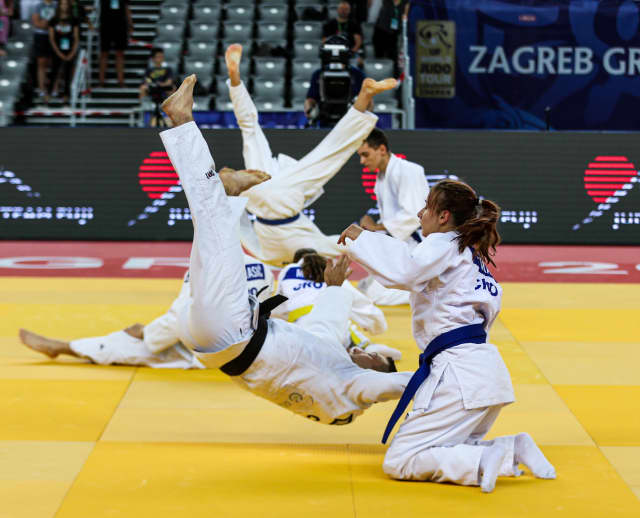 Following the speeches, members of Fuji, the judo club for persons with disabilities, performed an adapted judo demonstration to music, very well received by all spectators. This led straight into further love music performed by Mr. Marko Tolja.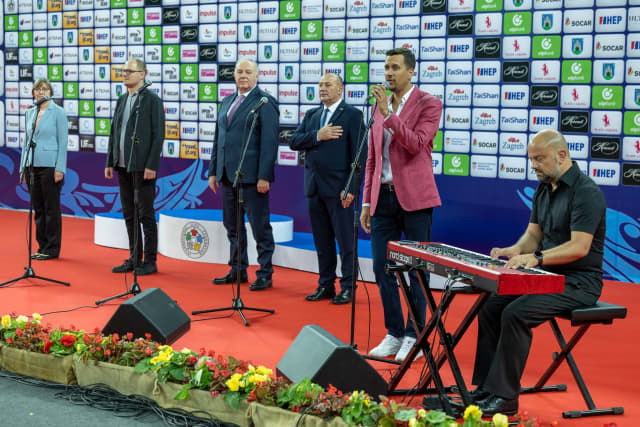 The opening ceremony was the second engagement for government and mayoral officials this weekend, related to judo, as a special reception was held at the Croatian Prime Minister's office in Zagreb on 15th July, to congratulate the judo federation on their continued hard work and to offer full support for the staging of the World Cadet Championships in Zagreb in 2023.
Present at the reception were Croatian Judo Federation President Dr Sanda Corak, Croatian Judo Federation honorary President Tomislav Culjak, IJF Vice President & EJU President Dr. Laszlo Toth and EJU Vice President Hrvoje Lindi. They were welcomed by Croatian Prime Minister Andrej Plenkovic and Tourism and Sports Minister Nikolina Brnjac.