Two days of judo go a long way because they engrave irreplaceable teachings on our memories. The first of all is that, really, the Olympic Games are not just any competition. There is no room for chance here.
Japan has the keys to the Budokan. We now know that the strategy developed five years ago was the correct one and is signed by Yamashita Yasuhiro and Kosei Inoue, responsible for a flawless global strategy, as governors of their delegation at the top of their impressive cabinet. Three gold medals from the four possible and a silver, answer the questions about pressure management in the Japanese team; a team that has barely competed for a year and a half and is at home. 
Takato Naohisa proved that without good ne-waza, gold seems unlikely, when the competition is of a similar level and at the Games, it is. Tonaki Funa already knows that she is between Distria Krasniqi and Daria Bilodid. There are few differences, those that distinguish gold from silver and bronze. 
The world had waited two years for the Abe siblings' epic. Speaking of pressure, the pressure on Uta and Hifumi was almost unbearable. They were prepared, we could say that, programmed to make history and win Olympic gold on the same day. What we learned is that Hifumi's toughest moment was the one he had with Maruyama Joshiro, to see which of the two would participate in Tokyo. His four Olympic bouts were almost a formality when compared with the stormy twenty minutes of his face-to-face with Maruyama. 
We also saw, for the first time in 2019, a more human, less impregnable Abe Uta and we owe that to Amandine Buchard. Their end was inevitable because they are the best in the -52kg category and although the Japanese is more complete, the French can already enter the conversation; it is no longer a simple monologue. They are more physical, stronger and more technical than the others. The one who did not make the mistake won, because at the top of judo there are no mistakes, in the plural, one is enough to decide a final. 
The Olympic Games have their own idiosyncrasies. It is a no man's land where gold is not discovered, but must be fetched with a pick and shovel. Everything is harder, more difficult and very scientific. Do not arrive too early or too late because the punishment is immediate. Spain and its best team in history are suffering in their flesh the success of the World Championships in Budapest. It was too early to be in the right shape, the Olympic shape. Krasniqi has been the opposite. Still in the preparation phase, her fifth place in Hungary was predictable, one more step toward what really mattered. Gold in Japan was the outcome of impeccable preparation. We must talk about her because Kosovo is already a world reference in judo, thanks to her and thanks to Majlinda Kelmendi. 
Kelmendi: pioneer, national heroine, queen of judo for four years. Krasniqi has picked up the baton, but Kelmendi's defeat in the first round teaches us that dignity always appears at the hardest moments. Nobody expected her defeat in the first round. Kelmendi was paralysed, unable to move and leave the tatami. She was the image of stupefaction, opening her eyes to the abyss of a brilliant career. What Kelmendi did not understand at the time, but her coach did, is that her slow and sad steps towards the start were more noble and worthy than her victories because she showed elegance and because she swallowed her anger, having to digest it live. It was beautiful because the gold of Krasniqi would not have been possible without the gold of Kelmendi in Rio. It was Majlinda who put her country on the shuttle to conquer the stars.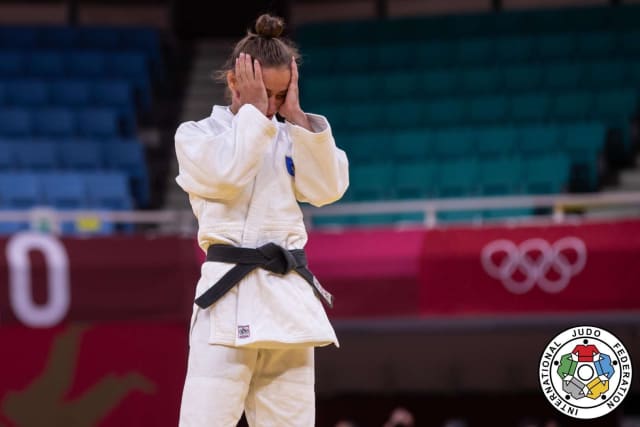 Nobody wants to lose at the Games; there is even fear and one does not attack like crazy. All are presented on the mat with a robust strategy. Whoever goes off the roadmap pays very dearly, there is hardly any improvisation. The result can be a cataract of golden scores and terrible combat. Nobody complains, because the medals do not fall from the sky. Here nothing is given away and the ippon is trading at stratospheric levels. 
Others who have learned a lot are African athletes. It is no longer the same; they no longer go to the Games to make an appearance and wear an ippon at fifteen seconds. It is seen that African judo works and that it is done well. Zambian Steven Mungandu has not crossed half the world to say goodbye without breaking a sweat. They almost had to pull him off the tatami with a tractor because Adrian Gomboc from Slovenia could not bring him down. Mungandu lost in golden score by an accumulation of penalties to hansoku-make, showing that we must count on the African continent and in short we will have to do that for more than a defeat in the first round. 
The teachings are aimed, above all, at mental strength, because the physical is more or less identical. You have to reach the peak of form in time and hour, the rest is purely a mental matter. Abe Hifumi walked on water because he struck the perfect balance on D-day. Athletes are like Formula One cars, so fast but fragile. Any little thing can destabilise the best engine. 
48 hours of judo tell us that there are twelve countries with medals; twelve from a total of 16 medals and that is diversity. We know that Japan has already done just as well as in Rio and today Ono Shohei is competing. We know that France has had the best Olympic start since Seoul '88 and we have yet to see Agbegnenou, Pinot, Malonga, Dicko and Riner. What comes now is pure dynamite and we will also continue to learn. All this is what 48 hours of judo teaches us. It is the funniest school.