Finding out, for an athlete, that he or she will participate in the Olympic Games is always an emotional moment that usually only those close to him or her can observe. To learn that yes, this participation is validated, when you have gone through particularly difficult times and the announcement is made during a live conference led by the IOC President himself, is undoubtedly even more moving.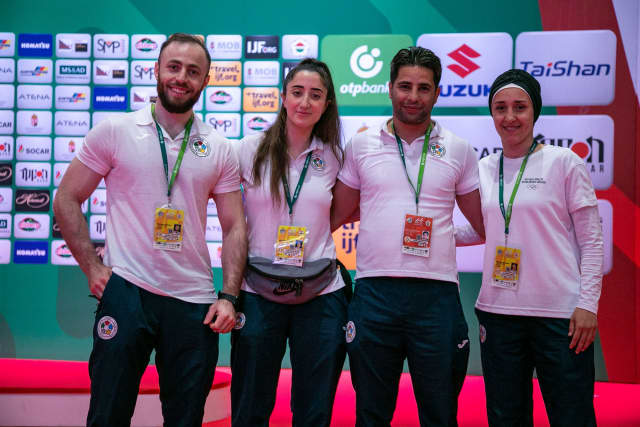 On 8th June the IOC President, Mr. Thomas Bach, officially announced the list of 29 refugee athletes competing across 12 sports, from 13 host National Olympic Committees, who will participate in the Olympic Games in Tokyo this summer as the IOC Refugee Olympic Team.
Among them there will be 6 judoka, already accustomed to the World Judo Tour, who will contribute to sending a message of solidarity and hope to the world, bringing further awareness of the plight of over 80 million displaced people worldwide:
Sanda Aldass (Netherlands - Syria) Ahmad Alikaj (IJF Germany - Syria) Muna Dahouk (IJF Netherlands - Syria) Javad Mahjoub (IJF Canada - Iran) Popole Misenga (Brazil - DR Congo) Nigara Shaheen (IJF Russia - Afghanistan)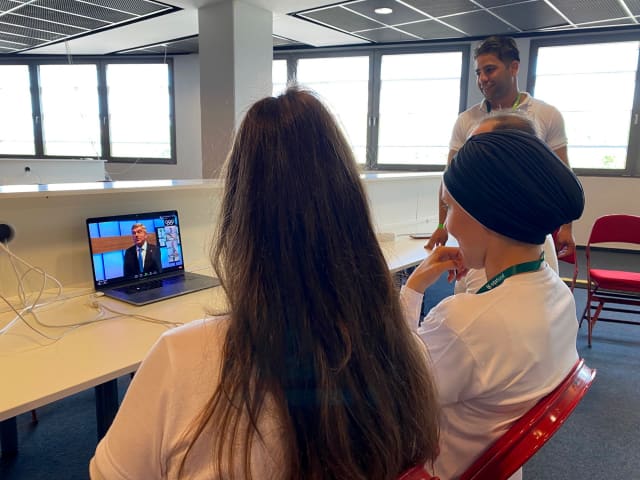 The 29 athletes met for the first time, today, in a virtual ceremony, during which IOC President Thomas Bach officially announced their participation in the Games in Tokyo this summer.
During the ceremony, the IOC President said, "Congratulations to all of you. I speak on behalf of the entire Olympic movement when I say that we cannot wait to meet you in person and to see you compete in Tokyo. When you, the IOC Refugee Olympic Team and the athletes from the National Olympic Committees from all over the globe, finally come together in Tokyo on 23rd July, it will send a powerful message of solidarity, resilience and hope to the world. You are an integral part of our Olympic community, and we welcome you with open arms."
Sanda Aldass, Ahmad Alikaj and Muna Dahouk, accompanied by their coach Fadi Darwish, attended the official announcement live from the World Judo Championships Hungary 2021, in Budapest, while Popole Misenga and Nigara Shaheen were connected from home.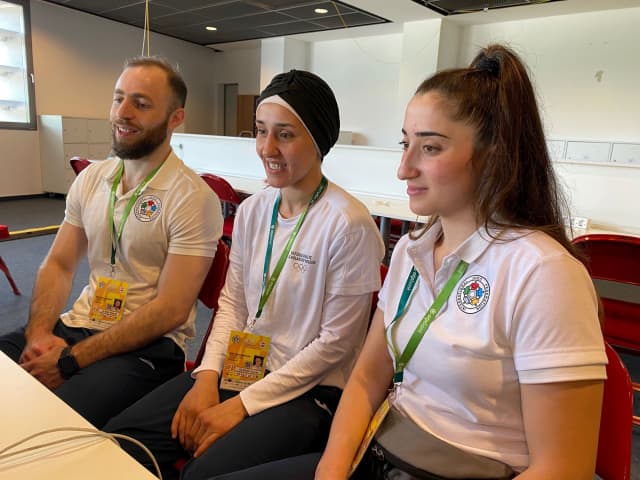 From Budapest, our refugee team said, "It's an extraordinary moment for all of us. Knowing that from today on, we are officially part of the IOC refugee team, is incredible. We have been dreaming of that for years and today we are living our dream. We feel that we have a great responsibility. We will represent our sport, judo, but also the entire refugee community. We are so proud."
It's been several years that the International Judo Federation has been developing a strong Judo for Refugees programme. Back in 2019, the group of athletes who will go to Tokyo this summer started to participate in the World Judo Tour events and for some of them Budapest is already a second world championships. Gaining experience at each of their trips to compete, they are now looking towards the Japanese capital.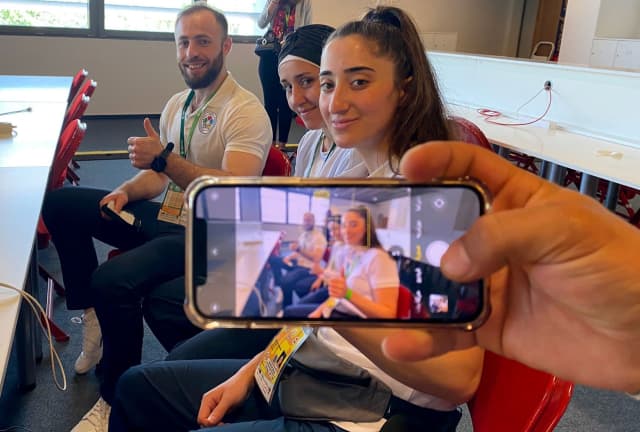 "Nothing would have been made possible without the support of the IJF President, Mr Marius Vizer. He and the whole IJF team believed in us. We really feel part of a big family here in Budapest. We hope that millions of refugees across the globe will want to overcome their difficulties, based on what we have achieved."
Hope and happiness were among the most pronounced words during the occasion of the special announcement. After a little break, all our athletes will focus again on what makes them happy and makes them carry hope for a better future and this is judo.