It is with great sadness that the international Judo family learned today about the passing away of Judo Legend Luis Guardia, at the age of 85 in his home city of Miami, USA. Mr. Luis Guardia was one of the founding members of the Pan American Judo Confederation in 1952 and on the occasion of the 65th anniversary gala of the International Judo Federation, last August in Budapest, he received from the IJF President, Mr. Marius Vizer, a Lifetime Achievement Award.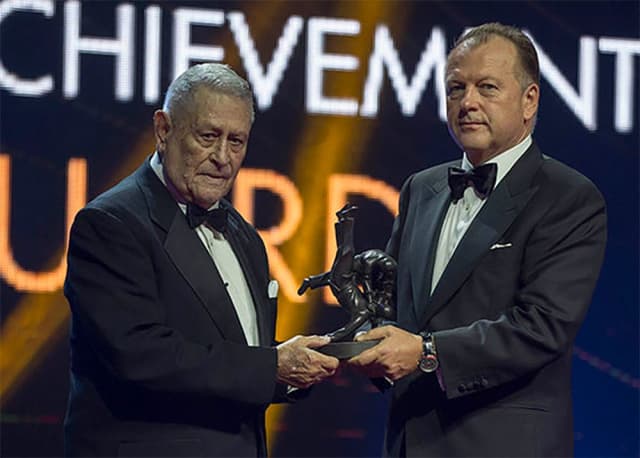 Above: Mr. Vizer presenting the live time award to Luis Guardia during the last IJF Gala in Budapest
In 1978, Luis Guardia left his home country Cuba and started his new life in Miami, Florida, where he was still based and where he kept developing judo. Starting the sport in Cuba in the 50's was very challenging, but Luis Guardia had many successes and was recognized for his knowledge as well as his incredible kindness. He helped to spread the judo values on the international scene and was deeply attached to the educational dimension of judo.
Mr. Guardia, who had already received the IJF Gold Medal and Diploma for his contribution in the development of Pan-American Judo, from IJF Head Sport Director Mr. Vladimir Barta in 2012, said on the occasion of the IJF Gala: "I am moved by receiving this award, on this special occasion for judo and the IJF, to be on stage and honoured is something very special and I can't help but feel emotional."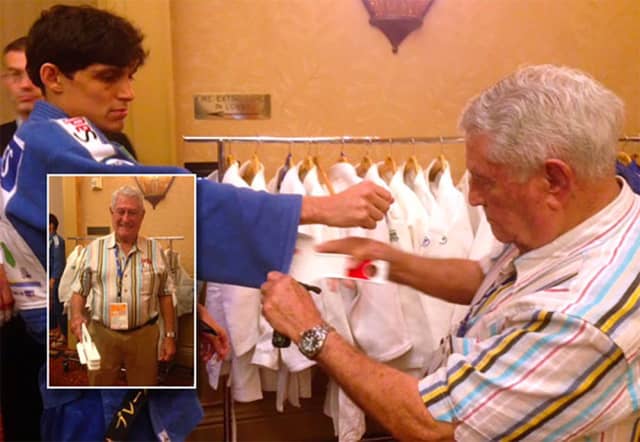 Above: Mr. Luis Guardia was always ready to help with the organisation of a judo event. Here in 2013, he was helping with the Judogi Control during the Cadets World Championships held in Miami, USA.
Everybody feels really emotional today as Mr. Guardia, who was a 9th dan, passed away. In July 2017, the IJF had the privilege to meet the great man in Miami for a special interview, which was part of the Judo Legends series.
The entire judo community presents its deepest condolences to his wife, Hilda, and his son, Luis, to all his relatives and friends, from Cuba and the United States as well as from the whole world.