After her very good demonstration in Tbilisi a week ago, we could expect to see Anna-Maria Wagner (GER) again in great shape and her first round against Iriskhon Kurbanbaeva (UZB) seemed to go in this direction. However, this was without taking into account Patricia Sampaio (POR), winner in Portugal at the start of the season, who in the quarter-finals sent Wagner to the mat with a masterful shoulder movement.
For Sampaio, things were not any simpler after having defeated the former world champion, since in the semi-finals, she was opposed to another former world champion, the explosive Audrey Tcheuméo, who ended up winning to reach a new final in her already outstanding career. The double Olympic medallist, who was usurped for the qualifying spot for the Tokyo Games in favour of Madeleine Malonga, continues to believe in her capacity to make it to Paris 2024.
It must be said that it would be a great performance for the one who won bronze in London in 2012 before the silver in Rio. The road is still long; let's not share out the bearskin among the nation before the bear is dead, but Tcheumeo is definitely still in great form.
In the final, Tcheumeo faced an old acquaintance, the reigning Olympic champion, Shori Hamada, who had a lot to do, especially in the semi-final against Guusje Steenhuis (NED) who, like the whole Dutch delegation today, showed herself to be intractable. It all came down to a small penalty that sent Hamada through to the final, while Steenhuis raced towards the match for a bronze medal.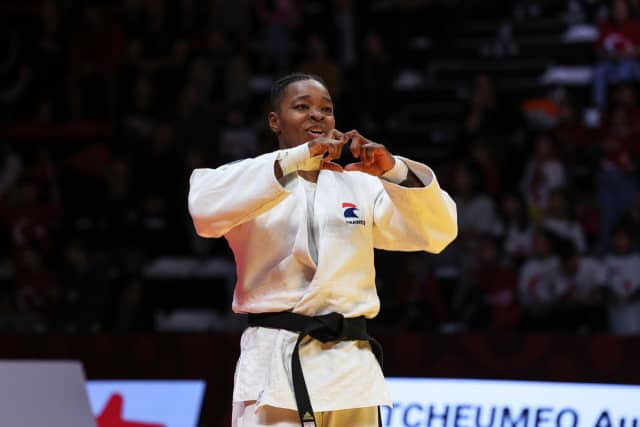 Hamada was quickly penalised with a first shido but then almost caught the French judoka on the floor with a shime-waza that looked really dangerous, but Tcheumeo escaped, miraculously. Hamada was then penalised a second time and a third time as she couldn't cope with the pace of the French athlete. This is gold medal number nine at grand slam level for Audrey Tcheumeo; impressive!
The first match for bronze was between Alina Boehm (GER) and Guusje Steenhuis (NED). After having dominated the match, but without scoring, Steenhuis made two mistakes. The first one was for free as she was almost caught with a juji-gatame but could escape. The second cost her the victory and the medal as she was countered beautifully with an uchi-mata-sukashi. The bronze medal went to Germany.
Linda Politi (ITA) and Patricia Sampaio (POR) battled for the podium as well. Sampaio was the first to action, scoring ippon with a seoi-nage after only a few seconds. The ippon was downgraded to waza-ari though and she had to go back into the battle. She doubled the score a little later with a maki-komi and so the bronze medal was for Sampaio after all.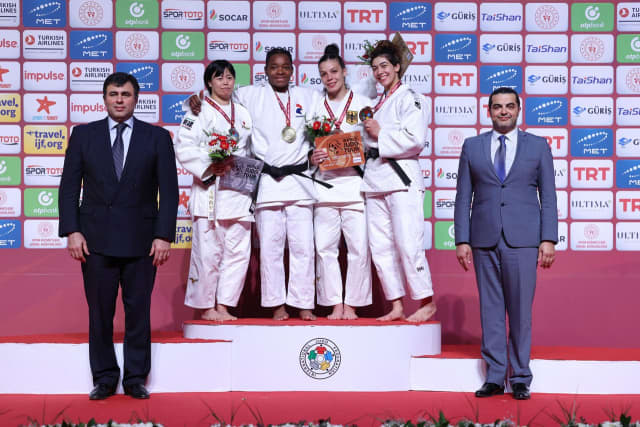 Bronze Medal Fights (-78 kg)