The day started with a bang with the early elimination of Inbar Lanir (ISR). The reigning world champion, winner of the Ulaanbaatar Grand Slam in June and of the World Judo Master in August, which had assured her a serious place as world number one, seemed untouchable. Her sense of attack and counter-attack gave her the weapons to confront anyone without flinching.
In the first round she was opposed by Karol Gimenes (BRA), only ranked 46th in the world. However, the latter had already made headlines a few weeks ago when she won in Zagreb. It was a sign. Against Lanir, the Brazilian judoka went with strength and determination, without complexes, and it was good for her because she emerged victorious from this first contest.
At 27 years old, Karol Gimenes is already a judoka who can be described as experienced, although she does not yet have a very extensive track record but as the adage says, everything comes to those who wait. Will these good results be enough, in less than a year, for her to qualify for the Paris 2024 Games? Nothing is less certain because Brazil has major assets in this category with Mayra Aguiar, three-time world champion and three-time Olympic medallist, no less. A few years older than Gimenes, Aguiar has no desire to give up her place and she can see herself winning a new Olympic medal. What is certain is that internal emulation in Brazil gives wings and raises the level.
After her performance of the day, we will remember that Gimenes lost to the triple world medallist, including one title, the Japanese Mami Umeki.
Another nation is experiencing tough competition in this category. Germany actually has two world-class athletes, Anna-Maria Wagner and Alina Boehm. If the first has already won the world title in Hungary in 2021 and climbed onto the Olympic podium in Tokyo, the second wants to take her place. The last competitions were rather to Boehm's advantage. Today Wagner set the record straight by winning her quarter-final against her compatriot. The race is still long before Paris and this match within the match will continue to keep us in suspense.
The final four therefore saw Mami Umeki (JPN) and Anna-Maria Wagner (GER) face off at the top of the table, while Alice Bellandi (ITA) and Mayra Agyiar (BRA) did so at the bottom of the draw. Eventually it was Wagner and Bellandi who overcome their opponents to reach the final.
In the final, Bellandi definitely stepped on the tatami willing to score and to score fast. Wagner let the storm go by and after having been penalised a first time, launched her first real attack: an action-reaction with a change in direction and a tani-otoshi masterpiece for ippon. Bellandi did not expect this, neither did the public. It was a great performance from Wagner who clearly scores important points here.
The first bronze medal contest opposed Alina Boehm (GER) and Mayra Aguiar (BRA). The Brazilian judoka took a rapid lead with an aerial uchi-mata for waza-ari. The bronze medal for Mayra Aguiar was the 19th grand slam medal for her, which shows the longevity of her impressive career.
Rinoko Wada (JPN) and Mami Umeki (JPN) faced one another in the second bronze medal contest in a 100% Japanese contest. Rinoko Wada gave a good battle, attacking the front leg of her opponent, maybe one too many, as Mami Umeki countered the last attack with a huge o-soto-gaeshi for ippon.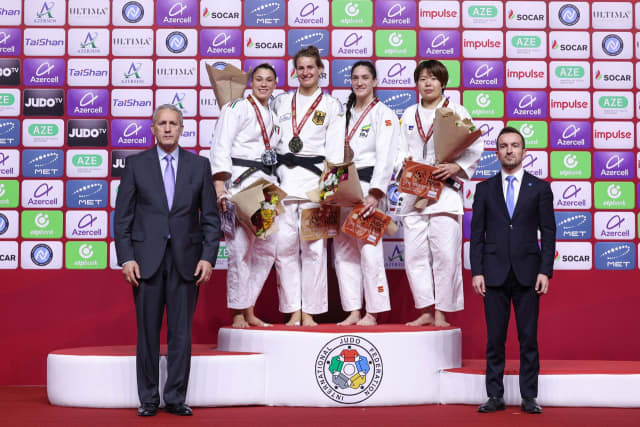 Bronze Medal Fights (-78 kg)