Saeid Mollaei sacrificed a lifetime for a dream. He did it of his own free will and he did it in Japan at a place called the Budokan. Fate has reasons that reason does not know, but when it pays justice it has an unmistakable flavour.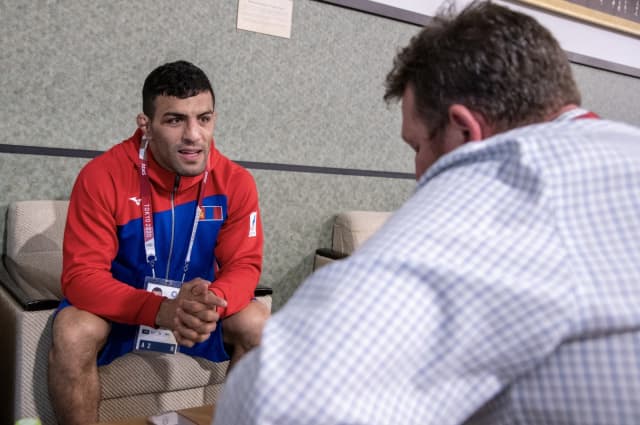 In 2019 Tokyo was the scene of a bad action, espionage and suspense movie, whose main actor was Mollaei. Bad because when politics penetrates the field of sport things usually end badly and sometimes very badly. Mollaei's sin was not being born in Iran. His sin was not accepting orders and his penance was an ordeal that cost him much more than a person can bear, because to be free he had to renounce everything. The story is well known. What is little known, because it has not been offered, is Mollaei's life between 2019 and 2021. Today he is prepared to tell that story in the first person.  
"It was the hardest decision of my life because it meant giving up my life in order to compete as a normal person." Normality, that condition that is only understood once lost. Saeid rebuilt his life with parsimony and a non-negotiable goal: the Tokyo Olympics. "That's why I left Iran and that's why I haven't seen my family since 2019: to be here." Little by little, "step by step," as he puts it, Saeid raised his head from under the water in Germany, where he has lived ever since. "I barely spoke German. I was afraid of possible reprisals from the Iranian regime, not only for me, but for my wife and of course, my parents and brothers, who are still in Iran." Saeid has had to learn to look over his shoulder and resume his Olympic preparation. They are periods of four years, five this time. Any little misstep can cost a medal because judoka plan  complex but necessary cycles to get to the peak on the right day. He also received a Mongolian passport, which has allowed him to participate in the race to Tokyo. 
"It was not the ideal preparation, quite the opposite. I've never lost hope because I knew I could get a good result in Japan." 
2021 started badly, with an early elimination at the Masters but then improved with a final in Tel Aviv, to relapse again in Tashkent. Later he was third in the Asian Championships and seventh in the World Championships. These results offer information, but not everything, because they do not reflect the athlete's feelings. Saeid also had an anxiety problem because he wanted to win every fight, not only for him but also to be grateful for the help he received in the hardest moments. Each time he lost he asked for forgiveness and added more pressure to the existing one. As time progressed inexorably, he nonetheless had enough presence of mind to correct that way of looking at things and focus on what really mattered, that is his judo and his fitness. Saeid explains it in his own way, he likes percentages. "In Budapest I was at 60% of my capacities, less than previously established, but better than expected." 
Saeid knew that he would get to Tokyo well, but not as well as he would have liked, especially since the draw had provided a path full of obstacles, with Kazakh Khamza to start, Azerbaijani Fatiyev next and the quarter-final against the big favourite: the Georgian Tato Grigalashvili. That is to say, all the judo of Central Asia, in Olympic version, was against him. Everyone thought that the hardest was against the Georgian because Saeid conceded a waza-ari but let's not jump ahead. 
First, the awakening, "I woke up feeling great and right away I told myself that it was going to be a great day. From there I put myself on autopilot and that starts with a light breakfast of bread and fruit. Then I met with my coach and we worked out the strategy to follow in each fight." In other words, Saeid recovered the deadliest version of Saeid, the one that led to his world title in 2018. So, was the quarter-final the most difficult contest? 
  "Well no, the most difficult was the second round, that is, Murad Fatiyev. "He had a judo position that didn't suit my style. As it was also the first time we had faced each other, I had no prior contests to look at. We were on the mat for ten minutes and when I won, my arms were hurting a lot." 
We arrived at the famous confrontation between Mollaei and Grigalashvili. "My coach told me that this fight was the real final. It was tough but not harder than the other fights, especially that second one."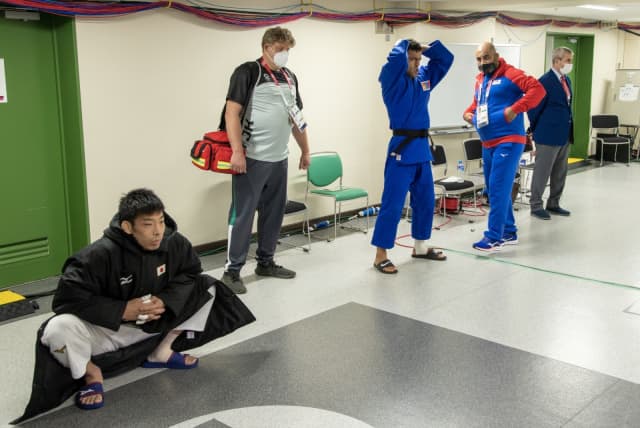 "At this point, I didn't care about my style, the important thing was to win, even with shidos. It's the Games." 
In the semi-final the Austrian Borchashvili was waiting, who was also having a sweet day. "I'll tell you the same, I had to win" and he succeeded. "Then I started to breathe and relax." Maybe too much! This drop in intensity is understood because when he prevailed in his semi-final, Saeid crystallised his dream, the one that began in the same city and the same stadium but under dire circumstances. 
There was one contest, the most anticipated and from a mental point of view, the most complex because Saeid's state of mind and his personal avatars were not Nagase Takanori's business. The Japanese judoka did not have an easy day either. Saeid was the last stone that Nagase had to turn over from his path to golden glory. He wasn't the only one who got his moment of glory.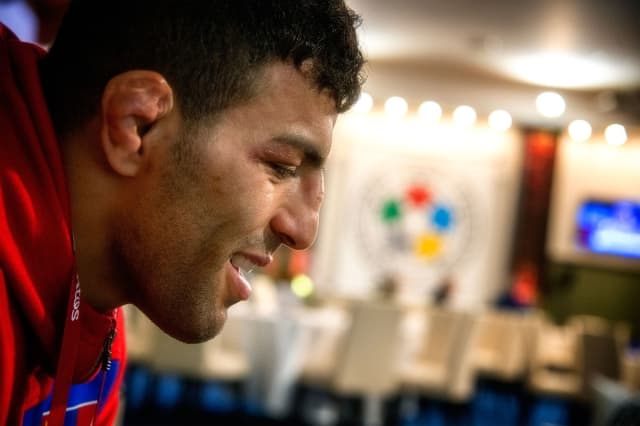 "First, I want to thank Marius Vizer and all the staff of the International Judo Federation," Saeid says to us. Without all of you there would be no Saeid, much less a Saeid with a medal. Thanks to the Buchmann family and Mongolia." Saeid insists that we reproduce his words accurately because it is not a politically correct speech, but is what he really thinks. "You are the best and I tell everyone." 
Saeid has actually slept with the silver medal. "I have spent half the night kissing the medal." 
And now that? "The next step is a long holiday to return with more strength and then aim for Paris 2024. "It's only three years. I want to do like Ono and Iliadis and have another medal." What else? "I am a happy man, let's say that 90%, but I lack family and friends. Of course, to be able to return to Iran for a visit is a pipe dream. I will do that too, I am 100% convinced that I will see the land where I was born again." 
Before leaving we offer him another coffee and something to eat. "No thanks, I'm 40% hungry, but I'm 100% looking forward to watching the matches." 
In Tokyo Saeid walks among his own, the great judo family of which he is a part like any other, without distinctions or privileges. "It's what I wanted: a life of adventure on the tatami, to be relaxed and safe and to have my own outside control. That is what we call 100% freedom.