IJF President Mr. Marius L. Vizer's visit for the signing of the 2021 World Championships ignited the spark for judo all across the country. His visit was accompanied by various activities that further developed judo and promotion of its values all throughout Uzbekistan.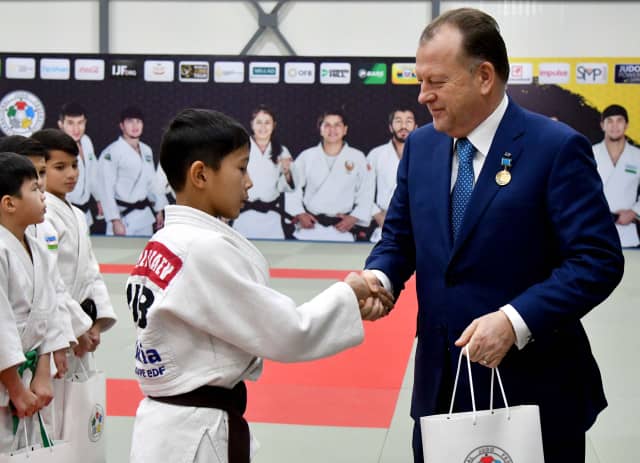 Meeting with the Prime Minister of Uzbekistan
IJF President Mr. Marius L. Vizer, who signed a contract on Wednesday with Judo Federation of Uzbekistan (JFUz) President Mr. Azizjon Kamilov for Tashkent to host the 2021 Worlds, also met with the Prime Minister of Uzbekistan, His Excellency, Mr. Abdulla Aripov, and visited the competition venue during a highly-productive trip to Central Asia. During this meeting, President Vizer and Prime Minister Abdulla Aripov discussed the development of sports in Uzbekistan as well as the promotion of judo.
"It is important, that sport in Uzbekistan is supported by the government and together with joint efforts of Judo Federation of Uzbekistan (JFUz), IJF and Uzbek government, your country can reach the highest position in the near future" Mr. Vizer commented.
Minister of Sports, Mr. Dilmurod Nabiev presented the Award of Excellency in Physical Culture and Sport to Mr. Marius Vizer.
Memorandum signed to expand 'Judo in Schools' project
Judo in Schools is a project currently run by the International Judo Federation in order to promote physical education in schools with a special emphasis on spreading passion for Judo. Uzbekistan already has this project running in 20 schools, and 20 more were added today.
A four-sided memorandum was signed by the IJF President Mr. Marius L. Vizer, Minister of Sports of Uzbekistan Mr. Dilmurod Nabiev, Minister of Public Education of Uzbekistan Mr. Sherzod Shermatov and President of the JFUz Mr. Azizjon Kamilov. In acknowledgement of President Vizer's dedication towards the Judo in Schools project, Mr. Sherzod Shermatov presented him with the Award of Sponsor of Education.
Young judoka showcase their skills in new training center
Along with Uzbekistan's national judo dojo in the heart of downtown Tashkent, the national federation added another dojo to the facility this year, as they continue to expand their numbers and their medal chances at major events. This new dojo has become the second home for the National Team of Uzbekistan.
During the visit to the new training center, young judoka had the opportunity to show off their judo skills in the presence of IJF President, Mr. Marius Vizer.
Newly compete Humo Arena set to host 2021 World Judo Championships
In the second half of 2019, the Humo Arena opened its doors to visitors for the first time for the Tashkent Grand Prix. The atmosphere and spectacle of the competition won admirers and propelled the country towards hosting their first World Judo Championships.
Mr. Vizer visited the venue with Mr. Kamilov and Mr. Oybek Kasimov and was quick to remark on the country's ability to stage major events:
"Uzbekistan now has a great infrastructure to promote sport across the country and the Humo Arena is a wonderful example of that."