There are a handful of notable moments at world championships, through the years, with the Japanese team taking gold and silver in the same weight category, Ono and Nakaya in 2015, for example. However there have only been two instances of other countries doing the same, prior to Tashkent.
In 2015, at the Astana World Championships, Smetov and Ibrayev of Kazakhstan took gold and silver respectively at -60kg. That was last time any other country achieved such a feat. From Kazakhstan we have to scroll right back to 1975, to the Vienna World Championships where, in the men's -70kg category, the Soviet Union took gold and silver with Vladimir Nevzorov and Valery Dvoinikov.
So why do these statistics need mentioning? This is an easy answer! On 11th October 2022 at the Humo Arena in Tashkent, two Croatian women did something incredible, inscribing their names and their nation into the history books. For the first time since women were included in world championship judo, back in New York in 1980, a country other than Japan has won gold and silver in a women's category. We might have guessed this record would be attributed eventually to France or maybe Brazil. How about Korea? No, Croatia!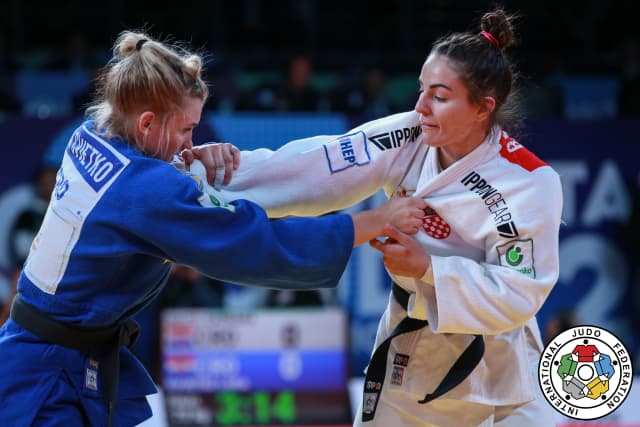 In Uzbekistan the -70kg group was already capped by Barbara Matic, wearing the red patch as the incumbent world champion. She came into the event as the number one seed and the one most watched by the opposition. It is true though, that many of the world's greatest champions tell us that it is harder to keep a title than to earn one and so the pressure was on for Matic.
For Lara Cvjetko however, it was a completely different story, "I didn't expect a medal at all but I knew I could beat some strong opponents. It's only my second time at the senior worlds and my first year as a real senior. I had a horrible draw and I don't really believe I did it."
Barbara added, "We know we are role models for the girls in Croatia. Judo has become more popular for girls since I won last year but in the lead up to this championship it has grown even more. Lara is from Zagreb but now lives in Split. I live there too and now it seems that every other child in Split is doing judo."
So Barbara and Lara understand their responsibility but so does the President of the Croatian Judo Federation, Dr Sanda Corak, "This achievement will be good for the whole of Croatia, not just in Split where the girls are training."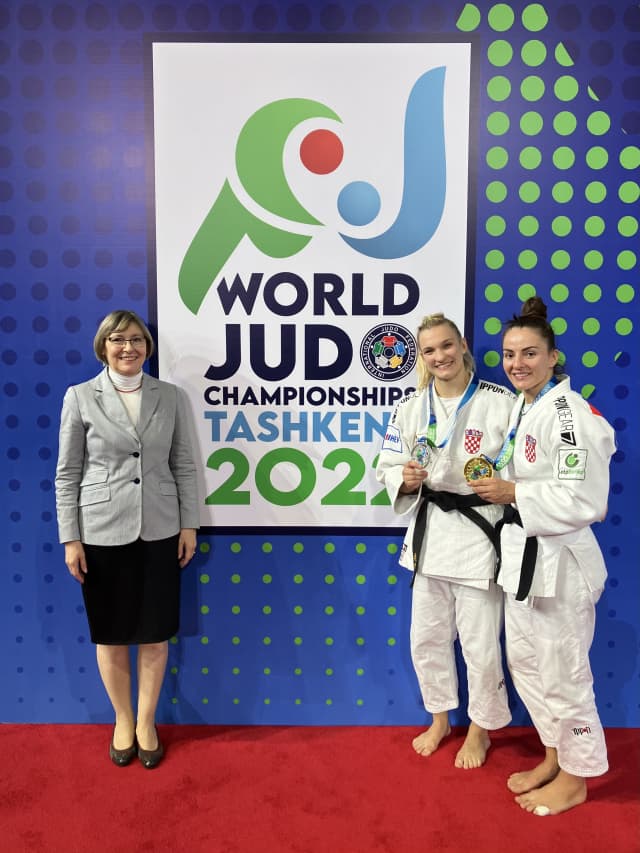 What is also worth recapping is that the development work going on in Croatia has already been documented. This outstanding victory that they share has not been won through luck or an easy draw. Lara had to get past Pinot of France, twice European champion and an 11-time grand slam medallist. She had to hurdle Van Dijke (NED), the number two seed, an Olympic and world medallist, and she did. She also beat Niizoe (JPN) in the semi-final and showed that no luck was involved at all.
Croatia has a development strategy, coach education, suitable facilities and the will to be better. They have a president who is fully engaged at each level of governance and prioritises athlete-centred activities. The evidence of Croatia's successful plan stood proudly on the -70kg podium on day 5 in Tashkent.
There is one more essential ingredient that is undoubtedly part of the mix: judo values. Barbara said, "It's amazing to share this with my teammate. We train together 3 times a week at her club in Solin and always we have at least the second randori of the night together. In Tashkent we warmed up together for the final and a coach from another delegation was so shocked to see that, he was streaming our warm up. He said it was incredible that we were conducting our final preparation together. As we walked through the tunnel and out into the arena we looked at each other and agreed, 'Solin, second randori' and we nodded."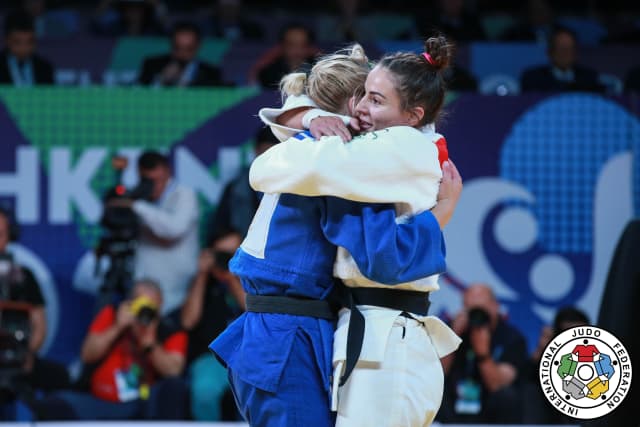 Friendship and fair play, respect and self-control, tied around the middle with a belt made of humility, this is a perfect example of how true judo champions approach the biggest moments of their lives.
For Croatia it is indelibly written into history that these women are leading their sporting nation and for the young girls in their country it is a unique moment in time for inspiration and ignition.
Here we must add that in terms of gender equality a wonderfully overlooked anomaly accompanied Lara and Barbara through their final block. There were 6 medal contests, as there are each day at the worlds. On day 5, four of the 6 referees were also women, including Amano of Japan, Olympic referee, for the all-Croatian final. We say 'wonderfully overlooked' because the many years of work within judo to balance the scales of gender, mean that almost no-one noticed the women refereeing in the final block. They are simply world class referees doing their job.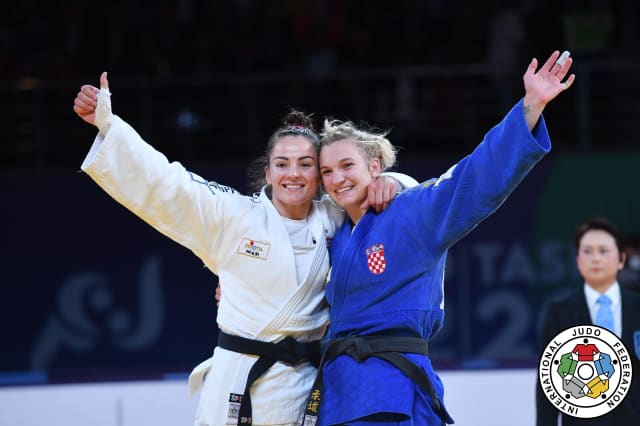 Records have been written; a gold and a silver for Croatia but the world of judo received far more than medals in Tashkent. What a day! What an achievement.