To be on the World Judo Tour is always really something. To be honest, working in an elite environment in any field should always to be recognised as a great achievement, a result of hard work and usually sacrifice.
In the realms of world level judo, the athletes appear on screen but on the other side of the cameras are organisers, medical specialists, coaches, delegation leaders, planners and an untold number of other roles, all contributing to what is seen publicly. In each role there is someone who is an expert, a person who pushed themselves to learn and apply their specific knowledge in the most useful way.
However, there is a third person on screen for every contest, not dressed in white or blue judogi, someone integral in preserving fair play, maintaining safe practices, applying the rules and ensuring all situations have en element of control and direction.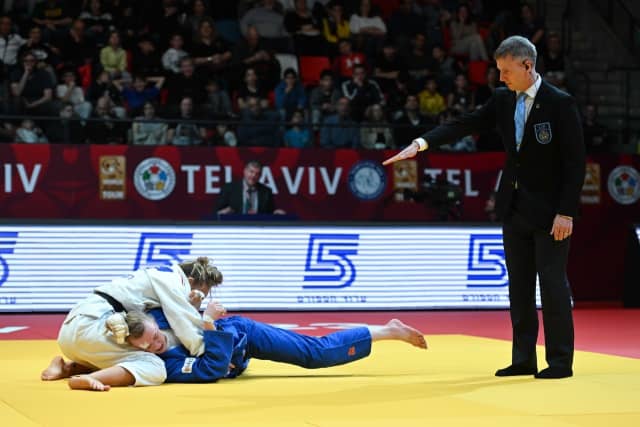 The World Judo Tour referees are experts, this is unequivocal. Always under the spotlight but rarely applauded, their role is one of blending in, being unseen despite their prominence and it takes a great deal of skill and experience. In Israel, there is a knowledgeable audience and athletes with careers balanced on the finest margins.
Gaining selection to compete at a grand slam is a big deal for a young judoka but make no mistake, it is no less a big deal for the referees, all of whom have to manage a life beyond the tatami; careers and family must be considered as the lifespan of a top flight referee is considerably longer than that of most competing judo athletes and a different stage of life is relevant for most.
In Tel Aviv there are two new World Judo Tour referees, Tammy Thornton (CAN) and Brian Toth (USA). This tournament is their debut at this level and it's as nerve-racking as it is satisfying.
Tammy answered the first question, "Two new referees on the Tour, both from North America? Well there aren't many from our area of the world and development is essential."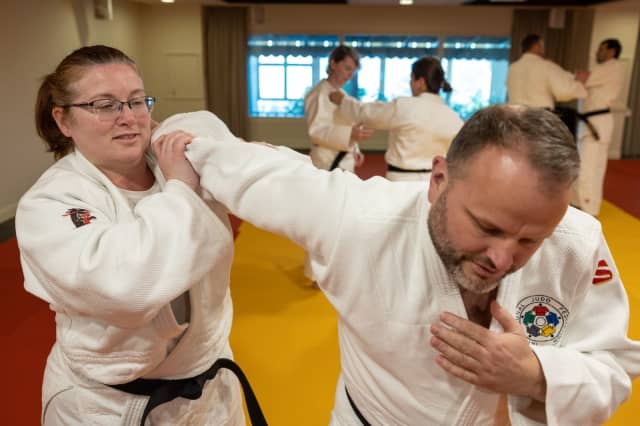 Diversity and education are important segments of all judo-lives, both needing constant attention. Tammy and Brian's inclusion, having passed their IJF exams very recently, is a welcome signpost towards further improvement in the Americas. Their experience will undoubtedly feed into the collective knowledge of referees across the continent once they take their reflections back home and begin working with the national level referees.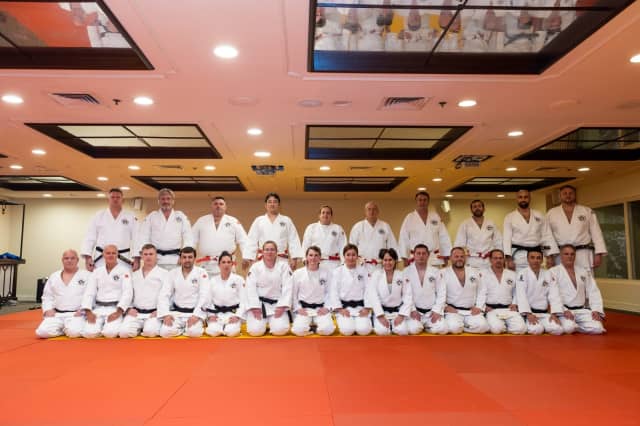 Brian said, "I had the call only last month, in January, but I was asked for availability back in November, so it was a bit tense waiting to see if the call would come.
I'm having a blast; it's really lots of fun and everyone is being very patient and understanding. It's an honour to be a part of it."
More locally, the impact of having community members seconded to the World Judo Tour, brings pride and excitement. In Tammy's native Edmonton, Canada, her colleagues were more than supportive. "I work in the school system with children who have behavioural and educational needs. It's a hockey academy, so Canadian! The Vice Principal was right beside me when I received the message inviting me to Tel Aviv and they agreed to the time off work immediately. The school was so supportive when I travelled to earn my refereeing licence too. As a hockey academy they understand what's required in the world of sport. They gave me all the time I need and they're proud."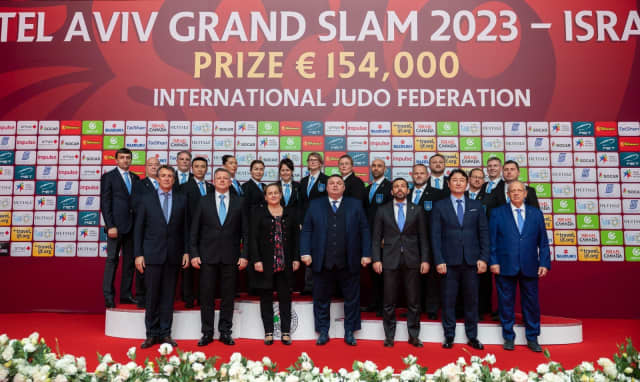 Brian's work has a profound link to judo too, as he spends his time working as a Japanese translator and interpreter, dividing his time between home in Seattle, Washington and his wife's home in Japan.
"I studied Japanese from very young, a teenager, just from my own interest. I taught myself in the beginning, studying on my own. Now, spending so much time in Japan, my 3 boys have Japanese as their first language, although they're learning English too."
So, Brian understands the culture of the sport and it's origins very well but he is also very open about the more specific remit he has as a judo referee, "There are many challenges; at every level there is a layer of pressure, knowing how hard they've trained and that most have sacrificed a lot to get here. They invest a huge amount of money and time and it's a significant responsibility to give them the fights they deserve. We, as new referees on this circuit, have a lot of advice and support from our colleagues and so that helps but I want to make sure, personally, that we honour their work with the result they deserve.
Enjoying the atmosphere and the people is part of what makes us want to do this. The organisation and professionalism, seeing what goes on under the hood, knowing that attitude is always there, to facilitate the athletes, this is really important and I respect it a great deal."
Tammy and Brian have already experienced the pressure of refereeing final block contests on the World Judo Tour, while on their first outing, and so now that they've found their feet, for day 3 in Tel Aviv, we wish them only continued enjoyment and the best judo possible.
Welcome to the team!