The mixed team event brings an extra sparkle to the World Championships, with a different kind of energy, a rhythm that brings the whole stadium into voice, as national pride becomes louder than at any other time in the championship.
We asked members of our judo community to offer their observations and highlights as the team event brings the World Judo Championships Hungary 2021 to a close.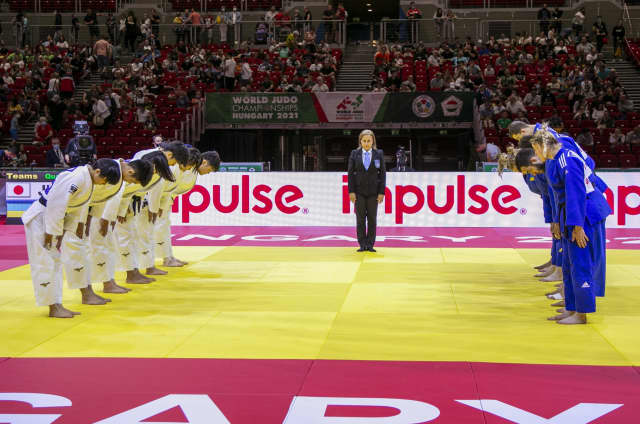 Teodor Pop - IJF Project Manager
Georgia was the surprise as a newcomer at the event, beating 5th seeded Cuba in the first round. Other than that match, all seeding was respected. Georgia have strong players in the men's categories but are now bringing their women forward and so despite the on-paper statistics we can see them really progressing. It is the first time in 34 years that Cuba will leave a world championship with no medal at all and that is thanks to Georgia's progression in the women's categories, today at least.
The IJF Refugee team made their first appearance at this level, competing against Ukraine and as expected they didn't get through but this is a start and as a result of two years of work we have been able to include them. Their level will only improve with continued support and exposure and we welcome them here for their first experience at the World Championships.
The quarter-final stage saw a clear advance of RJF and Japan. The underdog here was the Uzbek team, being young in the event, but they won 4-0 against Brazil with particularly strong performances at +90kg and -70kg. This team bring more than just heart, also good Judo and great strategic awareness. Iliadis is really showing them how to be a team and he leads from the very front."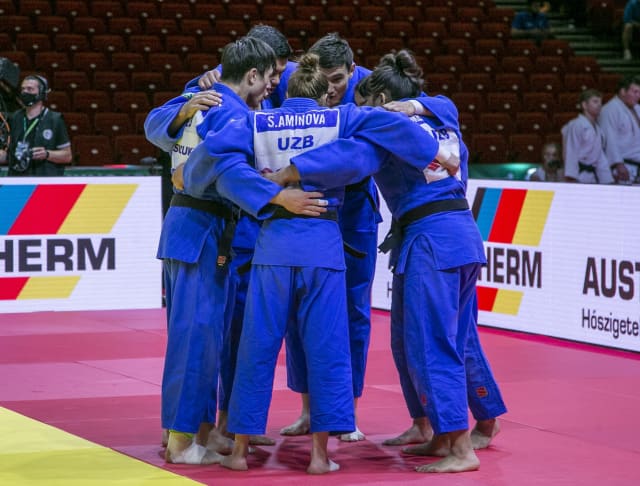 Most teams have included a handful of players who are not their number ones and this feeds development and increases the value of the event, taking invaluable experience back to their home countries.
The -70kg contest between Gahié (FRA) and Tchanturia (GEO) was closer than we expected but the biggest moment in the morning session was more than spectacular. At 3-3 the -90kg weight was drawn for the decider, to the cheers of the Georgian team but young Damier of France, junior European champion, applied an incredibly well timed counter and at only 9 seconds into the match he proved impossible is nothing by launching Tchrikishvili for ippon."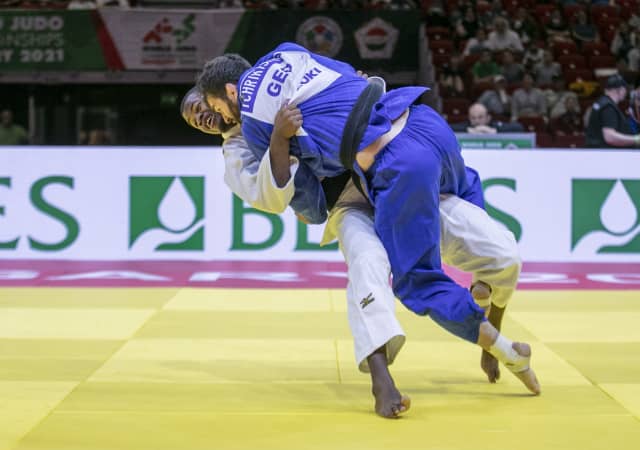 From the broadcast perspective I really liked having the focus on one mat at a time with the tatami set-up. It produced an arena-style contest environment which heightened the drama."
Cathy Fleury - Olympic champion and IJF Referee Supervisor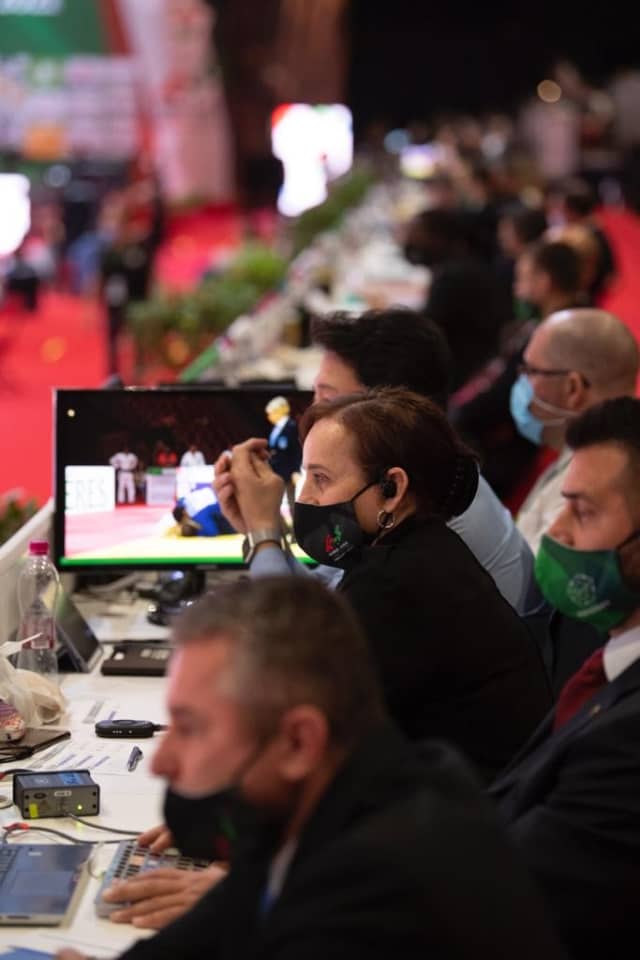 "I love the spirit and atmosphere at all team events. Today there has been so much more cheering and encouragement from everyone.
I think it is the right occasion for younger fighters to come through and fight with great champions like 19 year old Damier (FRA) joining a team that includes world champion Gahie. It's so important to inspire the next champions.
Damier proved you shouldn't count your chickens before they're hatched. Georgia was so happy when -90kg was called in the tie-breaker and it put a lot of pressure on the young French judoka but the Georgian was so over-confident that he didn't focus on the real match. It was a big mistake and it cost them a place in the final."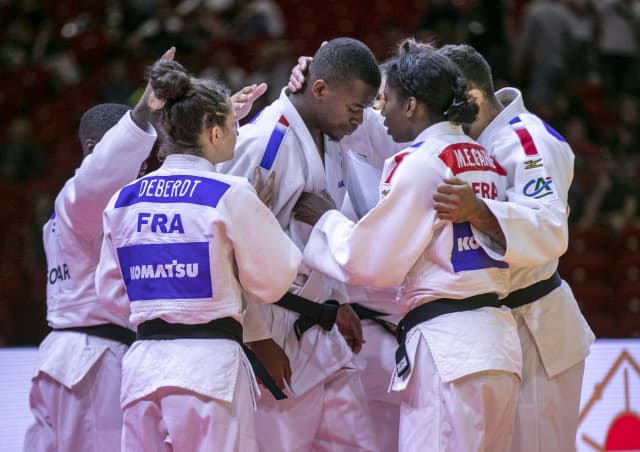 "The Japanese team, with France in the final, really gave France a chance to fight hard and with nothing to lose; they had to fight with all they had. The Japanese team is not the number ones but in the end they were stronger and won a deserved gold.
All in all this was a great occasion to see the reaction of the young fighters and to educate them towards the future.
As a small side point, I really enjoyed watching the -73kg player from Uzbekistan, against Brazil. He had incredible speed and was very explosive. This is the most spectacular type of judo and I look forward to seeing how he develops in the years to come.
Zsombor Hidveghy (HUN) - World Championship volunteer
"We volunteer through our universities and it's a really enjoyable experience to see behind the scenes. It's so nice to be with our Hungarian judo family. I'm not a judoka, I play basketball, but through this whole two weeks I became really interested in judo. Today the mixed
teams struck me. It's a great venue in which to showcase some top class sport, so well presented. I had a pretty amazing view from up top. The scale is incredible. I learned so much being here and am happy to have volunteered.
Kosei Inoue Sensei - Head Coach for Japan, Olympic champion and triple world champion
"We get very used to team competitions in Japan. It is part of our culture. We can really enjoy this atmosphere as it is natural for us.
I feel it is significant for the athletes to be the representatives of our country. They carry the pride of the country with them and I am conscious to raise that feeling.
We had two goals for this team event. The first was clear, to win gold, but the second target has a broader impact. I am expecting the judoka to be part of a team that can help inspire people all around the world by showing good judo. The team competition has a lot of power for athletes and spectators. We had a very difficult year and we want to use judo to raise good feelings for everyone. This competition brings an exciting atmosphere and it's nice to make the judo community feel more positive after the pandemic."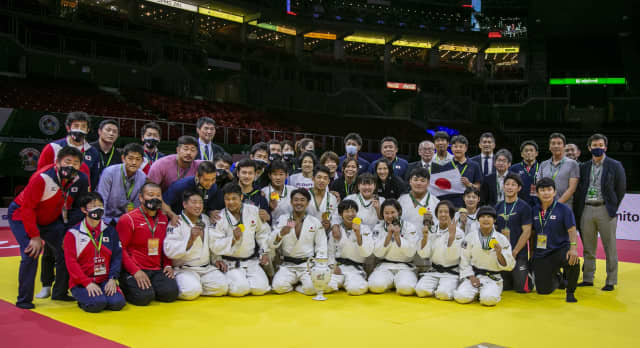 It's not in doubt that the enthusiasm on show at the World Mixed Team Championship has given the judo community something to smile about. It has also brought forward some names for the future from young teams who fought like seasoned World Judo Tour medallists.
Next stop, Tokyo!