Who does not know Kosei Inoue? Who has never heard of the triple world champion (Birmingham 1999, Munich 2001, Osaka 2003) and Olympic champion (Sydney 2000) and his legendary uchi-mata? Who still does not know that he was the lynchpin of the success of the Japanese team until the Tokyo Olympics last year? Kosei Inoue is a judo legend, one of the finest judoka ever and a real star in Japan but also far beyond its borders, but he is not just that. He is also a man with a big heart who flourishes today in the organisation he leads and whose goal is to go beyond the sporting dimension of judo. We met him in Tokyo on the occasion of the grand slam and what he told us gives us hope for human nature.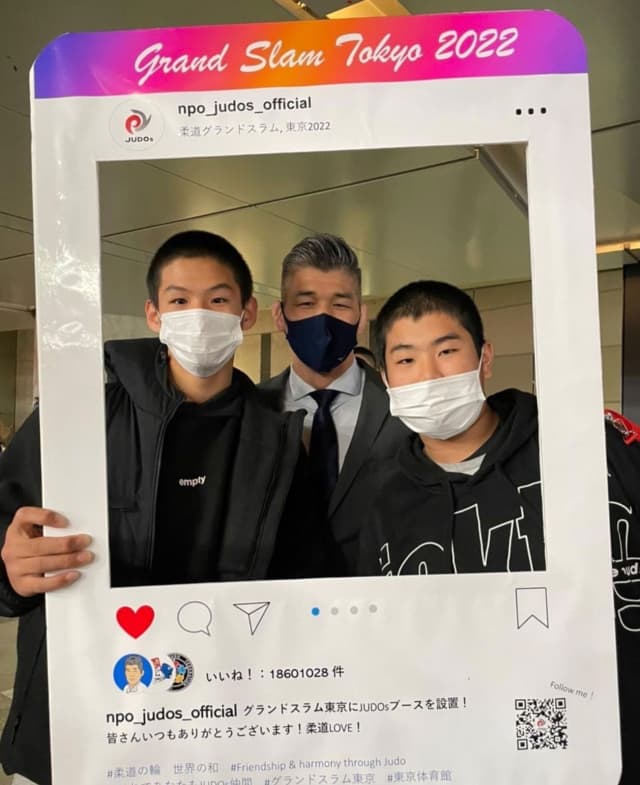 JUDOs NPO is a non-profit organisation based in Japan but is active in many places around the world. Kosei Inoue's first words on the organisation's website are clear, "Since becoming an athlete, I have travelled around the world, visiting numerous cities and regions, carrying my judo uniform with me and interacting with a great number of people. I have always held the view that judo and other sports are able to make a meaningful contribution to society, one which transcends national, racial, religious, political and cultural differences, and recognises diversity."
During our conversation, he added, "When I think about judo and my career, I also think about my role in society and about what I can offer for that society to integrate the values that the sport taught me. I believe that judo can provide values to people and that through our actions, we can create a better society."
In Tokyo, Kosei Inoue also met Sabrina Filzmoser, who in May climbed Mount Everest (the Forever Everest mission) and whose activities in Nepal and Bhutan have been actively supported by JUDOs, "I am impressed by what Sabrina achieved and I say that from the bottom of my heart. When I saw what she was doing, I immediately reacted and JUDOs is happy to support her and will keep supporting her. I am planning on visiting Nepal to follow Sabrina's footsteps, although maybe not all the way to the top of Everest though. We have the betterment of society in common and in our blood.
You know, in competition, during tournaments, athletes might have to fight against each other but that is only for the duration of a match. Then we are a big judo family."
JUDOs has also been involved recently with supporting Ukrainian refugees, "Every time I do something, I think 'why?' Since I was a child, my sensei kept telling me that the ultimate goal of judo, as it was invented by Jigoro Kano, is to help people. What is happening in Ukraine or on any war scene is a tragedy. People are heartbroken. My only hope is to be able to do something, even something small, but it can change lives.
Competition is only one component of judo, only one. There are so many things that we can do with it and that is what we are doing with JUDOs."
Between Sabrina's work in the Himalayas, the IJF Judo for Peace programme and the work done by JUDOs, there is a lot in common, "I can see that we are all working in the same direction and I hope and believe that in the future we'll develop more bridges between us. In the end it will benefit the people who need our help and support."
The main objective of JUDOs is to promote international understanding and exchange through judo and to promote the healthy development of young people. For that they donate judogi and tatami, they send coaches abroad and welcome foreign judoka in Japan. They also support competitions and training sessions for young people, while holding seminars and conferences about judo.

When great champions like Kosei Inoue meet the philosophy of judo head on, they make it effective and concrete, there is no small project and no small help, there is just the ability of the judo family to adopt the judo motto 'mutual aid and mutual prosperity' (jita kyoei) and to make it real. Kosei Inoue understood this well and that is why he is the ultimate champion. Thank you Mr Inoue.