The IJF World Judo Tour has arrived in the Middle East for the fourth Grand Slam of the season as Olympic and world champions enter the fray at the IPIC Arena from Thursday 26 to Saturday 28 October.
The Abu Dhabi Grand Slam is one of five Grand Slams on the IJF World Judo Tour and is the premier judo event in the region.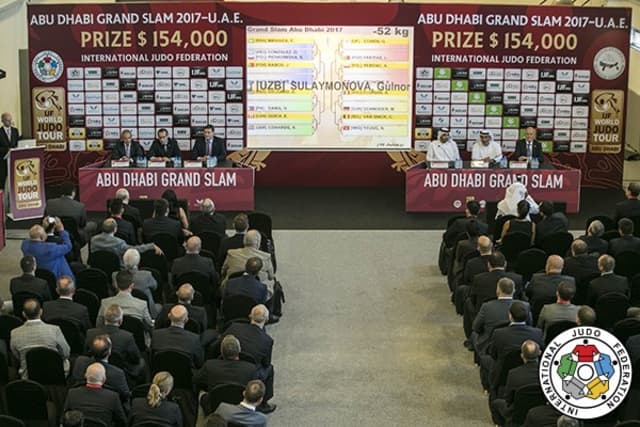 The official draw of #JudoAbuDhabi2017

U.A.E's capital and most populous city has been a destination on the tour since 2009 when a Grand Prix was first held in Abu Dhabi. The annual competition was so successful that it was upgraded to Grand Slam status in 2014 and is now alongside Paris (FRA), Ekaterinburg (RUS), Baku (AZE) and Tokyo (JPN) as the leading locations on the IJF World Judo Tour.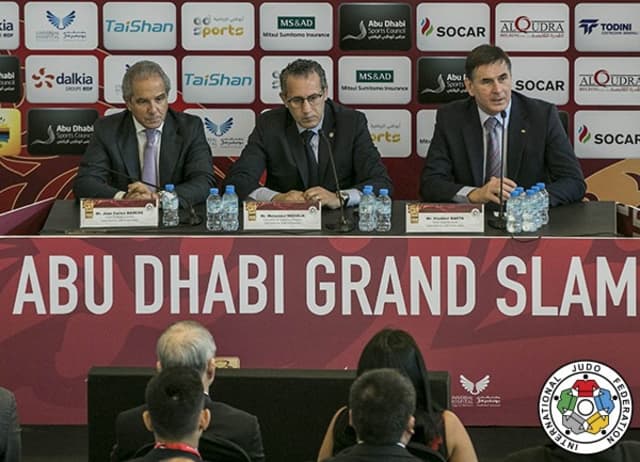 The draw for the Abu Dhabi Grand Slam 2017 took place on Wednesday afternoon where it was revealed that 277 judoka (172 men, 105 women) would be competing from 47 nations. The largest weight category for men will be -73kg which houses 34 judoka while 19 judoka will contest the busiest women's category which is -57kg.

Mr. Mohamed MERIDJA (above - centre), IJF Education and Coaching Director, opened the draw in Abu Dhabi.
"Dear judo friends, distinguished guests, ladies and gentlemen, on behalf of IJF President, I welcome you all to this exciting and attractive city of Abu Dhabi. Judo has become one of the top expanding sports in the country, thanks to the outstanding results achieved by the U.A.E judoka.
"I thank you for the warm hospitality and wish you all a successful competition."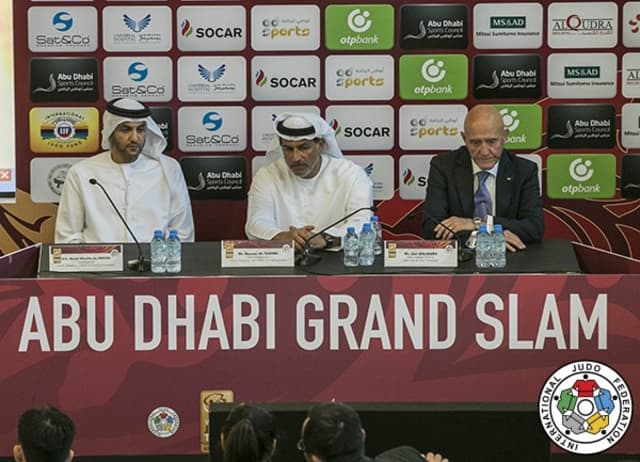 H.E Nasser KHALIFA AL-BUDOOR (above - left), U.A.E Wrestling, Judo and Kickboxing Federation Vice President, made the welcoming address on behalf of the local organising committee.

"Dear guests, ladies and gentlemen, dear judo friends, dear participating teams, on behalf of President of the U.A.E Wrestling, Judo and Kickboxing Federation, we are really happy to host the Abu Dhabi Grand Slam 2017.
"It is a great pleasure to welcome you to Abu Dhabi in U.A.E. We wish you all participating teams the best of luck and thank very much for your support."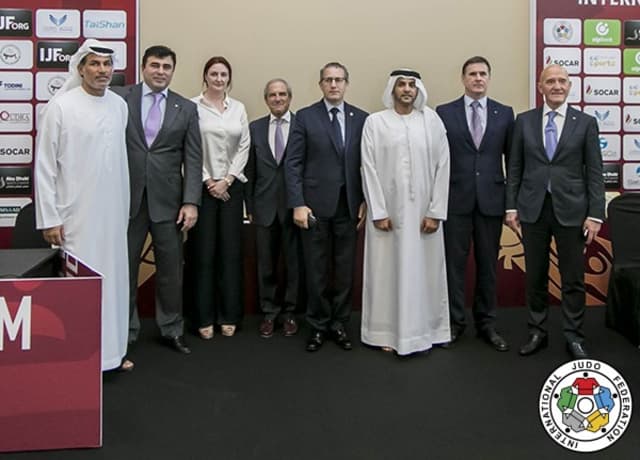 IJF Executive Committee members with their U.A.E counterparts

#WorldJudoDay2017 takes centre stage on Saturday
The graphic elements of the 2017 edition of the World Judo Day, which will be held on October 28th, are available on the World Judo Day website. The previous themes of the WJD were JUDO FOR THE WORLD (2016), UNITY (2015), HONOUR (2014), PERSEVERANCE (2013), JUDO FOR ALL (2012) and RESPECT (2011) for the day which is dedicated to coaches, fans, judoka and everyone with a passion for one of the world's most widely practiced sports.The World Judo Day takes place on the same date every year as 28 October is the birthday of Jigoro Kano, the founder of judo. The logo of the event as well as posters and diploma can be downloaded at:http://worldjudoday.com/en/WJD-Graphics-61.html

PREVIEW
Women
-48kg
Rio 2016 Olympic champion Paula PARETO (ARG) competes in her first Grand Slam since 2014 and will be targeting a second Grand Slam win and first in five years. PARETO, 31, who won the Rio Grand Slam in 2012, returned to the IJF World Judo Tour in September with a bronze medal at the Zagreb Grand Prix and will expect to star in the U.A.E. Olympic and world bronze medallist Otgontsetseg GALBADRAKH (KAZ) is a two-time Grand Slam winner and will be a force to be reckoned with on day one. Four-time Grand Slam medallist Milica NIKOLIC (SRB) has never won a Grand Slam but will be hard pressed to change that this weekend with such a talent-laden field but this is judo and we know that anything can happen.
-52kg
World number three Erika MIRANDA (BRA) took bronze at the World Championships in August and has topped the medal podium at a Grand Slam on four occasions. The Brazilian judoka from the Judo Sogipa academy starts as the top seed and favourite in Abu Dhabi ahead of Cancun Grand Prix bronze medallist Angelica DELGADO (USA), Tashkent Grand Prix bronze medallist Charline VAN SNICK (BEL) and European Championships bronze medallist Joana RAMOS (POR).
-57kg
World champion DORJSUREN Sumiya (MGL) and Rio 2016 Olympic champion Rafaela SILVA (BRA) will both see action in the -57kg category in Abu Dhabi. While SILVA beat DORJSUREN in the Olympic final in Rio de Janeiro it's the Mongolian who has since usurped the Brazilian and everyone at -57kg to rule the world for her country. Olympic bronze medallist Telma MONTEIRO (POR) and world bronze medallist Nekoda SMYTHE-DAVIS (GBR) will be in contention while former Tokyo Grand Slam bronze medallist Christa DEGUCHI returns from the wilderness to make her debut for Canada. The 21-year-old won Grand Prix, Grand Slam and Junior Worlds medals for her native Japan but has decided to switch to represent Canada to boost her chances of competing at an Olympic Games and has completed her two-year grace period after being released by the All Japan Judo Federation.
-63kg
Tashkent Grand Prix winner Kathrin UNTERWURZACHER (AUT) will be bidding for a Grand Slam gold medal hat-trick this weekend and starts as the top seed. The world number three has won the Baku and Tokyo editions and took silver in Abu Dhabi a year ago. Ekaterinburg Grand Slam bronze medallist Amy LIVESEY (GBR) has snuck up to sixth-place on the World Ranking List and the SKK Judo Club product could move higher with a medal finish on her Abu Dhabi debut. Antalya Grand Prix bronze medallist and world number 13 Katharina HAECKER (AUS) will be keen to pick up points to solidify her place inside the top 16 which would guarantee an automatic entry to the season-ending World Judo Masters in December.
-70kg
Tbilisi Grand Prix winner and Rio 2016 Olympian Maria PORTELA (BRA) is the number one seed in the -70kg category. The five-time Grand Slam medallist took silver here last year and is more than capable of producing a similar finish in 2017. Tashkent Grand Prix bronze medallist GERCSAK Szabina (HUN) could open her Grand Slam medal account on Friday which will also be the aim of world number 13 Assmaa NIANG (MAR) who is a surprise inclusion in November's Openweight World Championships. Rio 2016 Olympic bronze medallist Laura VARGAS KOCH (GER) returns to the competition tatami for the first time since the Games and could make a winning return.
-78kg
World champion Mayra AGUIAR (BRA) bids for her fifth Grand Slam title and could run away with pole position in the -78kg rankings before the year is out. The 26-year-old double Olympic bronze medallist leads the rankings with Grand Slams, Grand Prix and a World Masters still on the calendar and AGUIAR will be the overwhelming favourite every time her name enters the hat on the eve of the competition. World number two Natalie POWELL (GBR) became the first Welsh judoka to win a World Championships medal when she won bronze in August and has won silver and bronze medals on the Grand Slam stage but is still seeking an elusive gold. Former world number one Guusje STEENHUIS (NED) suffered an early exit at the Worlds and will look to bounce back at the first attempt to retain her 2016 Abu Dhabi Grand Slam title.
+78kg
Baku Grand Slam winner Tessie SAVELKOULS (NED) starts as the top seed but world bronze medallist Iryna KINDZERSKA (AZE) will be out to win her first gold medal for Azerbaijan and Tashkent Grand Prix bronze medallist Sarah ADLINGTON (GBR) has more medal aspirations amid her best ever run on the IJF World Judo Tour.
Men
-60kg
World number two Amiran PAPINASHVILI (GEO) is a Grand Slam specialist with 10 medals to his name and the Georgian star enters on the back of winning the Zagreb Grand Prix last time out. Zagreb Grand Prix bronze medallist Albert OGUZOV (RUS) is still seeking his first Grand Slam gold but will have to negotiate a star-studded field including 2016 Abu Dhabi Grand Slam winner Francisco GARRIGOS (ESP) and London 2012 Olympic bronze medallist Felipe KITADAI (BRA).
-66kg
World bronze medallist Tal FLICKER (IJF) is up to the lofty heights of second place on the World Ranking List after his exploits in Budapest and will attract the greatest attention in the -66kg category. Fellow world bronze medallist Vazha MARGVELASHVILI (GEO) is also in Abu Dhabi and the former European champion is poised for a career-best result on the Grand Slam stage with a bronze from Paris sitting alone on the Grand Slam shelf in his medal cabinet. Three-time world silver medallist Mikhail PULIAEV (RUS) will be in medal pursuit while European bronze medallist Nijat SHIKHALIZADA (AZE) is due a sparkling performance for 2018 Worlds hosts Azerbaijan.
-73kg
Rio 2016 Olympic silver medallist and world silver medallist Rustam ORUJOV (AZE) won the Zagreb Grand Prix last time out with five ippons in as many contests. The Azeri star took silver in Abu Dhabi last year and bronze in 2014 and can be expected to complete his Abu Dhabi Grand Slam medal collection on day two. World bronze medallist GANBAATAR Odbayar (MGL) struck Grand Slam and World honours for the first time this year and at 28 has arrived at the peak of his career. Rio 2016 Olympic champion Fabio BASILE (ITA) and Olympic bronze medallist Dirk VAN TICHELT (BEL) have not been on the medal podium since Brazil and both need a morale-boosting performance to reinvigorate their careers from their post-Olympic syndrome to being influential judoka on the IJF World Judo Tour.
-81kg
World number two took UNGVARI Attila (HUB) Zagreb Grand Prix gold last time out in September has the platform to be in contention for his first Grand Slam medal as he starts as the top seed. World bronze medallist Saeid MOLLAEI (IR) picked up silver at the Baku Grand Slam this year and could improve on this career-best ranking of third in the world. Paris Grand Slam winner Frank DE WIT, European champion Alan KHUBETSOV (RUS), Tashkent Grand Prix silver medallist NYAMSUREN Dagvasuren (MGL) and Ekaterinburg Grand Slam bronze medallist Etienne BRIAND (CAN) are all capable of reaching the medal podium on Saturday.
-90kg
World number one and European champion Aleksandar KUKOLJ (SRB) missed the medal podium at the World Championships as his younger teammate Nemanja MAJDOV (SRB) entered the history books as Serbia's first world judo champion. KUKOLJ, 26, finished fifth at the Worlds and seventh at the Zagreb Grand Prix and will need to win at least a medal to maintain control of the -90kg billing and a potential $50,000 windfall which will be awarded to all 14 world number ones at the end of the year. Zagreb Grand Prix winner and former world silver medallist TOTH Krisztian (HUN) will be in the medal hunt along with Tashkent Grand Prix winner Komronshokh USTOPIRIYON (TJK) and former World Judo Masters winner Beka GVINIASHVILI (GEO).
-100kg
World number one and European champion Elkhan MAMMADOV (AZE) leads one of the strongest categories in the competition. The leading judoka on the -100kg World Ranking List are all in Abu Dhabi but they will not all make the podium which will make for compulsive viewing on Saturday. World number two Michael KORREL (NED), world number three Varlam LIPARTELIANI (GEO) and -100kg world bronze medallist Kirill DENISOV (RUS) are all the world's top five and will electrify the last day of the competition.
+100kg
Double Olympic bronze medallist Rafael SILVA (BRA) is the number one seed among Saturday's heavy hitters. The world number five has to go back to 2014 for his last IJF gold medal and will be expected to supplement CBJ's medal account on the last day of the Abu Dhabi Grand Slam. Rio 2016 Olympic bronze medallist Or SASSON (IJF) won the Tashkent Grand Prix at the start of the month but knows that greater challengers await him in the U.A.E. European bronze medallist Roy MEYER (NED) will believe that he can register in the gold medal column at a Grand Slam for the first time while -100kg Olympic bronze medallist Cyrille MARET (FRA) steps up a weight to the +100kg category for the first time ahead of his participation at the Openweight World Championships next month alongside teammate and heavyweight king Teddy RINER (FRA).
COMPETITION PROGRAMME
Thursday 26 October
10:30 Preliminaries on two mats
16:30 Opening ceremony
17:00 Final block on one mat
Women: -48kg, -52kg, -57kg
Men: -60kg, -66kg
Friday 27 October
10:30 Preliminaries on two mats
17:00 Final block on one mat
Women: -63kg, -70kg
Men: -73kg, -81kg
Saturday 28 October
12:00 Preliminaries on two mats
17:00 Final block on one mat
Women: -78kg, +78kg
Men: -90kg, -100kg, +100kg
Location: IPIC Arena