At the beginning of the year, the Albanian Judo Federation launched an intensive Judo For Children Programme in the country. The federation explains why this programme is important and how it will help the development of judo in the country.
"The Albanian Judo Federation has been studying the development of an IJF Judo for Children programme for a long time. We believe that this is the best way to help the development of judo in our country. For that, we initiated a strong collaboration with schools, especially since in Albania education and sports are both depending on the Ministry of Education and Sports.
In Albania, we are the very first federation to take such an initiative that included three main partners: the Albanian Judo Federation, the International Judo Federation and the Ministry of Education and Sports.
The first support that we received came from the IJF, which provided equipments like tatami and judogi, but we also received IJF financial support to cover the instructor fees.
The Albanian National Olympic Committee was very supportive, helping to train instructors through various courses. Judo Instructors then held training sessions with physical education teachers in schools and all participants have their respective license.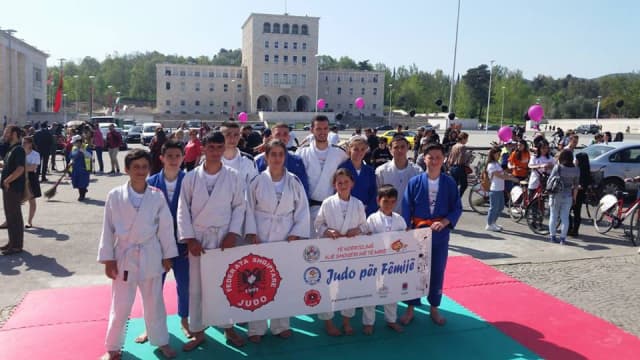 The cities where this project has been developed are: Tirana, Kamez, Lezha, Lac, Elbasan, Kavaja, Durres, Milot, and in total there are 15 pilot schools involved.
The judo sessions are organized within the schools, using the school sports facilities, and since the participants are children, all the exercises are organized in a way that they have fun but than can also learn some important skills for life.
The goal of this project is clearly to educate children with the judo values and to include as many children as possible. We also believe that through this programme we will be able to identify young people with a good sport potential, who could become elite athletes in the future.
Some athletes have already been identified and they are gonna represent our federation in international activities, the best example being Luigi Vataj. She received Olympic scholarships from the National Olympic Committee of Albania.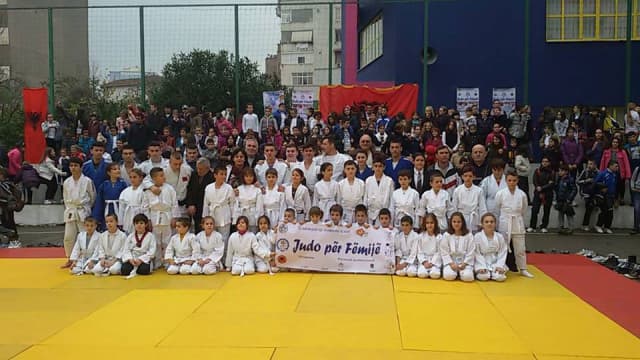 We want to address a special thank you to Mr. Marius Vizer, the IJF President and his staff, who have been constantly supporting us. Our cooperation has been excellent over the years."
Albanian Judo Federation: Judo as a sport was introduced in Albania in 1991. The initiators and co-founders of this sport in the country were Mr. Dashnor Xhixha, Mr. Labo Capo, Mr. Muhamet Harizi, Mr. Anton Shkoza, Ms. Natasha Mitrushi, Mr Paulin Cera and others. Currently the federation regularly participates in official Balkan, European and World activities. Albanian Judo, through the commitment with the National Olympic Committee participated in several major international events such as the Beijing 2008 and London 2012 Olympic Games, the Youth Olympic Games in Singapore, the European Youth Olympic Festival, the European Games in Baku, the Mediterranean Games etc.
Judo For Children: https://www.ijf.org/projects/judo-for-children
Photos: © Albanian Judo Federation