We left, the young woman between laughter and tears, a few weeks ago in Tokyo at the end of the Judo World Championships. Yet, both her cheeks, wet with emotion after an incredible finale, and the smile that lit up her face on her fourth victorious podium, were full of joy and happiness.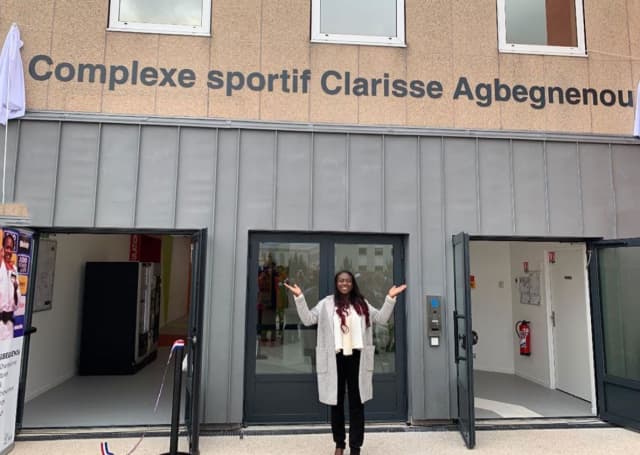 We find her, with a radiant face, after a well deserved rest in the antipodes (New Caledonia and Vanuatu), while she has just inaugurated a sports complex that bears her name ... already, at 27, it says a lot about the extraordinary career of Clarisse Agbegnenou.
When we asked the four-time world gold medalist, the first French woman to achieve that in here country, to tell us how she felt when she saw her name appear at the entrance of the city gym from Lisses, located south of Paris, her answer was immediate: "Honestly, initially when my team called me to tell me this news, I really thought it was a joke for a minute, but after that I was so moved and I thought, 'What? Me? it's not possible !!!' And I was overwhelmed with a sense of pride and honor!!!"
Proud and honored, there is something to be. Clarisse explained why: "This is a sports complex of 1,400m2 which is located in Lisses in Essonne. The complex includes a boxing gym, a dance hall, a fitness room, a multipurpose venue and obviously a dojo which also bears my name. All facilities are easily accessible for people with disabilities. This is very important to me because I sincerely believe that the keystone of our society is inclusion."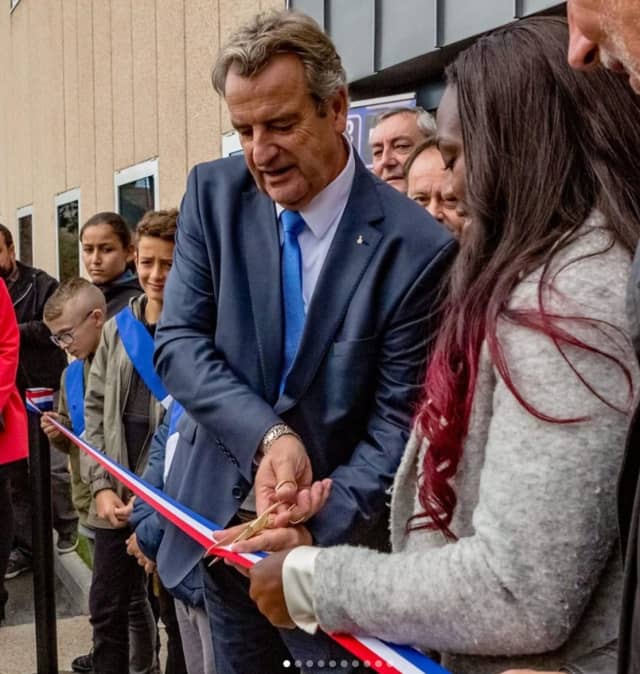 Despite her results, nothing seemed to predestine the champion to receive so much honor: "At first glance, I had no particular connection with the town of Lisses. The Mayor, Thierry Lafon, and his team were looking for an athlete who shares common values ​​with the spirit of the city. During this research, my name was the first that came to their mind. They continued to explore other possibilities, but in the end I appeared to be an obvious choice. In the process, the Mayor contacted my team and beyond my great surprise, it was a great pleasure for me."
To build a name in the sport thanks to her results and her self-sacrifice and suddenly to see it written at the top of a facade is not quite the same thing though: "It represents an accomplishment of all the efforts I have been putting in my career and everything for which I militate daily !!! Equity between women and man, the recognition of women's rights, education through sport, inclusion ... For me, all the boxes were checked, so it's a pride for me! And moreover, I make all people around me proud. My parents are so proud ... It makes me really happy."
Very active on social media, although she has moved a little away from tatamis in recent weeks to take a breath of fresh air, Clarisse always smiling, explained where she is in her career: "I'm in the last Olympic straight. After the World Championships in Tokyo, I needed to take some distance and breathe, to clear my head to be able to give everything for this year where the only medal I miss is the Olympic gold !!!!"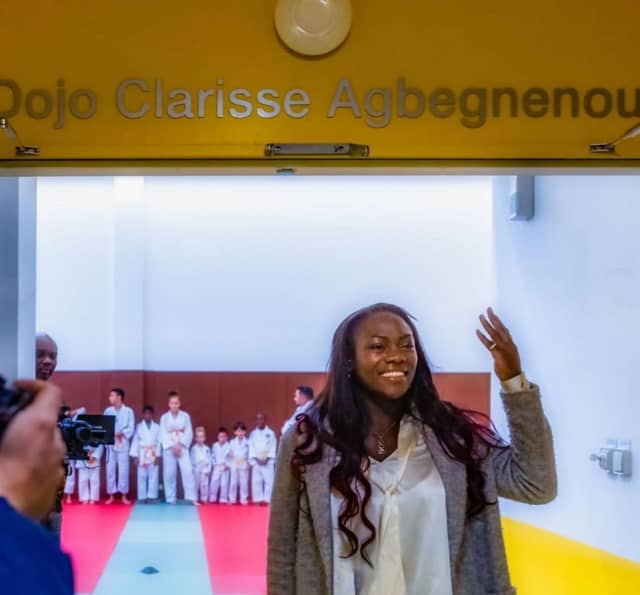 Difficult to come down from her cloud nine, after the performance in the Japanese capital: "The conclusion of all this is that I am proud to have arrived so far. I would never have thought of making such a career !!! I know how hard it is to get a world title, so doing it 4 times was unimaginable !!! And yet .... I did it !!!! No I'm happy, but ....... There are still a lot of things to work on!"
Undeniably, she knows the value of work and of a job well done and does not seem to want to stop there: "I think that in Tokyo I showed beautiful values! What our sport teaches us! We can say that these are great elements ​​and I am happy to have shown them: courage, modesty, self-control, friendship, respect ... I still do not realize that I'm the judoka the most titled in France in terms of world titles !!! But who knows ... it may realize one day," she said with a broad smile.
When asked whether there is a Clarisse Agbegnenou secret, she answered frankly: "I do not know. I can not say that I have a secret, but surely a talent and above all I work a lot! I think this talent comes since I was born! I am a very premature baby and I fell into a coma at birth. I fought to come to life and I think I will fight all my life ... I am deeply convinced that behind every premature hides a world champion. That's why I got involved this year as a sponsor and ambassador of SOS Préma, to support families (parents and children) and show them that there are beautiful lights of hope."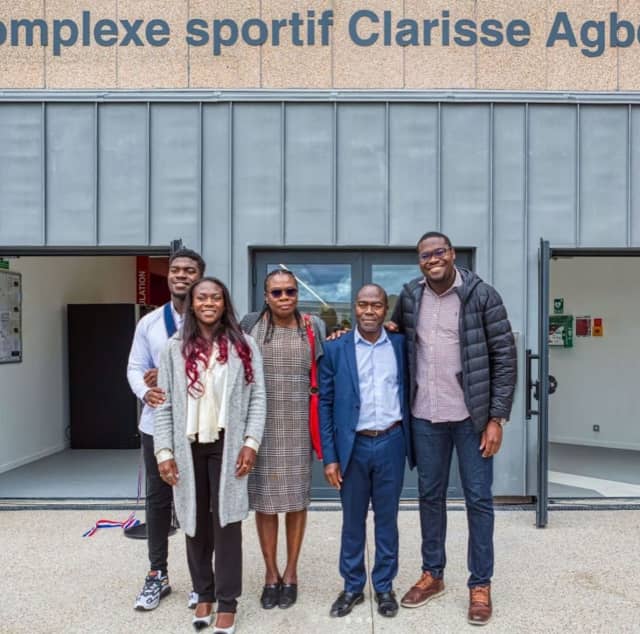 Being World Champion, and even more for the fourth time, requires a daily commitment to the tatami, but not only. With the glory of sports fields, comes the notoriety of the TV studios. We asked Clarisse what she thought about it and her answer all started with a big burst of laughter: "Ahahha yes, I am a lot visible on TV and I have not changed my job yet !!! But it's nice, it changes from the judogi! I believe that it is also a necessity because as a woman, I fight very much so that we are recognized with our true value. When I am brought to light to express the recognition of what I accomplished, and although the solicitations are many, I will certainly not deny my pleasure and run away !!! The only downside is that it's a little hard to combine training with interviews, photos..."
There is no doubt that Clarisse Agbegnenou still has a lot to prove and bring to the world of judo. Motivated as ever to get this missing Olympic gold medal, ready to take up all the challenges, and now having her name in big letters at the top of the Sports Center in Lisses, and at the same time far away from the stereotyped clichés of selfishness of champions, she likes to share her passion and her rage to live. To all the young people who are walking in her footsteps, she has only one thing to say: "Have fun, enjoy !!!! And above all, go to the end of yourselves."
Thank you, Mrs. Clarisse. You are not just a champion on the tatami and for sure we will be happy to follow you in the months to come, on and off the mat.