Ukrainian sensation BILODID repeats while Georgia's European champion claims his first world title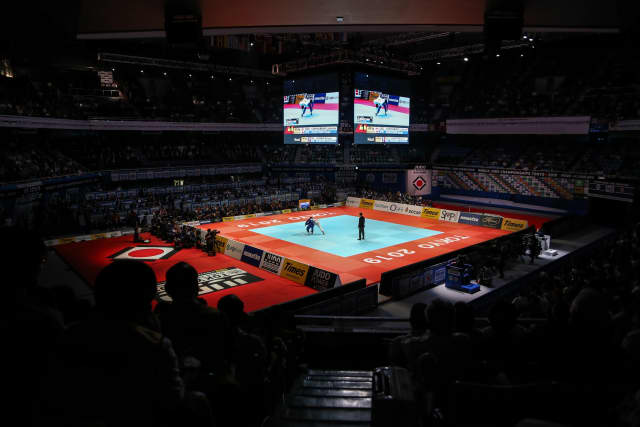 WOMEN
-48kg: Teenage superstar BILODID retains for Ukraine
Daria BILODID (UKR), the youngest world judo champion of all time, successfully defended her world title as she won a thrilling rematch of the 2018 final against former world champion TONAKI Funa (JPN). BILODID maintained her unheard of feat of never losing to a Japanese judoka as she marked her first time competing in Japan with her second senior world crown.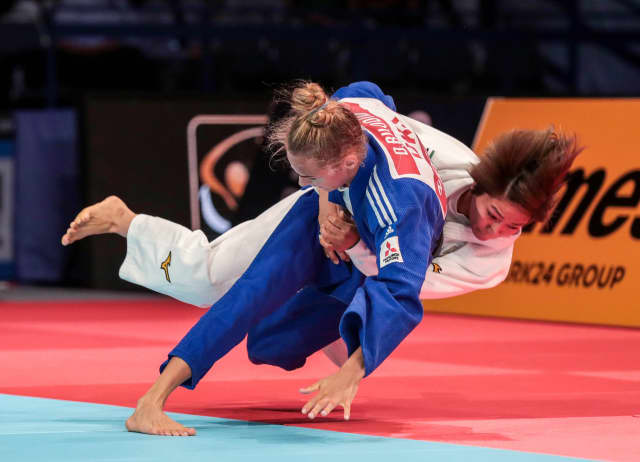 BILODID, 18, extended her head-to-head record over arch-rival TONAKI, 24, to 4-0 with an opportunistic o-soto makikomi on the edge of the area the only score in the final. TONAKI produced her best performance against BILODID today and came close to forcing a third shido as she pursued her adversary in the final minute but the owner of the red backpatch was able to hold on for gold.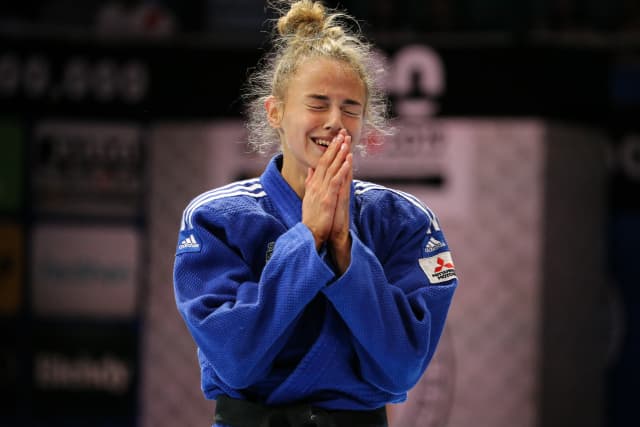 In the first semi-final BILODID brushed aside former world champion MUNKHBAT Urantsetseg (MGL) with her trademark sankaku-gatame. The teenager was ruthless on the ground as she locked up the highly-regarded ne-waza specialist MUNKHBAT and applied what looked to be one of the tightest holddowns in World Championships history.
In the second semi-final former world champion TONAKI beat World Judo Masters winner Distria KRASNIQI (KOS) with a spectacular sode-tsurikomi-goshi to seal a rematch of the 2018 Worlds final. The home judoka led by a waza-ari and was never in danger against KRASNIQI and appeared to be brimming with confidence.
In the first bronze medal contest MUNKHBAT submitted Zagreb Grand Prix silver medallist Melanie CLEMENT (FRA) with her juji-gatame to become the first medallist at this year's World Championships. The Mongolian redeemed herself after being beaten at her own game in the semi-final as she secured her third Worlds medal and first of the bronze variety.
In the second bronze medal contest KRASNIQI surged past Baku Grand Slam winner Laura MARTINEZ ABELENDA (ESP) with a thunderous uchi-mata after 33 seconds for ippon. The six-time Grand Prix winner gave her country a great start to the eight-day competition, with Olympic champion Majlinda KELMENDI set to follow on Monday, by winning her first senior World Championships medal and will be tipped to be in contention a year from now in the same building at the Tokyo 2020 Olympics.
Bronze Medal Fights
Final Results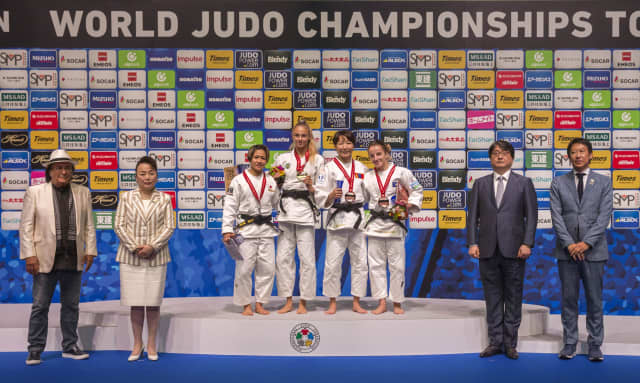 MEN
-60kg: CHKHVIMIANI crowned the new world champion for Georgia
European Games winner Lukhumi CHKHVIMIANI (GEO) was crowned the new world champion as he defeated world number seven Sharafuddin LUTFILLAEV (UZB) for the first time. CHKHVIMIANI trailed 0-3 in their head-to-head series before today but registered in the win column today on the biggest stage of his career and when it mattered the most. The Georgian countered an uchi-mata for a waza-ari score with 51 seconds left and, as LUTFILLAEV had no choice but to go on the attack, CHKHVIMIANI was ready and loaded up the Uzbek onto his hip and over for ippon and -60kg gold.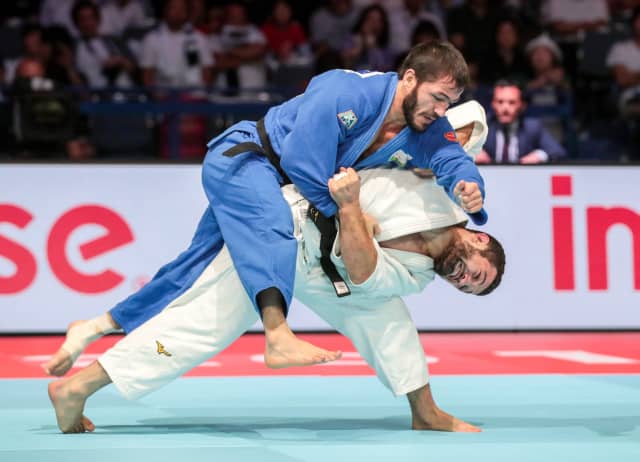 In the first semi-final CHKHVIMIANI stunned world bronze medallist NAGAYAMA Ryuju (JPN) by a waza-ari in golden score. The Georgian looked out on his feet after a scoreless four minutes and had started spoiling with negative gripping but burst into life in golden score to counter the gold medal favourite for a waza-ari score. CHKHVIMIANI was originally awarded ippon but upon review his score was downgraded to a waza-ari which was still enough for victory and an unexpected spot in the final.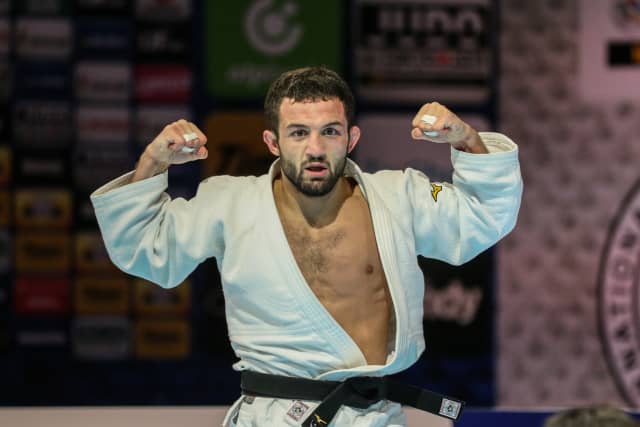 In the second semi-final LUTFILLAEV launched two-time Grand Prix winner Gusman KYRGYZBAYEV (KAZ) with a uchi-mata for ippon to advance to the final. The Uzbek punched the air in delight having guaranteed the best result of his career.
In the first bronze medal contest former world champion Yeldos SMETOV (KAZ) outclassed teammate KYRGYZBAYEV in an all-Kazakh contest. SMETOV prevailed after 90 seconds of golden score by ippon and KYRGYZBAYEV raised the arm of his victorious compatriot who clapped the crowd for the appreciation of his efforts.
In the second bronze medal contest NAGAYAMA dramatically beat three-time and defending world champion TAKATO Naohisa (JPN). NAGAYAMA who immediately floored TAKATO with ashi-waza but the Olympic bronze medallist was able to turn out onto his front. With 18 seconds left TAKATO countered a failed uchi-mata by rolling his Tokai teammate over for a waza-ari only for NAGAYAMA to score a waza-ari of his own in the very last second and pinned down the former for 10 seconds to win bronze as he did in 2018.
TAKATO, who won gold in 2017 and 2018, had to settle for fifth-place but showed his class as he raised the hand of his international colleague who now has the edge in the race for selection for Tokyo 2020.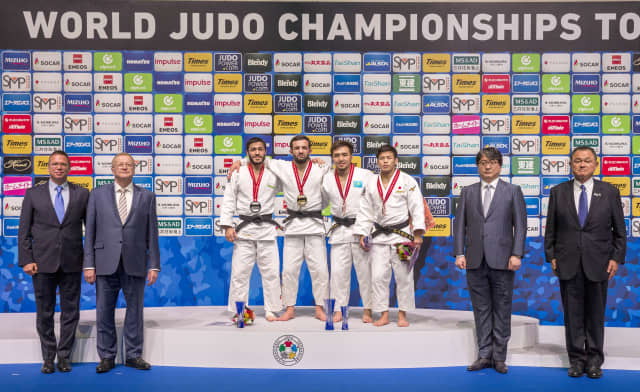 Watch day two of #JudoWorlds on Monday from 10am Japan time