Johannes Daxbacher is the head of the IJF Police Commission. He has been active for many years developing his vision to promote judo among police forces as well as creating opportunities for athletes to integrate institutions in their respective countries.
Johannes has also been very active in the Judo for Peace programmes in Africa and was one of the key figures in the development of our sport in Ethiopia. Recently he gave an interview to the Deutsche Polizei magazin, a good opportunity to discover more about the man and his work at a local level in is home region of Bavaria, Germany. The whole discussion is about building bridges, breaking down prejudices and creating role models.
Johannes Daxbacher immediately clarified one point, which makes total sense when thinking about what judo can bring to society, "My judo club in Bavaria is a police sports club but it is open to everyone and we are more than happy to welcome people who are not working for the police. It is actually very important to create connections within society. We only have the requirement that the management team must consist of active or former police officers in order to maintain contact with the head of the house, in our case the headquarters of the Bavarian riot police. Otherwise we are open for everyone.
In our sports association we offer shooting sports but only for adults, as well as badminton, gymnastics, table tennis, athletics and of course judo. We have members from all nationalities and social classes, including people whose training fees are covered by the social welfare office. All age groups are represented, from two-year-olds in mother-and-child gymnastics to pensioners in senior gymnastics.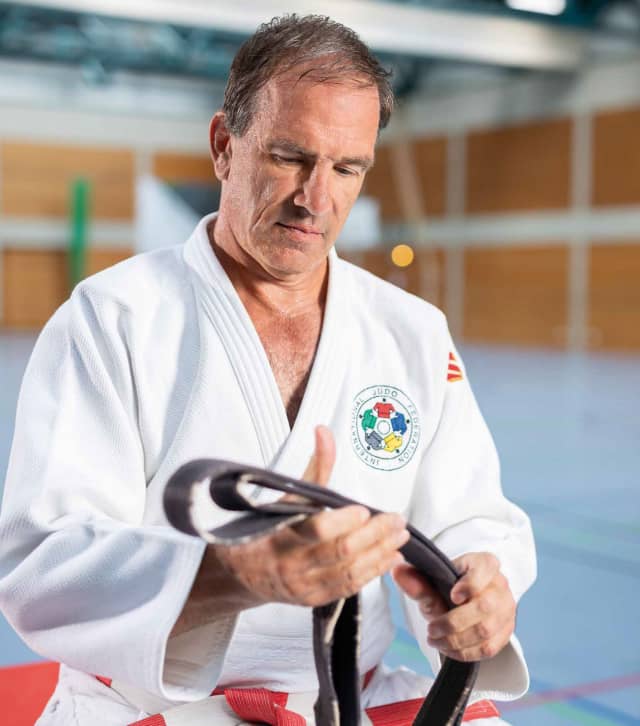 When I started in 1982, we already had contact with the civil society. Year after year, we gradually opened up more and more. We believe that as a police sports club we have a bridging function; we approach people with outstretched arms and invite them to come to us and do sports.
I am absolutely convinced that our activities as a club help also to promote the image of the police institution. Many parents tell us that they simply feel better when a police officer is their children's coach. It has also happened that young people who may have had one or two prejudices before have had such good experiences with their police trainer that they say that maybe they are going become police officers now too. We are definitely image-promoting.
For instance, a young person who is active in our association was with friends at the lake when a patrol pulled up. All of his buddies ran away but he said, "Stop, we haven't done anything wrong, why should we run away?" Shortly afterwards, everyone realised that you don't need to be afraid of the police. I simply believe that over the years many generations of club members have received a more positive image of the police from us. Otherwise they would not send their children to us; it would not happen that parents would publicly take our side if they felt that we don't act correctly. We had one female member of the club who declared that training with us saved her life.
I hope that she only meant that in a figurative way. When she came to us, she was on the wrong track. It was definitely not easy for her in life but she was never given any limits either. When she became a mother, she decided that her children shouldn't experience what she had experienced and registered them for judo in the police sports club.
Another beautiful story is about a little girl named Alara who was still present during the adult training session as she was picked up later. While waiting she kept herself busy and produced this picture.
On it you can see the nine-year-old and her coach, that is me actually, and she wrote words such as 'nice' and 'my role model,' and then there is that sentence, "I want to help and I want to join the police because I have a trainer who is a police officer." When reading this I sometimes think that politicians may not have fully recognised the important social function that police sports clubs have.
I sometimes complain and I know that respect for the uniform has decreased. I also find it sad when three-year-olds are told that they will get in trouble with the police if they are not good. It annoys me a lot when fathers or mothers say things like that. Children shouldn't be afraid of us.
In the club our young people see the coach as someone who helps them and who speaks their language. Sport and judo especially conveys that there are victories and defeats and that it is not always the fault of others. Anyone who understands this may not feel treated unfairly if they are caught doing bad things. They will see and understand that they made a mistake.
I don't want to just build bridges within the Bavarian and German society, but also internationally. In 2009 an Ethiopian judoka living in Berlin asked me if I could help to find an association in his home country. On a voluntary basis, of course, because there could be no money involved, together with my wife, who is a judo trainer in our club as well, we started the project Judo for Ethiopia. It is not always easy but I feel that we have the duty to try. Despite all the adversity, our work is worth it. For example, we have been able to train judo coaches in Ethiopia and have already brought containers of training equipment to Senegal, Ethiopia, Myanmar and South Africa several times. Through those activities we made many friends over the years."
Johannes Daxbacher is a character who cannot be stopped when asked about his endeavor and commitment to create the conditions of a better society. Either at a local level or at a more global scale, his passion for judo and its values help him to achieve goals that might have been considered impossible. In the end, he can be considered a bridge builder between communities. This is for sure what judo is all about.
Source: Deutsche Polizei Magazin
Photos: www.matthias-baumgartner.de